Do you need a good night's sleep without your dog barking?
The bark birdhouse might be just the right solution for you. It is a safe device for dogs and it is effective. In this article, I will introduce you to the anti-bark birdhouses and find the best ones on the market so you can decide which is the best one for you.
Things You Need To Know About Anti Barking Devices
How Does It Work?
The ultrasonic anti-barking device has two parts: the sensor and the actuator. The device gathers the signals around that sound like a dog's bark. When it registered the sounds it will activate the actuator and produce the reaction. The reaction is an ultrasonic frequency sound that is not harmful to the dogs and a human ear cannot hear it. With some patience and training, the dog will realize that the sound is produced when it barks so eventually it will stop doing it unnecessarily.
Sensitivity Level
You have to find a barking device that is sensitive enough to pick up a barking noise. But you don't want it to be over sensitive because in that case, it will pick up noise around the neighborhood and it will activate the bark stopper. Your dog will end up being confused about why it is hearing the ultrasonic noise and it is only taking a nap.
Remote Control Feature
The best bark stoppers have a wide range of effectiveness. If you have a large property and you let your dog run around, sometimes it can go out of range. That is why a remote control comes in handy. Most of the devices have a 50 feet range, but some can reach up to 200 feet.
Get Certified Bark Device
When it comes to buying a device like this there is always an argument of safety. You don't want to buy the first bark control birdhouse you see online. Check the reviews but most importantly check for the tested and certified device. Keep in mind that dog's barking is a way of communicating so you should only get this device if your dog is essential and you can't stop it from barking excessively.
Types Of Anti Barking Devices
These kinds of devices come in different styles. If you want to take this device with you there is a handheld remote that you press according to the situation. You can also get a collar but most of them provide the vibrations and shocks which is not pleasant for the dog. The most common option is to get a device that looks like a birdhouse. You can put it in your garden where it will nicely fit in and do the job as needed.
Best 5 Anti Bark Birdhouses For Dog Barking Control Reviews
Best Indoor Bark Control Birdhouse
DOGTEK Sonic Bird House Bark Control
Timeless Design
This anti dog barking birdhouse has a cute childish design that can nicely fit onto any patio, balcony or backyard. It comes in beige color with a dark brown roof and dark brown details. You can leave it sitting on the table or you can hang it from the tree.
Radius Of The Sound
The standard radius that these devices have is 50 feet and with this Dogtek sonic birdhouse is no different. The special feature about it is that it covers a 360-degree angle. It has 3 built-in bark sensors and one extra-large ultrasonic loudspeaker. It is suitable for indoor and outdoor use.
Sensitivity Level Features
The Sonic birdhouse has multiple options to adjust the sensitivity sound level. You can choose from test, low, mid and high level. It is a great feature because you can adjust the level of intensity to your dog. Some dogs respond to the lower intensity but it is a great option that you have of turning it up.
Product Materials
This product is made of plastic. But it is not the cheap one. It looks and feels durable which is important especially if you are using it outside. It needs to be able to withstand all kinds of weather elements. This is a high-end birdhouse bark stopper but it comes at the fairly cheap price.
Power Supply
Everything about this device sounds great, from the looks to the performance. The only thing that might be improved is battery power. To get it to work you need to have 6 AA batteries. It is wasteful to use 6 batteries and when the time comes you have to change all of them, not just one like in some other devices.
Characteristics:
Great looking design
Made of high-quality plastic
Multiple intensity options
Requires 6 AA batteries
Best Luxury Bark Control Birdhouse
PetSafe Outdoor Ultrasonic Bark Deterrent
Outdoor Stop Barking Birdhouse
This PetSafe bark control birdhouse is a great silencer because it emits the ultrasonic sound that can be annoying to the dogs but people don't hear it. It can cover 1/4 acre space so if you need to cover more you can add some and hang them in the trees or place them on the solid surface.
Digital Alarm
The high-frequency tone works on most of the dogs that are 6 months and older. It has a built-in alarm so you can turn the device on and off. It is a good feature especially if you have a puppy so that it doesn't become desensitized to the ultrasonic sound.
Battery Powered
This birdhouse dog silencer works on a 9-volt alkaline battery. It is practical and easy to replace. It can last a long time and when it comes to the low power the LED light indicates the situation so you know when to change it. It is practical and with these smart features, it does a great job.
"No Bark Guarantee"
The Petsafe company offers a "no bark guarantee" policy. They are sure that this device will work on all dogs but if for some reason, your dog is not responding, you can contact them to resolve the situations and they will help you find something that works. The customer care is US based and you can contact them via e-mail or phone.
Characteristics:
Uses high-frequency ultrasonic sound
Built-in timer
Range up to 50 feet
For outdoor use only
No bark guarantee
Best Outdoor Bark Control Birdhouse
Petsonik Anti Barking Device
Barking Free Neighborhood 
This is a dog barking birdhouse made at the highest level of quality to make sure that it will last you for a long time. It is waterproof and durable so that it can withstand extreme weather conditions. It is nicely designed to fit any outdoor decor. It is lightweight and comes in white color with a black roof. It is not recommended to use it indoors.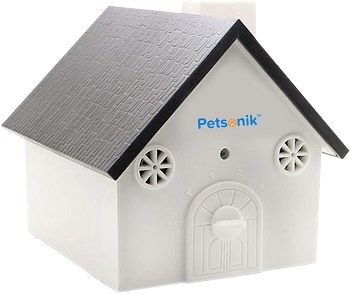 The Way It Works
This outdoor bark control birdhouse will give you the peace you deserve. It has a built-in microphone sensor inside that will pick up the barking noise and it will activate the ultrasonic sound. It is a quick and efficient device that works on most dogs of all sizes. You can turn it on and off as needed.
Safety And Range
This birdhouse bark control is designed with multiple settings. It has three modes of adjusting the range. The Mode1 is low range mode and it reaches up to 15 feet, Mode 2 reaches up to 30 feet and Mode 3 has a high range up to 50 feet. The device is tested and proven that it is not harmful to dogs or humans.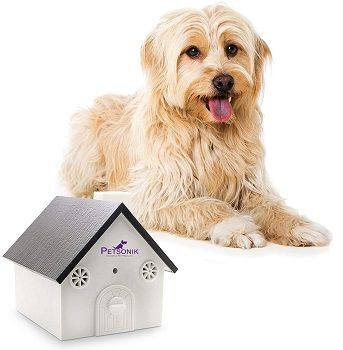 Product Warranty
The manufacturer offers a complete payback if in any case you feel that the device is not worth it or if you don't love it. You will get your money back without questions asked and you can keep the birdhouse as well. Additionally, with the purchase, you will get an e-book on tips and techniques for dog training.
Characteristics:
Easy to mount and set up
Wide range up to 50 feet
Simple design
Best Cheap Bark Control Birdhouse
Anukwa Anti Barking Ultrasonic Birdhouse
Durable Build Materials
This birdhouse dog barking deterrent is stylishly designed. It comes in black color with white details. It is durable, quality made and waterproof because it is made for outdoor use only. It comes with the handle so you can hang it on a tree or place it on the solid surface.
Adjustable Ultrasonic Levels
This bark control birdhouse emits the high-pitch sounds that only dogs can hear. The sound is unpleasant to the dog and when they bark the device will pick up and react with the automatic ultrasonic sound. You can adjust the sensitivity levels according to your dog and it's reactions.
Ultrasonic Range
The Anukwa Anti Bark Birdhouse has a standard range of 50 feet. It is completely safe and it can affect the small, medium and large dogs. If your dog is an excessive barker than this device is the right choice. Considering the other devices on the market, with this one you get the most for the price.
Dimensions And Power
This is a 6.1 inches high unit with 5.5 inches width. It is small but powerful. It works on a 9V battery that is located at the bottom of the unit so that the water doesn't get in. It is replaceable and when the time comes the LED indicator will flash so you know.
Characteristics:
Waterproof materials
Range up to 50 feet
Led Indicator of low battery
For adjustable volume levels
Best Plastic Bark Control Device
Quenta Anti Barking Device
Where To Place The Anti Bark Birdhouse?
You can place this device hanging on the tree bu no more than 5 feet. It can also be placed to stand alone or hanging from a pole of a fence. It should be placed so that it is facing the dog and within a range of the dog. For the best result, the area between the birdhouse and the dog should be free from large obstacles.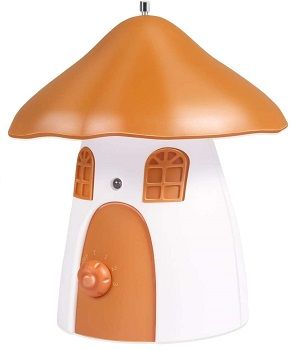 Battery Life
The Quenta Anti Barking Device works on a 9V battery. It is removable and replaceable. The LED light will indicate when the battery is empty. The average battery life is about 2 months but if you want to conserve the battery life you can keep the device turned off when is not in use.
Fun Design
This is a little bit different designed bark control birdhouse. It is shaped like a mushroom so that it can fit either you put it on the floor or hang it on a tree. It is made of high-quality plastic that is waterproof and durable. Thanks to the mushroom hat, the controller is even more protected from the rain. It comes in the white color with the orange details.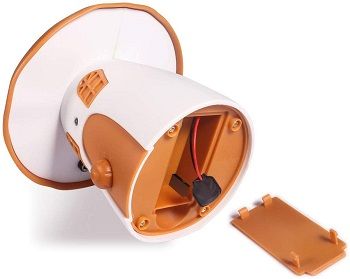 Sensor Range
Like most of the standard ultrasonic bark stoppers, this one also has a sensitivity range of 50 feet. It is automatically activated when it senses the bark up to 50 feet away. It produces the ultrasonic sound and you can adjust the level of the sensitivity. It is safe and it doesn't harm the dogs or humans.
Characteristics:
Unique design
Waterproof and durable
Adjustable level control
Hanging rope included
Environmental friendly
Conclusion: Which Anti Bark Birdhouse Will You Buy?
When it comes to barking you have to understand that that is the way the dogs are communicating. If your dog likes to bark too much then this is the device for you. You only want the best for your furry friend so I would recommend DOGTEK Sonic Bird House Bark Control because of the possibility to use it indoor and outdoor. The runner up is PetSafe Outdoor Ultrasonic Bark Deterrent because of the classical design that can fit anywhere.
If you found your bark control birdhouse next thing you need would be the dog house so why not take a look at the article about the top dog houses. Take a look also at the post about an igloo dog house or fancy dog houses.