Does your dog like to chew things around it?
Then you are probably on the market for the indestructible dog house. How to choose one without traping your dog into a cage is the question that this article answers to. It also brings reviews of the best chew-proof dog houses on the market.
Key Features Of Chew Proof Dog Houses
Why Choose Non-Chewy Dog House?
If you just got the dog and you are not sure is it going to be an excessive chewer, getting the heavy-duty dog house is the smart choice anyway. These houses are borderline indestructible and it can last you a long time. You can also get a bigger one and have it with you since your dog is a puppy until it grows old. It is not easily destroyed and it will save you a lot of money.
Size Of The House
It doesn't matter that your dog likes to chew things around. That is not a reason to put it in the box where it cannot move. That can only make things worse. The key is to train your dog int good behaving. But in the process, you might want to get a good-sized dog house where it can take a nap and relax. The comfort of its home will help you in training.
Weather Climate
Another thing to consider is the weather. Depending on do you want to keep your dog house indoor or outdoor, you need to consider the weather. The waterproof feature is a must if the house is in your back yard and proper insulation is a bonus for hot and cold weather.
Build Materials
Some heavy-duty dog houses made to be indestructible are from metal. That can be aluminum or even stainless steel. Those can be expensive and cold. That is why you can still have a traditional wooden house but it needs to have steel trims. You can also choose from heavy-duty plastic but with full insulation or even fiberglass or vinyl. Some indoor dog houses are made of wood with steel bars so that your dog can't chew through them.
Best 5 Chew-Proof & Indestructible Dog Houses
Best Outdoor Chew Proof Dog House
Cove Products The Vinyl Cube Dog House
Lightweight And Durable House
This great looking dog house was designed to be lightweight and durable while also maintaining a very attractive look. It is made of white vinyl which matches most white vinyl fences. It is made to last a long time and not be chewed on the first entrance. Because of the vinyl and aluminum parts this dog house is one of the lightest on the market.
Aluminum Trim
This vinyl cube has aluminum trim on all corners and edges including the access door. That trim prevents dogs from chewing and keeps the house intact for a long time. Because of the lightweight vinyl, it is important to reinforce it with something strong like aluminum. It keeps the dog and the house safe.
The Reinforced Roof
The roof is made from reinforced aluminum to make it stronger so it is a perfect place for your dog to get up on and lounge around. You can also lift the roof and lock it in the open position which provides easy access to puppies. You can also lock the roof in the closed position.
Easy Cleaning
Because of the roof that can be opened, the cleaning of this indestructible dog house is easy. The vinyl is also very easy to clean and it will never rost. The floor in this house is originally made of wood but you can get a version with the vinyl floor and you can add ventilation to make the airflow more consistent.
Attaching To The Kennel
This vinyl cube is also designed to work with all the dog kennel systems. You can attach it externally so your dog has more space inside the kennel. The flap vinyl door is also part of this house and you have the option of choosing the insulated or non-insulated version.
Characteristics:
Lightweight and durable
Attractive and ergonomic design
Chew-proof aluminum trims
Easy to clean
Insulated and non-insulated version
Best Indoor Chew Proof Dog House
DenHaus ZenHaus Indoor Dog House
Unique Appearance
This is a high-end indoor dog house. It is a round table that comes in black and white color so it can fit nicely in any home decor. It comes in two sizes. You can choose the size for small and medium dogs. It is ideal for the dogs up to 25 pounds.
Fiberglass House
This dog house is truly one of a kind. It is made of fiberglass material and it has a temper proof glass at the top. Because of this choice of the materials, it is a lightweight dog house that can stand through the test of the strongest set of dog teeth.
Ventilation System
This is a dog house that can be used as a side table. It is practical and it offers great comfort for your dog. It has all-around 360 degrees vent openings that provide maximum airflow. The door on this house is curved but you can easily detach them for more convenient entering inside.
Size And Dimensions
This dog house is 28 inches long, 19.5 inches wide and 21.5 inches high. It weighs 30 pounds so it is easy to move it around and place it where you want. It can be used as a nightstand and your dog can be with you at any time and both of you can have the comfort you deserve.
Characteristics:
Stylish unique design
Good ventilation
Locking mechanism
Rigid glass fiber
Best Wooden Chew Proof Dog House
Pets Imperial Wooden Norfolk Dog House
Strong Dog House
This house has two support rails that allow this house to support weight up to 154 pounds which is perfect for large dog breeds. It features a removable floor so you can easily clean everything and it is easy to maintain pest control. You can access everything because of the roof that opens and it has 2 locking arms.
Dimensions And Size
This is a dog house suitable for big dogs. It is 44 inches wide, 29 inches long and 31 inches high. It is highly durable and it can accommodate small to large dogs. It will nicely blend in any back yard. It offers great support and protection for your dog.
Insulation Of The Walls
All panels in this house are insulated. The insulation is made of timber (tongue and groove) that is 0.47 inches thick, next is 0.51 inches of styrofoam and 0.08 inches thick plywood board. With this insulation, your dog will be warm in winter and cool in the summer. The house is 150% thicker than any other dog house of this size you can find on the market.
Anti Chewy Dog House Features
This house is elevated 2 inches from the ground. It has adjustable legs and plastic caps to keep the wood safe from rotting. It is made from animal-friendly treated timber that is designed to last for years. The door frame is reinforced with aluminum trim so your dog cannot chew to the wood.
Characteristics:
Insulated walls
Reinforced door trim
Elevated floor
Suitable for large dogs
Best Portable Chew Proof Dog House
Lovupet Wooden Portable Pet House
Portable Dog House
This is the most practical dog house you can find. It can be assembled and disassembled in just a few seconds and it doesn't require any tools to do that. It doesn't take up much space so you won't have trouble finding a storage place for it or even put it in your car.
Unique Design
The Lovupet comes in natural wood color in a square design so you can use the roof as a table if needed. The front side has iron bars so your dog cannot chew through it. It also features a small door for a more convenient entrance and exit of your pet.
Dimensions Of The Hosue
This is an elevated style house. It is 28.1 inches long, 18.5 inches wide and 20.5 inches high. The door is 9.6 inches wide and 14.1 inches high. It also has a try at the bottom of the house for convenience and easy cleaning. It is made of PVC and it is 24 inches long, 16.5 inches wide and 1.8 inches high.
Easy To Clean
Because of the removable roof and removable floor, it is easy to keep this dog house clean all the time. You can also purchase a bed or cushion to put inside. It will provide insulation and more comfort to your dog. It is a sturdy wood and it can hold up to 45 pounds of weight you put inside.
Characteristics:
Water-based paint
Lockable gate
Comes with the PVC tray
Best Insulated Chew Proof Dog House
ASL Solutions Deluxe Insulated Dog Palace
Plastic Dog House
This is a rotationally molded plastic dog house made from the same material commonly found in outdoor playground products. It is strong and durable and it can stand in the different weather conditions without being damaged. It is a great option for outdoor use and even for indoor places like the garage.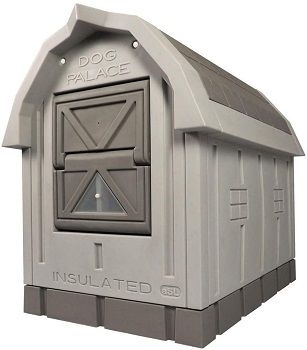 Insulation In The Panels
Each panel is filled with recycled DSP foam for superior insulation. The Delux dog palace also features real foam in every panel. The ASL Solutions Deluxe Insulated Dog Palace remains pleasantly comfortable at about 70 degrees Fahrenheit. Besides, an average dog body heat will raise the temperature inside the dog palace about 25 degrees F in the winter without the floor heater.
Self-closing Door
Along with the easy past through self-closing well fitted insulated door it offers great utility. The dog house self-storing window panes are easily repositioned from closed to open position without tools. The pets can look out through a see-through window in the front door. The door can be removed in total or you can remove just the bottom half for initial training.
Ventilation And Cleaning
This indestructible dog house has a floor that is sloped and it has a drain hole for easy cleaning. Also, contains the heater that goes through a rear exit that keeps dogs from tripping over the electric cord. It also features a removable bottom half and it is very easy and fast to assemble.
Characteristics:
Made of durable molded plastic
Insulated through all panels
Slopped floor
Self-closing door
Easy and fast assemble
Conclusion: Did You Choose The Che Proof Dog House For You?
Keeping the dog safe is equally important as keeping the surroundings safe. That is why a good quality almost indestructible dog house is a must-have. The best one you can get is Cove Products The Vinyl Cube Dog House because of lightweight vinyl and aluminum trims. The runner up is Pets Imperial Wooden Norfolk Dog House because of the traditional look and insulated walls.
If you want to learn more about this subject here is an article that reviews the best dog house for sale. Take a look at my post about the best dog house for winter or if you are looking for something more interesting read my post about igloo style dog house.