Are you looking for a light and durable dog house?
The plastic dog houses are lightweight but made out of heavy-duty plastic or resin. They offer great protection and they come in a variety of designs and colors. In this article find the answers to what makes them the best choice for your dog.
Key Features Of Plastic Dog Houses
Sizing Up Your Options
Choosing the right size for your dog is a huge part of selecting the right dog house. Your dog needs to be able to stan straight, turn around, lie down, and stretch comfortably inside the house. The size is crucial and you have to make the right choice or your dog wouldn't want to stay inside.
Ventilated Features
The plastic dog houses are not breathable like wooden ones. They can get stiff and that is why proper ventilation is crucial in the plastic houses. Make sure that your dog has a large door opening and that you can attach the door if needed. Another great option is to have windows on the sides or roof vent opening.
Insulation Features
Plastic dog houses are getting cold and hot quickly. The insulation is the key feature to make the dog house comfortable and cozy. Some plastic dog houses come with the built-in foam insulation and some are just plastic panels. It is recommended that you always put the cushions, blankets, or mats inside the house.
Placement Of The Dog House
Because the plastic can get hot and cold really fast, it is crucial that you think carefully about the placement. If you are looking for an outdoor dog house makes sure that you put it in the shade and away from direct sun. Also, make sure that it is not in the direct way of the wind. For the indoor placement, it is all about personal preference.
Cleaning Options
Plastic dog houses are easy to clean and maintain. It usually needs just a wipe with a wet towel. That is a great feature of the plastic dog houses. They are lightweight so you can easily move them around. Most of them need just snapping pieces together to assembly and the maintaining is minimal.
Best 5 Plastic Dog Houses
Best Large Plastic Dog House
Starplast Dog House
Simple To Assemble
This plastic dog house is quick and easy to assemble. It will take you no more than 5 minutes to finish it all. No tools are required to put it all together because all pieces snap together. It is a practical and budget-friendly option and great for indoor and outdoor use.
Easy To Clean
Because of the smooth plastic construction and vinyl looking panels, this dog house is really easy to maintain. You can clean it with the wet cloth or just sprinkle water on it. The maintaining on the inside is the same as it is for the outside. You can easily remove the roof to make the process even easier.
Durable Construction
This dog house is made of heavy-duty polypropylene plastic. it is UV stabilized and it offers great protection. Because it is a plastic material without steel hardware, it is completely rust-free. It is also waterproof and it can protect your dog from any weather elements. It is a durable dog house and a great option for outdoor use.
Product Dimensions
The Starplast dog house is designed to accommodate large dog breeds. It is 33.8 inches deep, 33.1 inches wide and 32.3 inches deep. In this house, your dog will feel cozy and comfortable. It has a large door opening and a lot of space inside. All you have to do is add some cushions and mats.
Overall Design
This house is designed with real house features. it looks like it is made of vinyl panels and it has a rightly shaped roof. It comes in two color options. You can choose from a dark brown or beige house with a green roof. No matter what color you choose it will compliment your back yard, garden or patio.
Characteristics:
Easy to assemble
Quick cleaning
Rust-free construction
Best Small Plastic Dog House
Aspen Pet Petbarn 3 Plastic Dog House
Long-lasting Protection
This house is made of durable molded plastic. It prevents fleas and provides reliable protection. It is suitable for outdoor use and can even be placed to accommodate cats and strays. It is solidly constructed, not chew-proof but it can withhold active and playful dogs. It is a strong shelter that can last you a long time.
All-Weather Protection
Petmate outdoor dog house is made of weather-resistant material. It also features an extended small roof above the door so that no rain can get inside. It also has a raised floor so that dirt, leaves and other things can stay outside. It will keep your pet dry and comfortable for a really long time.
Size And Dimensions
This house is made to accommodate small dog breeds. It can hold weight from 25 pounds to 50 pounds. It is 26.5 inches long, 18 inches wide and 16.5 inches high. It also comes in three more sizes. You can choose from extra small, medium and large sizes of this dog house.
Air Ventilation
Besides the front door opening, this dog house has rear air ventilation. It prevents heat and odor and it keeps your pet comfortable throughout the year. The two openings also ensure the constant fresh airflow which is important for your pet, especially if it spends a lot of time inside the house.
Easy Assembly
The Aspen Petbarn is constructed of two pieces. The base comes in black color and it has crowned entrance. The top is made in red color and it features extended roof over the door. Those two pieces are snap together and your dog house is ready to use. No tools are required to assembly this dog house.
Characteristics:
Durable plastic construction
Rear ventilation
Extended roof guard
Quick snap-together assemble
Rustic barn house design
Best Plastic Outdoor Dog House
Confidence Pet Dog House
Tough Plastic Material
The Confidence Pet Dog House is made of durable and tough plastic material. It offers a large end comfortable place for your dog. It is a little bit more expensive than the similar others on this list but it is worth it because it is a large, spacious and durable dog house.
Size And Dimensions
This dog house comes in three different sizes. You can choose from medium, large, and extra-large options. The large dog house is 34.5 inches long, 30.9 inches wide and 32.1 inches high. It weighs 20 pounds and the entrance size is 12.8 inches wide and 20.6 inches high. It is a great option for large dog breeds.
Easy Assembly
This plastic dog house is constructed of three separate parts. The base is raised from the floor and it has a slope in the entrance. On the base, you have to attach the panels and finally, you add the roof. No tools are required to assemble this house and all the necessary accessories are included in the package.
Design Features
This is a simple dog house that will nicely complement any garden or back yard. With black, white, and blue color combination it will also nicely fit into any home decor. It is simple and elegant and your dog will love it. Because of the plastic floor, it would be a good idea to add a cushion or a blanket.
Air Circulation
This plastic dog house has a large door opening at the front and it is possible to get official Confidence Pet vinyl door to attach it. There is also an opening above the door which provides additional airflow inside the dog house. It is a well-ventilated dog house for any weather season.
Characteristics:
Durable plastic construction
Large interior space
Raised floor design
Available in three sizes
Best Plastic Igloo Dog House
Petmate Dogloo With Microban
Intuitive Design
The extended doorway on this house is additional protection from wind, rain, snow, and other weather elements. It is also an additional space for your dog where it can relax, sleep and stretch. With this unique igloo shape, no liquid elements can stay on the roof but they all fall down on the ground.
Microban Technology
This dog house has an advanced layer of protection. It has incorporated the Microban solution on the plastic material. It is a new and improved technology that is developed to prevent the growth of odor-causing bacteria, mold, and mildew. With this protection, the house will last you for an even longer time.
Insulation And Ventilation
This igloo style dog house has inside insulation made from structural foam. It provides protection and it keeps the house cool in the summer and warm in the winter. To keep the inside even more comfortable, there is a vent opening on the top of the house. It also features a moisture drain channel with holes.
Three Sizes
You can get this house in three different sizes. You can choose from, small, medium and large dog houses. The small size can accommodate dogs up to 30 pounds, medium up to 50 pounds and large up to 90 pounds. Be sure that you measure your dog before purchasing any of the houses.
Quick Assembly
Like many other plastic dog houses, this one is also easy to assemble. There are no tools needed to put it together because it has two pieces that easily snap together. Because of the smooth surface, this dog house is easy to clean and maintain. All you need is a wet cloth to clean it from the inside and outside.
Characteristics:
Practical igloo design
Microban protection
Foam insulation
Easy to clean
Best Plastic Insulated Dog House
ASL Solutions DP Hunter Insulated Dog House
Insulation Of The House
This house is the most insulated house you can find on the market. It is made of real foam that is used to build real houses. It is 2 to 4 inches thick and it provides great protection from the cold in the winter and from the hot weather in the summer.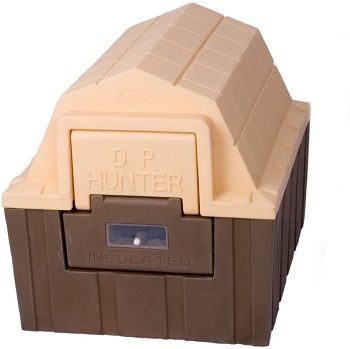 Ventilation System
This house is completely closed if you don't open the windows. There is one in the back of the house and one is on the front door. You can keep them open during the hot weather and keep them closed during the cold season. It is a perfect option for the outdoor house.
Self-closing Door
The door on this house is the perfect addition. It is completely insulated so it also protects your dog from all the weather elements. The bottom half of the door can be removed for the initial training. Even if you remove the bottom half your dog will have good protection from the rain and it will keep your dog dry.
Raised Floor
There is more to this house than insulation. The floor is raised to keep your dog warm in the winter. The floor also has a drain hole to make the cleaning easy and that no water or excess liquid is held inside the house. Also, the roof can be removed for easy maintenance.
Included Heater
This house also comes with the heater to provide more comfort for your dog. Sometimes the insulation of the house is not enough and the heater can be a great addition. There is a pre-drilled hole in the back of the house so that the cable is not in the way of your dog.
Characteristics:
Fully insulated house
Self-closing door
Drain features in the floor
Conclusion: Which Plastic Dog House Are You Going To Get?
When choosing the plastic dog house you have to pay attention to a few details. To make your choice easier you can surely go with the Confidence Pet Dog House because of the large interior space or you can go with the Petmate Dogloo With Microban because of the protective layer and offset doorway.
To learn more about dog houses and different types of materials they can be made of, read the article about the coolest dog houses. There is also a post about large dog houses for sale or you can check out the reviews of luxury dog houses for sale.