Do you need a dog house but don't want to spend a fortune on it?
There are options on the market for you too. If you are not the kind of person that will build it by yourself, there are good-quality cheap dog houses that you can buy. Which are the best and how to choose one, find out in this article.
How To Choose Good Inexpensive Dog House?
Sizing Of The House
The important feature you have to consider, no matter the price is the size of the dog house. It needs to be big enough so that your dog can stand up, turn around, lie down and stretch. It needs to be comfortable but no too big. To large house will lose the main purpose of keeping the temperature comfortable.
Raised Floor
The dog houses with the elevated floor tend to be more expensive, but some are more budget-friendly. The purpose of the elevated dog house is to keep the insects and mold away from the floor. It is also additional insolation for the floor so that your dog doesn't sleep on a cold surface. There is always an option to raise the house on rocks or wooden blocks to keep it away from the ground.
Weather-proof Design
Another thing you have to decide is are you buying a dog house for outdoor and indoor use. indoor dog houses are cheaper, they can be made of soft materials and some of them are disguised as the furniture. Outdoor dog houses need more protection from the elements. Insulation is a good feature and a waterproof roof is something that all dog houses need to have.
Materials Used To Build Dog House
There are a lot of options for dog house materials. The most common are wood and plastic. They are durable and strong and a lot of sizes are at your disposal. Other options are some softer materials like plush or cardboard. Materials are tightly connected with the placement of the house. Some soft ones won't survive if you leave them outdoors.
Top 5 Cheap & Inexpensive Dog Houses
Top Cheap Dog House For Large Dogs
ROCKEVER Wood Dog House
Large Dog House
This inexpensive dog house is made to accommodate large dog breeds. It can hold dogs up to 80 pounds. It is 45 inches wide, 31 inches long and 31 inches tall. It has an offset door so that your dog can have a private and protected corner and it features a small window on the side for additional ventilation.
Easy To Clean
This is a big house with a big door opening, but there are other ways to make cleaning easy and hassle-free. The roof can be opened with two locking arms to gain easy access. You can also remove the entire bottom floor when needed. It is a large dog house but practical to use.
Quick Assembly
This house is easy to assemble because of a few things. It comes with all the necessary parts and accessories that you need to make this house ready to use. It also comes with pre-drilled holes so that can be easily assembled. Once you assemble it correctly it will not split or fall apart.
All-weather Protection
The entire house is sealed and leak-proof. It can endure heavy rain and wind. It also has a raised floor that keeps the mold and humidity out of the house. The roof is slanted so no rain will stay on the roof and snow will require some cleaning. This house also comes with the vinyl flap door that will keep your dog warm and dry inside.
Characteristics:
Suitable for large dogs
All-weather resistant
Includes flap door
Window ventilation on the side
Top Cheap Dog House For Outside
Petmate Precision Extreme Outback Log Cabin
Weatherproof Construction
This house is made of solid wood and completely sealed. It features a protective coating on all panels. The roof is slanted and made of asphalt to prevent any liquid from getting into the house. It also features a raised floor that prevents dirt and rain from getting inside. It also serves as an insulation from the ground.
Durable Construction
With solid wood construction and stainless steel hardware that keeps it all together, this dog house is a perfect choice for outdoor use. It is a strong and sturdy shelter that offers long-lasting protection. It is made to endure all weather elements and to keep your dog safe while inside.
Size And Color Choices
This house comes in four different sizes. You can choose from small, medium, large and XLarge houses. Choose the house depending on the size of your dog. The biggest house is 44.7 inches wide, 32 inches long and 32.5 inches high. All the sizes are produced in two different colors. The options are natural wood and grey.
Adjustable Feet
Like it was mentioned before, this house has the raised floor. The legs that are supporting the house are adjustable. that means that you can adjust each leg according to the surface where you are placing this dog house. It can stand straight and leveled at any surface thanks to the leveling legs.
Value Of The House
Comparing this house to others on the market, you get more value for the price. It is designed similar to some other dog houses but it comes at a cheaper price. The craftsmanship is quality and you won't be disappointed. With the beautiful color design, it will nicely fit into any back yard and you don't have to spend too much money.
Characteristics:
Weather-resistant asphalt roof
Solid wood structure
Adjustable feet
Available in four sizes
Raised floor
Top Cheap Dog Igloo House
IRIS USA Large Igloo Shaped Dog House
Cozy Pet Home
Igloo style dog houses can be expensive. That is because this type of house offers additional space with the offset doorway and it keeps the temperature more consistent inside the dome. The IRIS USA Igloo house is built with the same quality as the others on the market but it comes at a budget-friendly price. It is cozy and comfortable and it will keep your dog happy for a long time.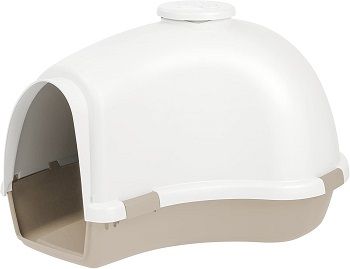 Adjustable Vent Cap
Plastic dog houses need more ventilation than others made of different materials. With that in mind, the manufacturer installed a ventilation cap at the top of the house. It is adjustable and it lets ample airflow into the back of this igloo dog home. With the open door and the vent cap, this house will be a perfect home for your furry friend.
Durable Materials
This cheap dog house is made of strong and durable plastic. It comes in two pieces. The base has raised sides so that no water can go inside. To complete the house you have to snap together the top of the house. It is quick and easy and your house is ready to use in just a few seconds.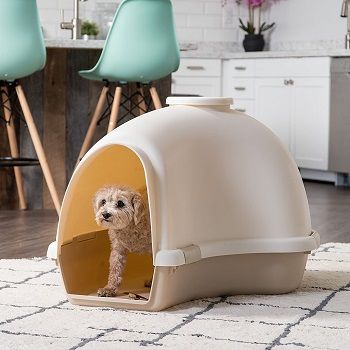 Product Dimensions
This dog house is suitable for small and mid-sized dogs. It is 37 inches long, 26.5 inches wide and 24 inches high. The offset doorway is tighter and it is 12 inches wide. The entrance is 11.4 inches wide and 16.9 inches high. For additional comfort inside you can add a custom cushion.
Characteristics:
Ideal for small dogs
Quick assembly
Adjustable ventilation
Expanded interior
Top Cheap Plastic Dog House
ZENY Plastic Dog House
Durable And Safe Structure
This dog house is made of high-quality PP material. The construction is durable and it ensures a long-time use for your dog. Additionally, this house also features anti-corrosion and weather-resistant coating. It is a great shelter that ensures great comfort for your dog. Your dog will love the sense of the reliability of this house.
Weatherproof Design
The sealed design is protective of the house and your dog inside. It has a raised floor and the roof is sloping made of asphalt that protects against elements. It keeps the cabin dry and comfortable. This dog house is suitable for indoor and outdoor use because it provides warm shelter for your pets.
Ventilation System
This Zeny plastic dog house has built-in vents in the front and the back. They provide circulation of the fresh air. With the thermal balancing properties, this cheap dog house keeps the dog cool in the summer and warm in the winter. This house is also designed with the raised base to keep the out water and dirt.
Ideal For Small And Medium Dogs
The durable and beautifully designed construction provides a comfortable shelter for small dog breeds and medium dog breeds. It comes in one size and it is 27 inches long, 25.6 inches high, and 27 inches high. It features a large door opening that is 10.4 inches wide and 17.3 inches high.
Easy To Assemble
This is easy to assemble dog house. All the required accessories are included and all you have to do is connect the base to the wall panels and then add the roof. The smooth surface makes it easy to clean and maintain. You can remove the roof by unscrewing the screws.
Characteristics:
Large inside space
All-weather design
Plastic construction
Top Cheap Small Dog House
Aivituvin Wooden Dog House
Build Materials
This small cheap dog house is made of solid fir wood. It is a great shelter for small dogs and it is coated with the water-based paint. With that coating, the wood is protected and it is not harmful to the pets living inside. All the materials are eco-friendly and quality made.
Wire Door Included
This wooden dog house has some upgraded features. It comes with the door. Most of the houses have flap vinyl doors. This house comes with the wire door that you can remove if you don't need them or you can lock them if you need your dog to stay inside for some time.
Size And Dimensions
This dog house is designed to accommodate small dogs. It has enough space to hide from the rain and relax in the sun. It is 29.9 inches long, 18.9 inches wide and 26 inches high. It can hold up pets to 18 pounds. The balcony on the top is the same size as the house.
Additional Space
The house is sealed and protected from the rain, so your dog can hide inside. What makes this house special are the side stairs and the balcony on the top of the house. The balcony is safe to use and it has a fence that is 8.3 inches high. It offers enough space to sleep and play.
Easy To Assemble
The house comes with pre-drilled holes and all the necessary accessories to put it together. Each part of the house is stamped separately and you have to follow simple instructions to assemble it. All the screw holes are aligned properly so the process is easy as it can be.
Characteristics:
Solid fir wood construction
Easy assemble
Multi-functional design
Wire door included
Conclusion: Which Inexpensive Dog House Will Be Your Choice?
Getting a new dog house can be expensive. There are so many models on the market, and a bigger price doesn't always mean better quality. From this list of cheap dog houses, you can choose the Petmate Precision Extreme Outback Log Cabin because of the quality materials or Aivituvin Wooden Dog House for the additional space. You won't be disappointed with either one of them.
To learn more about dog houses, here is an article about awesome dog houses. You can also take a look at the reviews of the dog house with a covered porch or check out the post about the best luxury dog houses for sale.