Are you interested in buying Petsfit Dog House?
Then you should read my article!
Here you can read my description of five Petsfit Dog House models available on the market. You can find and read about their technical specifications, features, and other useful information. Compare these Petsfit Dog House models and see which one fits the best your pet, needs and wishes.
Information About Petsfit Brand – read and learn
About Petsfit Brand And Their Wide Offer
Petsfit is specialized in developing and selling pet suppliers. So, besides the dog houses, they offer many other high – quality products that will definitely make your little furry friend`s life better. From Petsfit wooden indoor and outdoor houses, wide offer continues to pet stairs, pet carrier, backpack, and many others.
Why Buy Petsfit Products?
They specialize in innovative products designed to keep pets both happy and healthy. Their reputation is very good what you can read from many other reviews. They also have four factories that are strictly managed and are taking care of your products to be on time delivered and without any other problems. (That are R&D center, marketing center, national advanced laboratory, and 4 manufacturing plants)
Where To Buy Petsfit Dog House Models
There are many choices on their official website, also, because of their partnership with other large retailers, you can shop online on other websites, too. I would recommend shopping on Amazon. There you can catch really good discounts and products at cheap prices. Also, you can read the customer reviews on the product and easily compare it with other models and brands.
The Price Range Of Petsfit Dog House
Comparing with other brands and according to many reviews on Petsfit Dog Houses, their products are very affordable. Considering both price and quality, you will definitely be happy with your well-done shopping, just like your pet.
Customer Service And Warranty
For most dog houses, the warranty limit is one year. What is good, Petsfit adheres to Amazon Return policy. Within 30 days, if any quality problems occur, they will take full responsibility. If any damages happened during the shipping period, contact Amazon customer service or contact Petsfit. The Customer Service is user -friendly and will quickly respond to your questions.
Best 2 Petsfit Dog House Models Reviews
Petsfit Wooden Outdoor Dog House
Easily To Put It Together
This wooden dog house is relatively easy to put together. It should take less than an hour to assemble it if you follow the instructions. The only thing is that directions on the roof assemble are a bit sketchy. As being said, snapping dog house is really simple, except the part putting on the roof. (Because of the tongue and groove connection to the back of the house on a hinged piece-it is heavy.) The good thing is hinges are preinstalled.
Benefits Of Lifting Lid
This is a great help for the cleaning. It also has gas struts- they keep the lid from falling backward and breaking the hinges, plus help the lid stay up while cleaning.
Smart Designed Dog House
First of all, this house is very attractive and smart designed. Besides the lifting lid, the bottom of the dog house is slatted so there is an opportunity for venting. That is really helpful when it comes to summer and hot days.
The door being off-centered is very functional because it helps to keep the pet dry if the rain starts blowing.
Functional Roof Makes Dog House Appear Sturdy
The roof is made of thick material and makes this construction look sturdy and stable. This asphalt roofing can surely support 90 lb weight so you don´t have to worry when your dog jumps or sit on the roof.
Ideal Size Of The Dog House
You can choose the small, medium and large model of this wooden dog house. Small size can hold most small dogs and medium and large size can hold medium dogs like golden retrievers. In the end, you don´t have to worry if your dog will fit in the new house. According to other reviews, most of the costumes were satisfied with the size of the dog house.
Characteristics:
Very easy to assemble
Water-based paint which is healthier for the pet
Off-center entrance provides more space and keeps your pet dry
Roof can be opened and the bottom floor can be removed
Inner size: 36.6" L x 22.3" W x 22" H
Other Version of Petsfit Wooden Dog House
Petsfit Indoor Wooden Pet House For Small Dogs
This is a solid Petsfit wooden dog house, the construction is very simple – square box raised off the ground for aesthetic reasons. You can use the box as a seat for an adult, or to be a table for the decor in your house. The roof can raise up what allows and help while cleaning. The only negative thing is that the wood is untreated so you may apply a stain to the wood.
Petsfit Portable Pop Up Cage
The Material Of The Portable Pet Cage
It is designed from sturdy canvas, the zippers have two ways variety so you can lock them closed with a snap. It`s lightweight and flexible, furthermore, the price is affordable considering the quality. It also has good cross ventilation.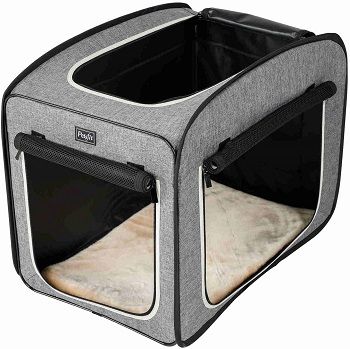 Ideal Solution For Pet Owners Who Travel
If you don´t know where to place your pet while traveling, this is a safe and comfy solution! This portable indoor carrier is good for long travels so you can easily without worry transport your pet anywhere you go.
Three Functional Entrances
There are the openings on the top, on the side of the pop-up carrier and on the front of the indoor cage. This makes easy access to load and release the pets inside and out and helps while cleaning. In addition to this, the front entrance can stay open to create a pet bed.
Easy Assemble Of The Pet Carrier
As the previous model, it is even easier to assemble the parts together. It takes literally a few minutes to snap it together so your pet can start using it right after your shopping.
Negative Side Of The Carrier
If your dog is active and playful, it can easily run away because in case the carrier is not braced, the pet can escape out of the top opening that is only closed by Velcro.
Characteristics:
2 mesh designs make sit good ventilation
Pop up design makes it easier to travel
Three entrances: front, one side, and top entrance
Include a carry bag
Side pockets can store small goods
Removable and machine washable pad
Flexible and comfortable
Other Version of Petsfit Portable Pop Up Cage
Petsfit Indoor Soft Dog Crate
When it comes to cold days, the plush mat makes your pet feel warm during the winter. On the other side, you can take out the plush mat and it turns out to be nylon side providing your pet a cool bed so it should not be too hot for the pet. This design allows folding Soft Dog Crate flat for easy storage. Also, it has handles for easy carrying. It is simple to assemble and is spacious enough for your pet to travel in the car.
Conclusion: Why You Should Buy These Best Petsfit Dog House Models?
The first Petsfit Wooden Outdoor Dog House is ideal for the medium dogs that can safely jump and play on the sturdy roof that can be removed for easier cleaning. The second Petsfit Portable Pop Up Cage is a great solution for pet owners who travel a lot and need a high-quality cage in which their pet can safely be transported. Both Petsfit Dog House models are simple to assemble and even more simple to keep them clean.
If you want to learn more about the other best dog house models from other brands, read this post about the best dog house with a buying guide. If you are looking for attractive, functional, high – quality and stylish models, you can check out and find about modern dog houses. In case you want to know more about wooden dog houses, read this post.