Are you looking for a better dog house bed?
Having a dog house is protection enough. Plenty of the dogs survived so far with sleeping on the bare ground. But I am sure that a soft bed would be a better choice. So without further ado, let's get into buying a guide for dog house bedding and reviews of the best ones on the market.
How To Choose The Best Dog Bedding?
Size Of Your Dog
The first thing that you have to do is get the right measurements of your dog. You have to take into consideration the length but also the weight of the dog. It is always a good idea to take a little bit bigger bed so your dog would be more comfortable. And if it is still growing you won't have to buy another one in a few months.
Dog's Age
When buying bedding for the young dog there is a small amount of thing you can do wrong. They are full of energy, they can jump, they don't endure the pain. You can play around with sizes and materials. If your dog is a bit older there is a chance that it has a pain in the joints. Be careful and don't get the bed that is too high or not supportive enough.
What Materials To Use?
Choosing the right material depends on many things. You have to take the climate into consideration. Do you need a cooling material od something to keep your dog warm? Think about the shedding. Some materials are easy to clean while others take some time. Some materials are combined to be more water-resistant and some to be hypoallergenic. This is a personal choice for each dog individually.
Additional Features
Good thing is to make a list of all the features you want your bedding to have. If you use it outdoor you might want it to be waterproof, or you want it to be machine washable. All those features can improve the comfort of your dog and you in the long run. Make sure that you choose quality materials but keep in mind that there is no such thing as an indestructible dog bed.
Best 5 Dog Houses Bedding
Best Outdoor Dog Bedding
The Dog's Bed Orthopedic Dog Bed
Size And Dimensions
This is a large dog bed with easy-clean cover is 40 inches long, 25 inches wide and 6 inches high. It is a premium quality orthopedic bed with high-density memory foam and offers great support. There are 6 different sizes of this dog bed so you can choose the one that fits your dog the best no matter if you have a chihuahua or a Tibetan mastiff.
Therapeutic Design
This is not just another bedding for your dog. It is made so that it can provide relief and comfort even to dogs with joint conditions such as arthritis, patellar luxation, and other things. It ensures that your dog has a quality relaxation so that it wouldn't have much trouble with joints in older age.
Easy To Maintain
This outdoor dog bedding comes with removable covers that you can easily wash. It has a quick-dry feature and includes a waterproof mattress. You can buy separately covers if you want additional change. Because of these features, you can use this bed outside without any problem and your dog will enjoy it.
Multiple Color Design
Other than choosing the size, you can also choose the color you want for your cover. The choice is between brown or grey plush, grey with pink, green, orange and blue trip, and also brown or grey linen. The quality of each material is suitable for long-lasting life and use.
Characteristics:
Very comfortable dog house bed
Memory foam filling
Waterproof cover
Large choice of sizes and colors
Therapeutic features
Best Indoor Dog House Bedding
Utotol Warming Dog Bed
Product Materials
This dog house bedding is made of PP cotton. There is an extra filling of the cotton so it doesn't change the shape over time because of the heavyweight dogs. This bed is comfortable and orthopedic so it is suitable for the dogs with joint bone issues. It is quality made and durable and it is completely machine washable.
Dog Caring Features
This indoor dog house bed has raised edges for the additional support and dogs can use it as a pillow. The cover is made of anti-wearing jacquard sofa cloth which is more durable than some other on the market. The faux plush fur is on the top to keep your dog warm during the cold days. The bottom has a non-slip feature to keep the bed in place.
Size Of The Bed
The Utotol Warming Dog Bed comes in three different sizes. You can choose from small which is for the dogs and pets up to 35 pounds. The medium one can support up to 55 pounds and the large one is for the dogs up to 95 pounds. If you are on the edge it is always better to take a larger one so few pets can use it.
Design
This is a modern looking bed. It comes in black, blue, pink, grey, and red color. The paw logo on it is hand-sewn. The classical and simple look makes this dog house bed a great addition to any room. But most importantly it gives the dog a perfect and comfortable place to rest and cuddle in.
Characteristics:
It is warm and comfortable
Completely machine washable
Water and dirt resistant bottom
Multiple colors choices
Best Cooling Dog House Bedding
TheGreenPetShop Dog Cooling Mat
Dog Cooling Bed
The Green Pet Shop Cooling bed is the best thing you can get for your dog especially in the summer. This is a mat that is pressure activated. It has a gel inside that that soothes the dogs when they make a contact with it. It can provide a nice and cold cooling surface for up to 3 hours.
Auto Activation
This is a very different cooling mat form the others on the market. It doesn't require any water, electricity or even refrigeration. There is a special gel formula inside that automatically recharges after about 15 to 20 minutes after you stopped using it. Your dog doesn't have to struggle with overheating in the summer ever again.
Easy To Use
This is the simplest cooling dog house bed you can ever find. All you have to do is lay the cool mat on the spot where your dog likes to relax. It will start work immediately. The chilling gel will provide a cool surface for it to lay down without any trouble.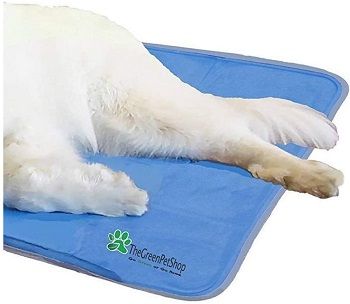 Versatile And Portable
One of the great things about this cooling mat is that you can use it on any surface you want. You can put it on the floor, sofa, your pet's house, kennel, additional bed or even outdoors. It is lightweight and you can easily fold it and take it with you no matter where you go.
Dimensions
This is a mat designed for extra large dogs. It is 27.5 inches long by 45 inches wide. It can support dogs up to 90 pounds. It is a great choice even if you have a few pets. To keep it clean all you have to do is swipe with the cloth. Keep in mind that you need to avoid leaving it on the direct sunlight because it can affect performances.
Characteristics:
Patented cooling pad
Automatic recharging
Pressure activated gel
Portable
Easy to clean
Best Heated Dog House Bedding
K&H Pet Products Thermo-Snuggly Sleeper Heated Pet Bed
Soft Foam Wall Design
This is a dog house bed that has soft foam walls so your dog can use it as a cushion. It has a removable pillow and it comes in soft beige and green color. It is 31 inches wide, 24 inches long and 5 inches high. Because of the removable heater, you can use it throughout the whole year.
Thermostatically Controlled Bed
The bed is thermostatically controlled. It can automatically change the temperature set up to warm the body of your pet accordingly. It is made so that it only adjusts the temperature when the dog is in bed. To make sure that your dog won't get hurt the bed has been tested and certified to exceed the USA/CA electrical safety standards.
Dual Thermostat Heater
This dog bed has a 6 watt removable Heater. It features a dual thermostat heater which warms up to your pet's natural body temperature when the dog is laying in the bed. When the bed is empty, it will emit a small amount of warmth to keep the temperature 10 do 15 degrees Fahrenheit above ambient temperature.
Easy To Care
Just because this dog works on electricity doesn't mean that it is not easy to maintain. You can remove everything. The heater can go out, the pillow also and the cover is removable so you can wash it in the machine. Because of all of the heating features, the manufacturer offers a one-year limited warranty.
Characteristics:
Removable heater
Thermostatically controlled temperature
MET safety listed
Best Elevated Dog House Bedding
The Original Elevated Pet Bed by Coolaroo
Elevated Design
This is a bed platform that elevates the dogs more than 7 inches of the ground. Because of the elevated design, the airflow is increased on all sides of the bed so that your pet can stay cool. This suspended platforms also provides added comfort by creating a low impact pressure areas.
Materials And Style
This dog house bed has a frame made of stainless steel. It is strong and powder-coated which is extremely durable for pets of any sizes. The fabric on the top is made of high-density polyethylene (HDPE) that helps eliminate hot spots. It is strong yet breathable and it is flea, mite, mold and mildew resistant. It is easy to wash and clean.
Easy Assembly And Portability
Because you can assemble this bed in just a few minutes it is a great thing to have with you at all times. This feature makes it great for use indoor and outdoor. You can take it with you where ever you go and all the tools that you need to assemble this bed come with it when you buy it.
Multiple Colors Choices
It is available in three sizes so you can pick the one that is just right for your dog. The available sizes are small, medium and large. This is also a bed that comes in a few different colors. You can choose from Brunswick green, grey, nutmeg, terracotta, aquatic blue, and gunmetal.
Characteristics:
Elevated bed design
Three sizes available
Greenguard certified
Durable materials
Conclusion: Did You Choose The Best Dog House Bed?
Sometimes when you buy a dog house it can have a little bit harsh floors and you need to add a few cushions to make it comfortable. The best thing you can add or use as an individual unit is The Dog's Bed Orthopedic Dog Bed because of the multiple sizes and you can adjust it to any house and any needs. The next best thing is Original Elevated Pet Bed by Coolaroo because it can fit into the house but you can use it separately as an elevated bed for the outside.
If you want to learn more read my article about the best dog houses on the market. There is also a post about the best plastic dog house and a wooden dog houses so you can choose the best dog house based on the materials they are made of.