Are you looking for a unique style of the dog house?
The igloo dog houses are usually insulated, fun-shaped and they offer great protection for your dog. They are also a great addition to your back yard. To learn more about them and which are the best ones on the market, keep on reading this article.
Igloo Dog House Buying Guide
What Size Of Dog Igloo Do You Need?
To determine the size of the igloo dog house is pretty much the same as choosing the regular shaped dog house. Make sure that your fog has enough space inside to stretch and to stan up. What you have to keep in mind is the door opening and the size of the offset doorway.
Insulation Of The Igloo Dog Houses
Most of the igloo dog houses come with some kinds of insulation. It is usually foam between the plastic panels. The plastic dog igloos are made to be used outdoor because of the quality plastic. There are soft igloo dog houses that are made to be used indoor and they don't have and special insulation, but the soft materials are what makes them soft and comfortable.
Cleaning An Igloo Dog House
Cleaning this kind of house is easy. They are usually made of two pieces of plastic that snap together. You can easily detach them and clean them with water. If you choose the indoor dog igloo it is usually made of soft materials like posh. Those houses can be machine washable.
Additional Features
To make the plastic igloo dog house even more comfortable you can add some items to it. There are special heating and cooling mats that fit the shape of the igloo house. You can also add the flap door to the igloo dog house to make that wind don't pass through and to keep the rain out of the house.
Top 5 Igloo Dog Houses
Best Extra Large Igloo Dog House
Petsmart Indigo Dog Igloo
Plastic Igloo Dog House
This is a heavy-duty dog house made of plastic material. It is constructed in two plastic parts that snap together. It provides great insulation for hot and cold weather. Because of its shape, it doesn't hold any liquid on it. It is a great option for outdoor use, but you can also place it inside the house.
Sizes And Dimensions
This dog igloo house comes in three different sizes. You can choose from the medium, large and extra-large dog houses. The largest one is 51.5 inches long, 39.3 inches wide and 30 inches high. It can accommodate large dog breeds comfortably inside. For additional comfort, you can add cushion or mat.
Microban Protection
Other than being good insulation, this dog house has also a coating of Microban Antimicrobial finish that helps in preventing the growth of the mold, mildew and other odor-causing bacterias. It is long-lasting protection and it won't get damaged in the weather elements. It is also rust-free and it will not rot.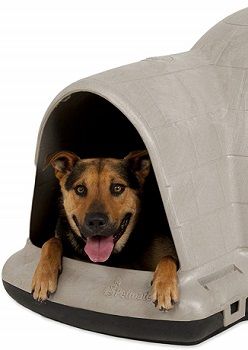 Offset Doorway
The great thing about igloo dog houses is that there are instant protection and additional space inside. With the offset doorway, your dog has more space inside to stretch and lie down. In addition to that, that design of the door also provides covered space that keeps the rain and other weather elements far from the inside.
Easy To Maintain
Because this Petsmart Indigo Dog house is made out of only two separate pieces, it is easy to assemble and to maintain it. You can easily remove the top part and wash each part separately with water. It is simple and quick and at the same time, it provides a durable home for your furry friend.
Characteristics:
Multiple size options
Roof ventilation
Offset doorway
Additional protection of the material
Best Insulated Igloo Dog House
Petmate Dogloo with Microban
Perfect For Medium Dogs
This dog house is the perfect size for small and medium dogs. It is insulated and it offers the perfect protection for your dog during the winter and the summer. It will provide your dog with enough space inside and it will not take up much space in your garden.
Safety Features
Many manufactures use all kinds of chemicals to finish and clean the dog house before sending them to you. This igloo dog house is treated with water-based paint and non-toxic coating so it is safe for your dog the moment you buy it. The edges on this house are rounded to prevent cutting.
Construction Of The House
This insulated dog house is built with a strong plastic. It is durable and it won't crack or tear on the weather elements. You can use this house for many years before it starts to show traces of usage. It is also protected with Microban to prevent the growth of the odor-causing bacterias.
Ventilation And Insulation Features
This igloo dog house is reinforced with the structural foam that provides insulation for your dog. It helps to keep the temperature inside according to the weather outside. Because this is a plastic dog house, ventilation is an important feature. This house has a doorway and it features the vent cap on the top of the house.
Size Of The House
This dog house is a great option for small and medium dog breeds. However, it does come in two different sizes so you can choose which one suits your dog best. The smaller size can accommodate dogs from 25 pounds to 50 pounds and the large option is for dogs from 90 pounds to 125 pounds.
Characteristics:
Great insulation features
Spacious dog house
Vent cap on the top of the house
Best Soft Igloo Dog Beds
Best Friends by Sheri Convertible Honeycomb Igloo Bed
Convertible Design
This soft igloo dog house provides privacy and security when it is in one dog house shape. It is a great place for your pet to rest, relax and hide from the world. When you collapse the house it turns into the cushion. It is soft and cozy and it can be used as a travel cushion and a house.
Stain And Allergen Resistant
The construction of this house is durable and flexible. It is made of lightweight microfiber foam and covered with tightly woven polyester. It helps to keep the dust, mites and pet dander away. It is also proven to be resistant to many common household stains. It is also resistant to snags and pulls.
Luxury Comfort
This igloo bed provides the ultimate comfort that your dog deserves. It is soft to touch and it ensures relaxation and coziness. The fabric is breathable and it is colored with a colorfast design that makes sure that the fabric and the color look like new for many years to come.
Machine Washable
The round base that goes on the floor is water-resistant and it protects your floors from accidental messes. Inside the house is a bed that features a removable padded insert so that your cleaning gets quick and easy. For deep and detailed cleaning it is safe to put the entire igloo house into a washing machine and you can machine dry it too.
Natural Color Choices
There is a great selection of colors to choose from. You can select from wheat, blush, dark chocolate, grey, or tidepool color. Those are beautiful colors that will compliment any home decor. This dog house comes in a standard size that is for dogs up to 12 pounds or jumbo size for dogs up to 25 pounds.
Characteristics:
2-in-1 design
Stain-resistant
Soft and comfortable materials
Machine washable
Variety color choices
Best Small Igloo Dog House
Pet Tent Soft Bed For Dog
Plush Pet House
This dog is made from quality and soft materials to provide the perfect home for your furry friend. It is a combination of the faux suede, linen or corduroy and each combination comes with the soft poly-foam lining. There are a lot of color combinations that you can choose from that will suit your home decor.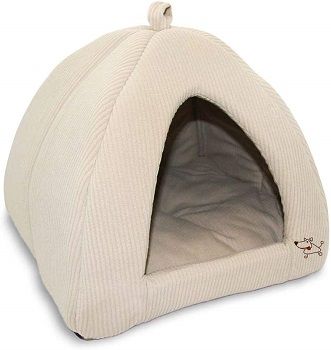 Easy To Maintain
Because of the material choices and way of construction, this dog house is completely machine washable but you have to put it on a gentle cycle. It won't stretch out of shape and that makes it durable. It can even be used as a soft traveling crate. It is a simple and practical igloo dog house.
Cozy Igloo Home
Each part of this soft house is made so your dog can experience maximum comfort. It features a soft foam inside the house that protects your dog's joints and muscles from the hard ground. You can put inside your dog's favorite toys and make it a perfect relaxing place in your house.
Dimensions And The Size
The Pet Tent Soft Bed for Dog is suitable for small dogs. It comes in three different sizes. You can choose from small, medium and large options, but keep in mind that there are just a few inches of difference between them. The largest option is the igloo house that is 18 inches long, 18 inches wide and 16 inches high.
Characteristics:
Soft and comfortable dog house
A great addition to your home
Designed to last
Easy to maintain
Best Indoor Dog Igloo House
The Refined Canine Igloo Deluxe Pet Bed
Luxury Dog House
This hand-woven in the realistic faux rattan dog house is one of the most unique styles that you can find on the market. It looks like a princess carriage which is a perfect fit for your dog. Instead of having a normal dog house, your pup can live in this deluxe side table dog house.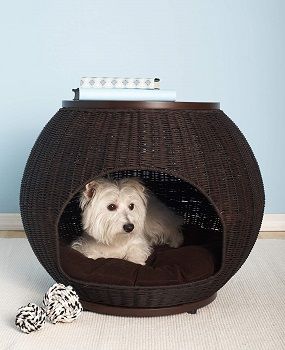 Unique Design
Because of the handwoven design, this dog house will fit into any home decor. It comes in gray and dark brown color. What makes it unique and practical is the flat surface on the top. You can use it to put plants, books or any other thing on it. It is a perfect nightstand or side table.
Ultimate Comfort
This igloo dog house comes with the soft sitting cushion inside. Your dog can relax and enjoy it after a long day in the park. The cushion is machine washable and it comes in complementary colors with the ratan of the house. You can always replace it or add some others inside.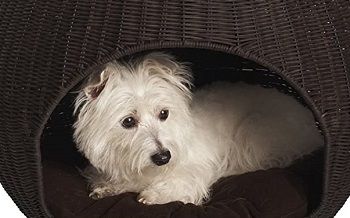 Easy To Clean
The faux rattan is waterproof and that makes it a great option for a dog house. You can just wipe it with a wet cloth and your dog house should be clean as new. Because of the woven elements, it is breathable and it is porous enough to have constant airflow throughout the house.
Size And Dimensions
This dog house is suitable for small and some smaller medium dogs. It is 25 inches in diameter and it is 20 inches high. It is an extremely durable and practical dog house that your dog will love. It provides a great hideaway for your pet.
Characteristics:
Multiple-use as a side table and dog house
Breathable comfort
Included soft cushion
Great for indoors and outdoors
Conclusion: Which Igloo Style Dog House Will You Choose?
Having an igloo dog house adds to the style of your decor and the comfort of your dog. To choose the best option is not easy, but from this list, that would be Petmate Dogloo with Microban because of the insulation in the walls or you can go with The Refined Canine Igloo Deluxe Pet Bed because of the double use.
To learn more about this subject you can read the article about the amazing dog houses. There is also a post about the best extra large dog house or take a look at the reviews of cheap dog houses for sale.