Are you looking for a specific design for the dog house?
The barn style dog house might be just the right thing. It can nicely fit into any back yard and it will bring a little bit of country feeling. In this article, you can read all about how to pick the right house and which are the best barn dog houses on the market.
Barn Dog House Buying Guide
Size Of Dog House
The most important aspect of buying a dog house, no matter the style, is the right size. The size of the dog house is determined by the size of your dog. That doesn't mean that bigger is better because dogs enjoy the safe feeling in the smaller space. The right size si if your dog can comfortably stand, turn all the way around and stretch in the house.
Materials For Dog House
The most commonly used materials to make a dog house are wood and plastic. Wood is more traditional and more expensive. It takes great craftsmanship to make a nice looking barn house but in the end, it can look like a mini version of the real one. It needs some maintenance over time. The plastic houses are cheaper but all you get is molded plastic in the shape of the barn house. The advantage is that you can easily transport it and it is easier to maintain.
Door Design
Several design elements need to be considered before purchasing a dog house. One of them is the door. The decision can be based on your dog's preference but it is most likely that it will adjust on any kind of door. Consider the position of the door because the door on the side can do a better job of keeping the weather elements outside and give your dog a safe and private corner, opposite to the center door position.
Floor, Roof, And Ventilation
The floor, roof, and ventilation are the features where you can determine the quality of the house. The best dog houses have a raised floor. This keeps the moisture and insect away from the wood. The roof shape is not that important as is the material. The best thing is to take the house with an asphalt roof that can protect the house from the weather elements. When you have a good floor and roof all you have to do is add some ventilation openings and you are good to go.
Best 5 Barn-Style Dog Houses
Best Large Pet Barn Dog House
Boomer & George Barn Dog House
Build Materials
This Boomer & George wooden barn dog house is made from solid fir wood construction. There are a few elements of stainless steel like bars on the windows and other hardware. It is a strong, stable and durable build to last a long time and provide your dog with great protection.
Ventilation And Air Flow
This barn style dog house is built with a raised panel floor. That keeps the moisture and insects away from the wood. It also helps your dog to keep it dry and off the cold ground. Besides the front door, this dog house has also a side window with steel bars. You can open it completely or leave it closed. All these little things ensure that your dog is comfortable inside.
Easy Cleaning
Because this is not a small house, and it takes some skill to keep it clean, the manufacturer provided the roof that you can easily remove. Once that is done you can pour the water and wash it. all of the excess water will go out through the small window on the side. Because this is a waterproof house, you don't have to worry about damage.
Heater Included
This house has included a heater that offers safe heating for cooler months. It is thermostatically controlled and it can heat the well-insulated house to 32 cubic feet. It is protected so your pet won't get burned while the heater is inside. The heater also comes equipped with a heavy-duty chord that is chew-proof and 8 feet long.
Dimensions And The Size
This barn house is large and spacious enough to accommodate large dogs. It is 39 inches wide, 47 inches long and 35 inches high. Those are the measurements that include the house and the porch. The door is 16 inches wide and 21 inches high. The barn dog house of this size is a perfect choice even for 2 small puppies.
Characteristics:
Fir wood construction
Raised panel floor
Extended covered porch
Includes internal heater
Shingled roof
Best Outdoor Barn Dog House
Billionaire Asia Pet Squeak Small Barn Dog House
Solid Wood Construction
This Pet Squeak the barn dog house is solid fir wood construction. It is reinforced on the corners but it remains lightweight and durable. It is painted for protection with water-based non-toxic paint. Because of the shield roof, it is completely weather-resistant. Your dog will be safe and comfortable in this barn style dog house.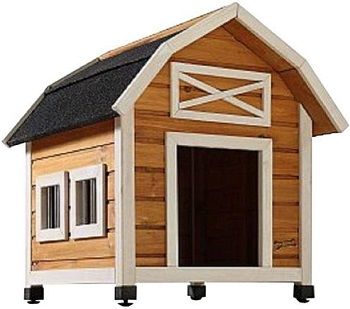 Size Of The House
This is a dog house suitable for dogs between 16 pounds and 30 pounds. The internal size of the house is 21 inches wide, 19 inches deep and 23 inches high. The door is 9.5 inches wide and 11.25 inches high. It is a small but cozy house. If you want to make it even better you could put a soft cushion inside.
Design Of The Exterior
Thi barn dog house is an elevated house that has leveling legs so you can adjust it to any uneven surface. It comes in the natural wood color with white trims and you can paint it and customize it as you like. Other than the front door, this pet barn dog house features two windows on the side for a better look and an even better flow of the fresh air.
Fits Any Decor
This house is designed to be used outdoor, but you can put it inside the house because it is not too big. Its barny style looks, make it suitable for any back yard or patio. If you want you can attach the door on it so that your dog is more protected from the wind and the rain.
Characteristics:
Solid wood construction
Leveling legs
Lightweight and durable
Best Plastic Barn Dog House
Petmate Barnhome III Dog House
Outdoor Dog House
This is a heavy-duty barn style dog house that features rear air ventilation and extended roof guard. The vent keeps the consistent fresh airflow through the house and the roof guard keeps your pet safe and dry from the weather conditions. It is made to accommodate dogs up to 15 pounds.
Easy To Assemble
This is a ready-to-use dog house. It is made of durable plastic that is mold-resistant. It comes in two pieces – the bottom and the top. All you have to do is put those two pieces together and your house is ready to use. It is a perfect outdoor solution because it is water-resistant and it won't break that easily. You can even put a cushion inside to make it more comfortable.
Multiple Size Choices
This Petmate Barnhome 3 dog house comes in four different sizes. You can choose from the smallest size that can accommodate up to 15 pounds heavy dog, medium size, large size and extra-large size that is made fro dogs up to 90 pounds. Other than size choices you can also choose from a few colors and even get the red barn dog house.
A barn shaped Red Dog House
This is a beautifully and simply shaped dog house to look like a barn. It protects your dog from all the weather elements all year round. It also features improved insulation to keep your dog warm in the winter and cool in the summer. You can easily accessories this house with the vinyl door and Petmate bed for the indoor.
Characteristics:
Rear ventilation
Strong durable plastic
Easy assembly with no tool needed
Easy to clean
Best Wooden Barn Dog House
Trixie Natura Barn Style House
Overall Design
This is a modern barn style dog house that comes in grey color with white trims and black asphalt roof. It is slightly raised from the floor which gives it a long-lasting feature. The legs are protected with the plastic caps so the wood wouldn't rot. It features a large door in the center.
Materials Used For The Trixie House
To make this whole house the manufacturer used glazed fir wood to make a strong and durable construction. The roof is made of asphalt shingles to make it water-proof and suitable for outdoor use. It is all connected with the metal hardware and there are some plastic details like caps for the legs.
Easy Cleaning
Because of the large entrance door and removable floor you can easily keep this barn dog house clean. All you have to do is pour water inside or remove the floor and washi it outside the house. You can also put a cushion inside that is made of waterproof materials to keep the cleaning at an easy level.
Dimensions Of The Barn
The Trixie Natura Barn Style House is a big house that can easily accommodate medium and large dog breeds. It is 42.75 inches long, 31.5 inches wide and 39.25 inches high. It is the most comfortable wooden pet barn dog house you can find on the market that can fit large dog breeds. 
Characteristics:
Protected legs with plastic footing
Removable floor
Tounge and groove design
Best Insulated Barn Dog House
ASL Solutions Deluxe Insulated Dog Palace
Product Features
ASL Solutions Deluxe Palace includes all the necessary installation hardware and it assembles in six easy steps. It also features a sloped floor with a drain so that makes cleaning easier. You can remove it completely and wash it outside of the house. It is practical and easy to maintain a pet barn dog house.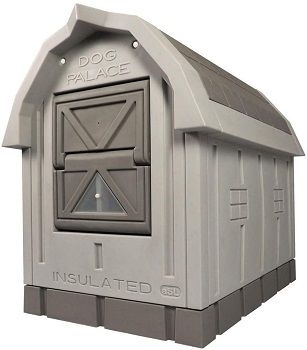 Dimensions Of The House
When you assemble the house, the exterior measurements are 38.5 inches high by 31.5 inches wide by 47.5 inches long. It can fit small to large dogs easily. It comes in two different colors. You can choose from gray and brown color combination, whichever fits your surroundings better. There are some additional features that you can add to this house to increase comfort.
Insulation Of The Walls
One of the main features of this barn dog house is the insulation that is up to 4 inches thick and it is in all the panels. The insulation is made of the real styrofoam made to stand through all types of weather conditions. For better airflow inside the house, there are two windows – one on the front door and one on the back. You can easily remove it or close it.
Easy Pass-Through Door
The Dog Palace has a large door that measures 15.5 inches wide and 18 inches high. It is easy for any size dog to go in and out. The bottom of the door features a small window that you can keep opened or closed. Also, you can remove the bottom half of the door for initial training.
Characteristics:
Insulated floor and walls
Self-closing door
Requires assembly
Features two windows
Conclusion: Which Barn Style Dog House Are You Going To Get?
You want to have the best dog house you can get. Quality comes first and the design comes second. Then why not choose the barn dog house? The best you can get is the Boomer & George Barn Dog House because of the large space and classic design. The next best thing is ASL Solutions Deluxe Insulated Dog Palace because of the strong insulation.
If you want to learn more about the subject of dog houses here is an article about the best dog house for sale. You can also find some interesting information about the subject in the post about the best small dog house for sale or the review of the dog house for multiple dogs.