Do you want to bring your dog camping with you?
Then your dog needs a tent. If you are trying to figure out which is the best dog tent house, you came to the right place. To save you the trouble of endless search I bring you the best tents for dogs on the market. All you have to do is pick one.
Choosing The Best Dog Tent House
Why Invest In A Tent For Dog?
If you like to go camping the dog tent can be useful for you in many ways. You can use it to keep your backpack in, shoes or food. But most importantly, you can provide your dog with a comfortable camping trip. Tents can be cramped and if you are a light sleeper your dog my keep you up all night. It is not a smart choice to leave the flap open because all of the bugs can come in, so the separate tent for your dog is the right thing to buy.
Define Your Needs
When choosing the best dog tent house you have to consider your needs. Is this a tent that you need for hiking or a day at the beach? Then you will choose something light and portable. Are you going on a trip for a few days? Then you might need something sturdy, waterproof and more comfortable. No matter the size, the dogs can be rough so you want to look for a good quality dog tent house.
Size And Comfort
You might have the best-looking tent for your dog, but if it is not big enough your dog won't fit and it is like you don't have a tent at all. Make sure that you check the dimensions of the tent and keep in mind that it is always better to take a bigger one. If your dog is comfortable and well-rested you will be too.
Additional Features
When you choosing the tent for you it always comes down to something extra that tent offers. It is the same with the dogs. You can look for elevated bed style, washable padding, food dispenser, water cup or something more. You want to make it as comfortable as you can so keep an eye for the additional items you can get.
Best 5 Dog Tent Houses
Best Indoor Dog Tent
Pet Tent Soft Bed for Dog
Multiple Design Choices
This is the softest tent house that you can find for your dog. It is made using faux suede, linen or corduroy. Different materials come in different colors. You can choose from brown, gray or white linen, corduroy beige, lattice or plaid. All of them come with soft poly-foam lining which molds to your pet's position.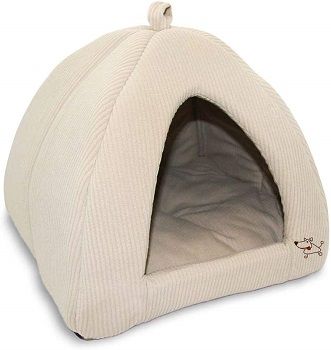 Indoor Look
You can buy this indoor dog tent house with or without the bed inside. The bed is a thick cushion made of corduroy beige plush. It fits perfectly into any of the tents and it will fit great into any style of your home. it is soft and comfortable for your pet.
Dimensions
This is a tent home that can give your pet some privacy and feeling of security while inside. You can choose from three sizes of the tent and the biggest one is 16 inches wide x 16 inches long x 14 inches high. It is made of durable materials so your pat can enjoy it from throughout the lifetime.
Easy To Maintain
It is easy to keep this tent clean. You can put all of it into a washing machine without worrying that it will stretch out of shape. You should wash it on a delicate cycle and then air dry.  You can also easily make it into a small cushion for easy transportation.
Characteristics:
Can be machine washed
Available in a wide range of colors
Does not collapse when assembled
Comfortable because of poly-foam lining
Best Teepee Dog House Tent
Little Dove Pet Teepee Dog Bed
Natural Materials
The best thing about this dog tent house is that it is made from natural materials. The wooden pine sticks make the construction strong and stable and the 100% durable cotton canvas is durable and practical. It is simple but a beautifully designed tent that your pets will enjoy for a long time.
Size And Dimensions
This is a small teepee dog house. It is 24 inches tall and 20 inches in diameter. It is ideal for pets up to 15 pounds. You can also buy a little bit bigger version of 28 inches in height. If you have a cat, puppy or a small dog this is a perfect choice. It doesn't take up much space and it looks stylish.
Easy Assemble
This is one of the easiest teepee tents you ever encountered. It is all in one piece and it takes 5 minutes to assemble. No tools are required. You can easily fold it like an umbrella and store it or take it on the day trip with you. It is machine washable but it is recommended that you wash it in cold water and air dry.
Comfort And Style
The Little Dove dog teepee house is one of the most comfortable tents on the market. The pets love it and the owners love it. It comes with an anti-slip rubber protective mat. You can personalize it with the small chalkboard that comes with it. Keep in mind that the cushion is sold separately or you can make your own.
Characteristics:
Made of natural materials
Durable design
Easy to assemble
Hanging chalkboard included
Suitable for small dogs
Best Portable Dog Tent House
K9 Sport Sack Portable Dog House
Tent For Hiking
When you spend your days in nature, every now and then you need to take a break and so does your dog. That is why this tent is the best portable option. This is a pop-up dog tent house. It is ready in just a few seconds. When you are done, it folds back into a carrying case and you are good to go.
Portable Dog Crate
This tent is designed to be lightweight, practical, and portable. It is perfect for camping, picnics, hiking or any other moment you want to hide from the hot sun. When you fold it down it fits perfectly in the K9 Sport Sack storage compartment that is also waterproof and it has a string to be attached to your backpack.
Fits Small And Medium Dogs
This is a soft tent but it can even be used as an outdoor kennel, playpen or travel cage to keep your pets safe. It is suitable for indoor and outdoor use. It is 30 inches long, 30 inches wide and 30 inches high. It can accommodate small and medium dog breeds without any problem.
Additional Features
Although this is a soft tent it is important to keep your pet safe. This is a fully ventilated tent. The sides are open to provide the necessary airflow and it is UV protected. It is made of polyester and it is water-resistant. The front door is easily mashed to provide quickly going in and out.
Characteristics:
Features a storage compartment
Assembles in seconds
Fully ventilated siding
Best Dog Tent House For Camping
Petego Umbra Portable Pet House
Product Materials
This dog tent house is made from high-quality material to ensure the most protection and comfort for your dog. It is a durable fabric that features mesh components for airflow to keep your dog cool and it protects your pet from the weather elements at the same time. The material si claw proof to keep your dog from escaping.
Umbrella Mechanism
To make this Petgo Umbra tent work all you have to do is open it like an umbrella. It takes a few seconds to pop it open and it is ready to use. The same thing is when you want to disassemble it. It comes with a carrying bag for easy transportation.
Different Sizes
This dog house tent comes in three different sizes. You can choose from small, medium and large. The medium interior space measures 30 inches in length, 30 inches width and 29 inches high. It is suitable for most dog breeds. It can easily fit in the car so you can even use it for the transportation of your dog.
Design
This dog tent house comes in a simple three-color design. The base and solid walls are gray and the airflow sidings are black. With the touch of an orange roof and details on the tent, it makes a stylish choice. It doesn't come with the cushion or paddings so you should add one yourself for extra comfort.
Characteristics:
Claw proof
Durable and spacious
Comes in three different sizes
Features an umbrella mechanism
Best Dog Kennel Tent
HORING Large Pen Kennel for Dogs
Suitable Sizes
This is a dog kennel tent that can be used as a playpen. It comes in 2 different sizes. The small one is 28 x 28 x 18 inches big and medium-size that measures 35 x 35 x 24 inches. It keeps your pets safe and secure. It is suitable for indoor and outdoor use.
Design Features
This Horing Pen Kennel is made of high-quality materials. The manufacturer made sure that the workmanship is excellent. You can choose from pink, brown, red and yellow color. The top of the tent can be opened and the side door also. All of the openings are made with the zippers for easy access.
Convenient And Practical
The kennel of this size can easily fit into any living room or bedroom. It can be folded so you can take it anywhere you want. It makes the storage room less cluttered. It comes handy when you are in your back yard and your pets need protection from the sun.
Easy To Clean
You can take this kennel with you camping, traveling or anywhere else outdoors. The whole playpen is machine washable so you won't have to worry about keeping your dog house clean. Its hard and durable materials can last you at least for two years. If you take good care of it it can serve your dog for an even longer time.
Characteristics:
Two different sizes
Multiple color choice
Practical and convenient
Machine washable
Durable materials
Conclusion: Which Dog Tent House Will You Buy?
When it comes to your pets you only want the best. That is why you should take a closer look at the Little Dove Pet Teepee Dog Bed which is made of natural materials. But if you have a bigger dog the Petego Umbra Portable Pet House might be more suitable because of the resistant materials.
To find out more about dog houses and how to choose the best one, read my article about the best dog house. If you are interested in something different here is a post about the igloo style dog house. You can also take a look at the reviews of the luxury dog houses for sale.