Are you a dog owner living in a cold climate area?
Then you need a proper winter dog house. The best option during the winter is to let your dog sleep inside, but when that is not possible you need the best dog house for winter. Keep reading and find out how to choose the best one pick the right one for you.
Things To Know About Winter Dog Houses
Well-insulated Dog House
The characteristic of good dog houses for winter weather is quality insulation. If your dog likes to spend time outdoors and in its house, you need to provide it with good insulation. It needs to be able to keep the inside of the house warm during the cold winter nights.
Thick Walls On The House
You can't have good insulation without thick walls. That is the first step to a proper winter dog house. Even if the house doesn't have layers of built-in insulation, thick walls mean that you can add blankets and cushions to make the inside of the house warm and cozy.
Elevated Floor Design
This is a fundamental feature that your dog house needs to have. The raised floor keeps the sleeping surface dry and it is additional air insulation to keep the house warm from below and it keeps the area comfortable to live in during the winter. It also protects the wood from the mold and insects.
Waterproof Construction
Waterproof dog houses should be standard for all dog houses, no matter are you using them in the winter, in the summer or all year long. The rain needs to stay outside, and when the snow melts down it can go into the house if it is not properly secured.
Additional Features
There is no need to buy a new dog house if you have a quality one that your dog loves. You can simply upgrade it and make it suitable for winter weather. There is an option of installing the heater, you can add a heating mat, additional blankets or even buy a whole insulation kit for the house.
Best 5 Dog Houses For Winter
Best Plastic Dog House For Winter
Confidence Pet Plastic Dog House
Build Materials
This Confidence Pet waterproof plastic dog house is made of durable and tough plastic. It is completely waterproof and it offers great protection for any weather winter can bring. It is a perfect shelter for large and medium dog breeds. For additional comfort and softness, you can add a heating mat or cushion.
Size And Dimensions
This is a winter dog house made for large dog breeds. You can get it in the medium, large and extra-large size. The largest size is 38 inches wide, 41.3 inches long and 38.8 inches high. It has a narrow and high entrance which is 14 wide and 24.4 inches high.
Overall Design
This dog house for winter is made of plastic parts. You can easily snap it all together and make it work in a matter of minutes. It comes in white color with a blue roof. The floor is in black and slightly raised so your dog is even more protected from the cold ground.
All-weather Protection
Because this dog house is made of plastic materials it is completely waterproof. It provides great shelter for your dog during the whole winter. It doesn't feature any built-in insulation but you can always add cushions and heating mat to keep your dog warm during the cold winter nights.
Added Door
There is a lot of room inside the house where your dog can stretch and relax. The entrance is higher and narrower than in most of the house and that gives it more protection on the side from the wind. If you want to stop the rain from going inside you can add the door made for this house to protect your furry pet even more.
Characteristics:
Constructed of heavy-duty resin
Easy to assemble
Customizable vinyl door
Removable roof
Features air vents
Best Heated Dog House For Winter
ASL Solutions DP Hunter Dog House
House With A Heater
This Winter fog house comes fully equipped for the winter season. Besides the insulation, you will get a floor heater. It will keep the inside of the house warm enough for your dog, but not too hot so you don't have to worry about starting a fire or your dog getting hurt.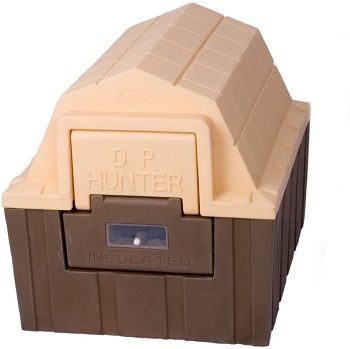 Insulation Features
The DP Hunter is one of the best winter dog houses for sale. It comes fully insulated so your dog will be warm during the winter and cool during the summer. The walls and the roof are insulated with the premium EPS insulation foam that is used in building real houses.
Exterior Materials
The entire house is made of durable polystyrene. The material is good insulation but it also offers great protection from the weather element. This material is used in building children's playgrounds so it is strong, durable and it provides a safe place for your dog. It is completely weather-proof construction.
Advanced Door Mechanism
Because of the insulation and weather protection, this house doesn't have many openings without purpose. That is why some dogs need time to get used to this house. To help them with that, the house has a self-closing door that you can remove completely or just the bottom half for the initial training.
Raised Floor
This ASL Solutions DP Hunter dog house has a raised floor for four inches. It helps keep the dog away from the cold ground. The floor also has a drain hole and light slope so that all of the excess water can go out and your dog will stay warm and dry.
Characteristics:
Self-closing door
Insulated walls and roof
Raised floor
Suitable for small dogs
Best Insulated Dog Houses For Winter
Pets Imperial Insulated Dog House
Wooden Insulation
One of the best materials for natural insulation is wood. This wooden house consists of three layers of materials for better insulation. The first layer is timber (tongue and groove), in the middle is layer od quality styrofoam and it is all sealed with a layer of the plywood board.
Dog House With Door
This dog house is ready for outdoor winter use. Besides the insulation on the wall panels and roof, it also comes with a flap vinyl door. The door protects from the wind and rain. The door is off-center so your dog has a corner in the house that can't be touched with the weather.
Dimensions Of The House
This is a dog house that is made to accommodate large dog breeds. It can hold up to 154 pounds. It is  44 inches wide, 30 inches long and 31 inches high. It stands on two support rails and the floor can be removed for easy cleaning. The roof can be opened with two locking arms for cleaning and observation of the dog.
Adjustable Feet
One of the most important features of the dog house is leveling legs. This house has them and because of that, you can easily adjust this house to stand straight on any surface. The legs are protected with the plastic caps so the wood doesn't rot and that the house lasts you a long time.
Characteristics:
Leveling legs
Suitable for large dogs
Insulated panels and roof
Made from timber
Best Outdoor Dog House For Winter
Tangkula Pet Dog House
Simple Design
This is a classic A-shaped dog house for cold weather. With the natural wood color, black trims, and reddish roof it will nicely complement any back yard or patio. It will offer a great and warm home for your pet during the wintertime. Your dog will be protected and safe in this winter dog house.
Winter-proof Dog House
The house has a red and brown asphalt roof that is waterproof and it will prevent rain and snow from going in. It has an elevated floor with four legs that can be adjusted in the uneven surface so the house can stand straight. It is a perfect place for your dog to sleep.
Durable Structure
The Tangkula dog house is made of durable and high-quality fir wood. It is a heavy-duty construction that makes it durable enough to withstand all the types of weather that can come. It can offer your dog protection for a long time. The exterior is coated with water-based paint which is not harmful to your dog.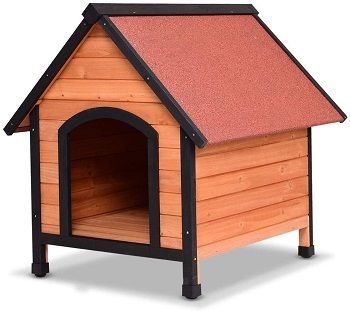 Easy To Assemble
This house is easy to put together. All the tools and accessories come in a package so it would only take a few minutes to put it all together. When you are done with the assembly you can adjust the legs to fit the surface you are putting the house on.
Dimensions Of The House
This house is the best to accommodate medium dogs. It comes in three different sizes. You can choose from small, medium and large options. The largest dog house is 33 inches long, 40 inches wide and 34.5 inches high. The door large and it is 12.5 inches high and 15.5 inches wide.
Characteristics:
Durable construction
Easy to assemble
Classic Design
Best Extra Large Winter Dog House
Precision Pet Log Cabin
Weather-proof Construction
This Precision Pet log cabin is sealed with a protective coating of water-based color. The floor is raised to keep the moisture out of the house and to keep the floor dry for your dog. It also features a slanted wood roof that will keep the cabin dry and warm.
Durable And Sturdy Dog House
This house is made with solid wood and it has stainless steel hardware which makes it durable and more sturdy. It is a perfect outdoor shelter for your dog and it offers long-lasting protection. It has a sloped roof and elevated floor to keep your pet dry and comfortable during winter.
Size And Dimensions
This winter dog house is made for large dog breeds. It is 45.5 inches long, 33 inches wide and 33 inches high. It can accommodate pets from 70 to 90 pounds. It has an off-center door so your dog has a corner where weather elements can't reach. There is an option to install the door if you need them.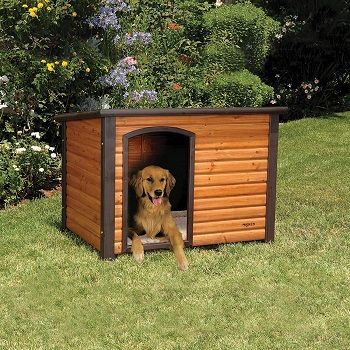 Easy Assembly
It is easy to put this house together. It comes with all the necessary accessories but you will need some tools to put it all together. It won't take you more than 30 minutes to finish and make it work. The roof can't be opened and that makes the cleaning a little bit harder but considering the price, it is a great winter dog house.
Characteristics:
Solid wood construction
Off-center door
Elevated flooring with plastic feet
Conclusion: Which Winter Dog House Will You Choose?
Your dog needs the best protection, especially during the winter. That is why you should get the best dog house for winter. You can choose Pets Imperial Insulated Dog House because it is large and fully insulated or you can go with Tangkula Pet Dog House because of the classic design that will fit nicely in your back yard.
To get to know the subject of the dog houses more, you can take a look at the review about the best dog house you can find on the market. You can also check out the article about a double dog house or take a look at the post about the mini dog house.