Do you need an insulated dog house?
Finding the best one is not easy. That is why you can read this article and find out how to choose the right one or just pick one from the list that is the best for your weather conditions and your dog.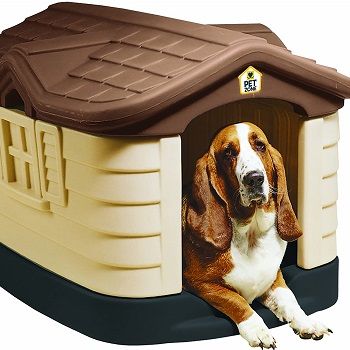 Guide For Insulated Dog Houses
Materials For The Insulation
When purchasing the insulated dog house you have to check the insulation materials. There are three main types of insulation. The first option is no insulation. Sometimes the insulated houses can be expensive but you can make insulated dog house plans and make it your self. The second option is stuffing insulation which is also used in most of the dog beds. The last one is the most expensive and it is made of styrofoam.
Doors On The House
Another important thing you have to look for when buying an insulated dog house is the door. The door keeps the warmth inside and it prevents rain or snow to go inside. Some doors can be removed when needed, depending on the training process and weather. Keep in mind that it will take some time for your dog to get used to the door.
Ventilation System
When choosing the insulated dog house, make sure that it has an adequate ventilation system. It can be an elevated floor, windows, separate fans or something else. When the dog house is sealed and insulated there must be enough fresh airflow to keep the pets healthy and comfortable.
Size Of The House
Size is one of the most important features to consider when making an insulated dog house plans for large dogs, medium or small dogs. You have to make sure that your dog fits comfortably inside. It needs to have enough space for your dog to stand, stretch, lie down and turn around without any problems. Dogs like small places where they can snuggle but they need to be able to move around without feeling claustrophobic.
Additional Items
Even when you get the warmest dog house for your dog you can always add a few things inside to make it more comfortable. A heated bed is a great option to give your dog for cozy sleeping. Another option is to get a heated mat if you already have a bed. Have a full water bowl outside the house at all times. Give your dog a favorite chew toy to keep it busy in the house.
Best 5 Insulated Dog Houses
Best Insulated Dog House For Cold Weather
ASL Solutions Dog Palace
Impressive Design
This is an insulated dog palace that comes in barn style construction. You can choose from brown or gray color. Every inch of this house is covered with details but everything has a meaning why it is there. There are two windows, one on the front door and one on the back.
Self-closing Door
When it comes to the door on the house, some dogs like it, some not, and some need time to get used to it. This asl insulated dog house comes with a door that is in two pieces so you can remove them completely or you can just detach the bottom half for the initial training process or airflow in the summer.
Size And Dimension Of The House
This insulated dog house is made to accommodate medium and large dogs. It is spacious and comfortable with the 47.5 inches long, 31.5 inches wide and 38.5 inches high. The top of the house can be easily removed so you can clean inside without any problems. It is also easy to assemble and all the necessary tools come with the package.
Insulation Construction
There is a reason why this house is the best insulated dog house you can find on the market. Every panel on this house, including the roof, is insulated with 2 to 4 inches of real styrofoam which is used in building real houses. It will keep your dog warm in the winter and cool in the summer.
Weather-proof Materials
The ASL insulated dog palace is made of high-quality plastic which is great for the outdoor elements. It is completely weather- resistant. Small windows on the house can be opened and closed and it features raised floor with drain hole so that any excess water from cleaning will surely go out.
Characteristics:
Quality insulation
Self-closing door
Weather-resistant construction
Raised floor with drain hole
Best Insulated Dog House With Door
Climate Master Plus Insulated Dog House
Overall Design
This is a classic looking insulated dog house for sale. It is an A-shaped dog house with the door in front. It comes in white color with dark brown trims and dark brown waterproof roof. It is is a simple design that will fit into any back yard or patio. With all the comfort inside, your dog will love this house.
House For Large Dogs
The Climate Master Plus insulated dog house comes in one size and it can accommodate large dogs up to 100 pounds. It is 36 3/4 inches wide, 39 3/4 inches long, 37 3/4 inches high. It is a spacious dog that can offer great protection to your dog in any weather conditions.
Durable And Sturdy Construction
The house is made of heavy-duty molded plastic which is weather-resistant and it will provide strong protection during the rain, snow, and wind. It is well-made and it will not take you, on average, more than 10 minutes to assemble it and make it usable for your dog. The same amount of time will take you to clean it as well.
Upgraded Door 
This insulated dog house has the most advantage door of the dog house on the market. When closed, it is completely sealed and it minimizes the draft that can get inside. It is connected with the two hinges on the sides and your dog can easily open them with a gentle push.
Insulation Of The House
This is one of the best insulated dog houses because the insulation is in all the panels, roof and floor. It is thick insulation made of three layers of different materials. It is a great option for any weather conditions and it will provide your dog with excellent protection and safety.
Characteristics:
Classic exterior design
Great door mechanism
Suitable for large dogs
PanelAbodeTM Laminated Panel System
Best Insulated Wooden Dog House
Pets Imperial Insulated Wooden Dog House
Extra Large Dog House
This is a great dog house for large and extra-large dog breeds. It can hold up to pounds thanks to the two support rails. It features the floor that can be removed so you can easily clean it. The roof can also be opened and it has two locking arms.
Dimensions Of The House
This insulated dog house can accommodate medium, large and extra-large dog breeds. It is 44 inches wide, 30 inches long and 31 inches high. Because of the sturdy wood construction, it can hold dogs up to 154 pounds. It is large but simply designed so that your pet can use every inch of the house.
Insulated Panels
This house doesn't have an insulated floor but the roof and all the panels are insulated. The insulation consists of three layers. The first one is timber (tongue and groove) which is 0.47 inches thick. The second layer is 0.51 inches thick styrofoam and the final layer is 0.08 inches thick plywood board. This insulation is 150% thicker than the other dog houses.
Adjustable Feet
This dog house has another great feature. It is an elevated house but it also has adjustable feet. That means that you can place this house on an uneven surface and adjust the level of the legs so that the house can stand straight. To protect the wood, the legs have protective plastic caps.
Build Materials
This insulated dog house is made of environmentally friendly timber that is made to last for many years. It is coated with protective paint which is water-based and non-toxic. Additionally, this house is also 2 inches raised from the floor which allows air to circulate under the house and it keeps it dry and comfortable.
Characteristics:
Elevated floor design
Suitable for large dogs
Features vinyl door
Adjustable legs
Made from timber
Best Cheap Insulated Dog House
SF Net Trading Outdoor Dog House
Soft Dog House
This is a soft and comfortable dog house made of plush. It is a perfect option for indoor and outdoor placement. Your dog will feel comfortable and safe in this house. It has a waterproof upper layer so you can leave it outside and it won't get damaged and unusable.
Portable Dog House
If you are looking for a dog house that you can easily take with you anywhere you go, this is the right choice. It is assembled with just one zipper and you can use it as a house and as a dog bed. You just collapse it down and make it into a bed with the removable soft cushion inside.
Easy Cleaning
This is one of the easiest dog houses to clean. You can remove the cushion and put everything in the washing machine on a gentle cycle. You can also clean the part of the house with the wet wipes because the material is polyester and waterproof. It is practical and easy to use.
Color Design
This insulated dog house comes in six different color designs. Each design is completed with cream plush material and cushion. The other material comes in various designs like pink dots, white stars, and red brick. The manufacturer offers a great choice of design and colors so it will fit at any home decor.
Size Of The Dog House
This soft dog house comes in three size options. You can choose from small, medium and large options. The largest dog house is 22.8 inches long, 17.7 inches wide and 16.9 inches high. It is a great soft, portable and insulated dog house that comes at a fair price.
Characteristics:
Cheap insulated dog house
Transformable into a dog bed
Multiple designs options
Best Plastic Insulated Dog House
Pet Zone Cozy Cottage Dog House
Double-Wall Design
This dog house is not like any other on the market. It doesn't feature classic insulation but rather a simple solution. It has double walls so it is natural air insulation that keeps your dog warm in the winter and cools in the summer. It also has adjustable vents for proper ventilation.
All-Weather Construction
This insulated dog house is constructed from heavy-duty plastic. It will keep your dog safe from any weather elements. It is painted with the non-toxic paint that is fade-resistant and it also features UV protection. It offers a great and safe place for your dog to stay during any kind of weather.
Easy Assembly
This dog house is ready to use right out of the box. All you have to do is snap pieces together and no tool is needed to do so. You can easily remove the roof when it is time for cleaning. There is also an option to stake the dog house into the ground to make sure that stays on the ground when it is windy.
Dimensions And Design
This house comes in one size which is suitable for small and medium dogs. It is 28 1/8 inches long, 23 1/8 inches wide and 20 1/4 inches high. It can hold up to 75 pounds of weight. It comes in one color choice and it looks like a cottage. The walls are in cream color and the roof and the floor are in dark brown.
Characteristics:
Air insulation with double walls
Easy to assemble
All-weather construction
Made in the USA
Conclusion: Are You Ready To Choose The Insulated Dog House?
If you are buying a dog house you want it to be suitable for every season. You can't go wrong with the insulated dog house. The best insulated dog house for sale is Climate Master Plus Insulated Dog House because it is fully insulated. You can also consider Pets Imperial Insulated Wooden Dog House because it is suitable for large dogs.
For more information check out this article about the best dog house for sale. You can also read the post about the best igloo dog houses for sale or take a look at the new review of the best cold weather dog house.