Does your dog need a warmer place to sleep and rest?
Then the heated dog house it the right option. There are a variety of options and it can be tricky to choose the right one. In this article, you will find out how to choose the right warm dog house.
Things To Know About Heated Dog Houses
What Is Heated Dog House?
The heated dog house is looking just like a regular dog house but it is reinforced with additional materials to keep the dog house warm in winter. The best way of keeping a dog house warm in winter is to get one of the insulated houses that are made with heat-retaining materials that can withstand extreme weather.
How To Insulate A Dog House?
If you already have a dog house but need to add some warmth to it, you can easily do it. There are a few options you can go with. The simplest option is to add blankets, cushions, and foam to the floor and panels. You can also get a heating pad, heating lamp or even electric box heater. It all depends on how much heat do you need and what kind of house do you have.
Buying An Insulated Dog House
No heating element will work in the dog house if you don't have an insulated dog house. That doesn't mean that your house needs layers of foam but just that it needs to be completely sealed and preferably with the installed door. Choose the materials wisely and stick with high-quality wood or plastic.
Setting Up The Heated Dog House
Choose the right size. Don't buy a large dog house for a small dog because there is no point in heating a large space. Dogs like to snuggle and a house where it can stand, lie down and turn around would be enough. Position it carefully. Hide it from the wind and harsh sun. Keep in mind that the elevated floor is a desired feature. Add insulation and heating devices carefully.
Top 5 Heated Dog House To Keep Your Dog Warm
Best Outdoor Heated Dog House
ASL Solutions Deluxe Insulated Dog Palace with Floor Heater
Exterior Design
This dog heated house comes in two colors. You can choose from brown or gray color combination. It is shaped and molded to look like a barn. It features a door that can be completely closed and two windows that you can keep open or closed. It is a great option for an all-year-round dog house.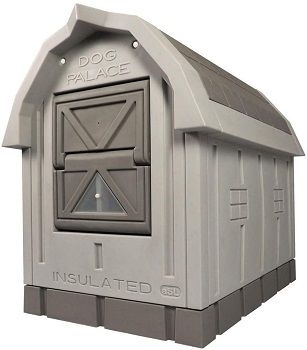 Raised Floor
This dog house has a raised floor to create air insulation from the ground. It is also a sloped floor with a drain hole on it. This feature makes cleaning easy and it is a good option to have if your dog is in the training process, to keep it dry inside. The raised floor is also a good feature to protect the build materials.
Insulated Door
This is a completely insulated house. It has thick insulation in the panels, roof, and door. To keep your dog warm during the cold nights, the house must hold the temperature. The door is the weakest point, and because these are insulated, the draft inside the house is minimal.
Additional Heater
Dogs can adjust their body temperature easily, and an insulated dog house is a key feature. But to make the inside even more comfortable, this house comes with the heater. It lays flat on the floor and it comes with the cover. There is a pre-drilled hole in the back of the house to keep the cables out of the way.
Size Of The House
The ASL Solutions Dog Palace is made to accommodate medium and large dog breeds. It is 47.5 inches long, 31.5 inches wide and 38.5 inches high. It is a heavy-duty dog house that offers great protection and a safe corner for your dog. It can withstand all kinds of weather.
Characteristics:
Real foam Insulation
Floor heated included
Self-closing door
Accommodates large dog breeds
Best Extra Large Heated Dog House
Antique Heated Wood Duplex Dog House
Product Dimensions
This is a large dog house that can offer enough sleeping space for one extra-large or two large dogs. It is 51 inches wide, 43 inches deep, 43 inches high. It has two large door openings that are 15 inches wide and 21.5 inches high each. The dimensions include the house and the porch in front of it.
Removable Divider
This warm house for dogs is designed for two dogs to stay inside at the same time. That is why it has a divider in the middle. You can easily remove it or put it back in, depending on your dog size and the type of house you want. It can also serve as divider of a sleeping area and a space for water and food bowls.
Covered Porch
The design of this house is suitable for all-weather occasions. It has covered and protected house but there is additional space in front of it. It is an extended floor with the cover made of the same materials as is the roof. That means that your dog can rest in front of the house during the hot days, but it also protects the entrance and the inside from the rain.
Build Materials
The entire house is made of solid wood. It is sealed so no rain can go inside. The roof is made of asphalt which is a great option in the climate where is a lot of rain and snow. The roof can be removed for easy cleaning. It comes in one color option and that is cream base and white trims and other details.
Internal Heater
To keep your dog warm during the cold weather, the manufacturer made sure that you get this house with the heater. The house is not highly insulated but this heater helps to keep your dog warm. It is a deluxe heater with a spring-protected cord. It is a 150-watt heating element. With the rounded design, it is safe for your dog.
Characteristics:
Deluxe internal heater
Durable fir wood construction
Large door openings
Best Heated Igloo Dog House
Petmate Dogloo With Microban
Intuitive Dogloo Design
This warm dog house is shaped like an igloo. What makes this house perfect for the cold weather is that igloo shape. The offset doorway is additional protection from different weather elements. It also offers extra space for your dog to stretch while inside. With the rounded shape of the house, all the liquids easily slide down to the ground.
Microban Technology
This Petmate Dogloo is constructed of high-quality plastic that is strong and durable. With the incorporated Microban solution it prevents the growth of odor-causing bacterias, mold, and mildew. With all of that protection, this heated dog house has longer durability. This dog house can last you a long time and your dog will enjoy it. 
Structural Foam And Ventilation
This house doesn't come with an additional heater. There is an option to get an igloo style heating pad if you want to. What makes this house suitable for cold weather is the foam that is built-in into all the panels. It provides protection and it keeps your dog warm during the winter.
Additional Protective Layer
The house is fully prepared from the inside to keep your dog warm and comfortable. But the house needs to be protected from the outside also. That is why this house is coated with waterproof white paint. It is not harmful to the animals and it will keep the house water-resistant.
Two Size Options
This house comes in two different sizes. You can choose the small one which is suitable for the dogs from 20 pounds to 50 pounds or you can go with the large one that is for the dogs from 90 pounds to 125 pounds. The large dog house is 51.5 inches long, 39.3 inches wide and 30 inches high.
Characteristics:
Microban technology solution
Extended doorway
Roof ventilation
Structural foam for insulation
Tool-less assembly
Best Heated Dog House For Winter
Petsfit Dog House
All Sizes And Plenty Of Colors
This is the most versatile dog house. It comes in four different sizes. You can choose from small, medium, large, and extra-large models. Extra-large model is 45 inches long, 30 inches wide and 32 inches high. It also offers a lot of color options, so you can choose from grey, red, and blue.
Weatherproof And Durable
This is a strong dog house made from heavy-duty, kiln-driedn cedar wood material. This type of wood is highly resistant and it can endure all kinds of weather elements. The outside of the house is treated with the water-based and non-toxic paint which is protective of the wood and it will keep the inside dry for your dog.
Strong Flooring
Another great thing about this dog house is that it has reinforced flooring. This house is made for large and heavy dog breeds so strong flooring is necessary. You can add all kinds of accessories and if your dog is heavy, this house is a perfect choice because it will withstand everything.
Slanted Roof And Raised Floor
Petsfit warm dog house has a slanted roof that is designed in slope which makes it better for drainage. It also offers better stability for the house. The raised floor helps with stability and it offers additional insulation from the ground. It keeps the insects away from the wood and it keeps the floor warmer.
Insulation Kit
This house is made with one layer of wood and there is no additional insulation. You can add the heater inside but the manufacturer has a better option. You can get the insulation kit that is made specifically for this house. All panels are connected and all you have to do is put it inside the house and secure it.
Characteristics:
Includes slanted roof
Removable floor
Designed from kiln-dried cedar
Easy assembly with pre-drilled holes
Best Insulated Heated Dog House
Climate Master Plus Insulated Dog House
Proper Insulation
This house is built to offer optimum temperature to any dog that lives inside. It has 1.5 inches thick insulation on all the panels, roof, and the floor. This house comes prepared for all weather conditions and you will ever have to look for an insulation kit. You also don't have to worry about the ventilation, because this house has a vented cap that is enough to let the fresh air circulate through the house.
Optional Heater
This heated dog house has very good insulation, maybe one of the best ones on the market. It is enough to keep a comfortable temperature inside the house. But if you want, there is an option to get a heater. It is recommended by the manufacturer and it will be more than enough for this house.
Great PlexiDor Door
Most of the dog houses on the market have a flap vinyl or wire door. This house features a door that closes almost completely and minimal draft can go inside. It works on a double hinge mechanism that opens easily with the light push. The door is also much more resilient than a standard door.
Easy-to-remove Roof
The ability to remove the roof from the dog house is a useful feature, especially for cleaning. There is a sliding hinge that makes removing this roof easier than on the other models. It is also a steeped roof that allows the snow to fall off immediately so you don't have to worry about that.
Characteristics:
Foam insulated roof, panels, and floor
Slide-lock removable roof
Vented Ridge cap
Conclusion: Which Heated House Will You Choose?
The most important thing about a dog house is that it can keep your dog warm during the cold season. Choosing the best option can be tricky but you can safely go with ASL Solutions Deluxe Insulated Dog Palace with Floor Heater which is fully insulated and comes with the heater. The second best option is Climate Master Plus Insulated Dog House because of the PlexiDor Door.
If you want to learn more, take a look at the review of the best dog house. You can also find some useful information in the article about the best large dog house with a porch or take a look at the post about fancy dog houses.