Does your German Shepherd need a new house?
When choosing the best German Shepherd dog house there are a few things that need to be considered. They are dogs that need special attention. In this article, you can read all about this beautiful dog breed and how to choose the right house for it.
How To Choose A German Shepherd Dog House?
German Shepherd Dog House Size
The size of the dog house is the most important thing you have to consider before buying a house. The German Shepherd is a large dog breed and you have to consider the size it will be when it is fully grown. It is an important feature that the dog can comfortably move inside, lie down, stretch, and sit. The house should be about 25% bigger than the size of the dog.
The Best Materials For The House
The most commonly used materials to make a dog house are plastic or wood. Each one of them has advantages and disadvantages. What you have to look for is the quality of the build. Depending on the climate you live in you have to consider getting the insulated or non-insulated house. Make sure that it is waterproof if you keep it outdoors and it needs to have protection if your dog is a chewer.
Important Features
There are a few other things that you should keep in mind while buying a German Shepherd house. The elevated dog houses offer move insulation and your dog is not close to the cold ground. The ventilation system needs to be great especially if you are living in a hot climate. It is a great option to have a door for wind protection. Easy cleaning features are strictly a feature for the dog owner.
Why Is A Dog House A Good Idea?
There are several reasons for getting a dog house. Safety is the first one. When it gets used to the house it will feel safe in it even when you are not at home. Sometimes you just can't take your dog with you and you don't want a giant mess in the house. A house is also a place that your dog can call it's own. It is a calm and resting place where nobody will bother it. Just make sure that you don't leave your dog in the house more than you should.
Best 5 German Shepherd Dog Houses
Best Large Dog House For German Shepherd
Precision Pet Weather-Resistant Log Cabin Dog House
Weatherproof Materials
The Precision Pet Dog House is a great and large dog house for German Shepherd. It is designed for outdoor use and because of that, it is made with an elevated floor. The roof is made of slanted asphalt and it provides protection from the weather elements and it keeps the inside dry. The whole house is sealed and coated with protective non-toxic paint.
Durable And Sturdy Construction
This German Shepherd house is made of solid wood. It also has stainless steel hardware to make it last a long time. It is strong and it provides a safe place for your dog to rest. With the natural wood color and black trim, it will nicely fit into any back yard.
Adjustable Feet
Sometimes the natural ground is not even and you need to make some adjustments to level it up. That is why this dog house comes with leveling legs. You can adjust every leg separately to make it stand straight. It is a great feature that any good dog house needs to have.
Available Sizes
The Precision Pet Dog House comes in four different sizes. You can choose from small, medium, large and giant sizes. It can accommodate pets of most sizes but most importantly, it can be a great shelter that your German Shepherd can use whole its life. The largest dog house is 44.7 inches long, 32 inches wide and 32.5 inches high.
Insulation Of The House
This dog house is not insulated. It is only the wood that keeps your dog warm and cool inside. There is an option to get a Precision Pet Insulation Kit which is specifically made for this dog house and you can easily attach it inside. It will provide a soft surface to rest and additional protection from the outside elements.
Characteristics:
Raised floor
Adjustable feet
Durable wood construction
Off-center door
Best Plastic Dog House For German Shepherd
Suncast Outdoor Dog House
Outdoor Dog House
If you are looking for something simple and practical then this Suncast Dog House might be just the right thing. It is one of the top choices for any dog owner with a large dog breed. German Shepherd is in that group and this is a house that it will be happy with.
Durable Constructed
This house is constructed with heavy-duty resin. It is made of durable plastic panels and it has a crowned floor to keep your dog safe from the dirt and the rain. It is easy to assemble it and it comes in white color with the blue roof which will nicely fit into any home decor, patio or back yard.
Size And Dimensions
This house falls into the category of an extra-large dog house for German Shepherd. The dimensions of this house are 38.5 inches long, 33 inches wide and 32 inches high and it weighs only 26.7 pounds. The entrance is 11.75 inches wide and 20.5 inches high. The vinyl door is included in the package for the additional protection of your dog.
Easy To Assemble And Clean
When you buy this house you will get it dissembled. All you have to do is snap all the pieces together and it is ready to use. No special tools and hardware needed. It is lightweight but it can hold up to 100 pounds weight. It is extremely durable and the best dog house for German Shepherd you can find in this price range.
Characteristics:
Removable floor for easy cleaning
Durable resin construction
Snap-together assembly
All-weather resistant
Vinyl door included
Best Wooden Dog House For German Shepherd
Pets Imperial Extra Large Wooden Dog House
Size And Dimensions
This is a beautifully A-shaped dog house designed for large dog breeds like German Shepherd. It is 38 inches wide, 44 inches deep and 41 inches high. It has a large door entrance that comes with the vinyl door for better protection from the weather elements. It is a large dog house that your dog will love.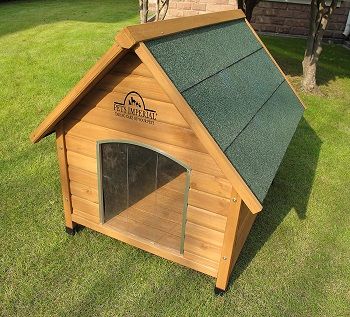 Maintenance And Cleaning
This is an elevated house with the floor that can be removed for easy cleaning. There is also a feature on the roof because you can open it completely. It stands on two locking arms and you can keep it open for some time if your dog likes it as that or you can completely close it when the weather is bad.
Anti-chew Features
German Shepherds are strong dogs and if they like to chew stuff, the damage can be big. That is why this house has secured the critical parts. There is an aluminum anti-chew strip at the entrance so that your dog cannot break up the house. The wood is sturdy enough but this is just an additional helpful thing.
Build Materials
This is a wooden house made of animal-friendly treated timber. It is coated with water-based and non-toxic paint for protection from weather elements and time. The roof is made of asphalt to make it waterproof. There are plastic caps on the feet to keep the wood protected. Also, those legs can be adjusted on an uneven surface for the house to stand straight.
Characteristics:
Leveling legs
Elevated construction
Features ant-chew aluminum strip
Best Igloo Style Dog House For German Shepherd
Petmate INDIGO W/MICROBAN
Igloo Style Dog House
This is a heavy-duty dog house that provides great protection in hot and cold weather. It is made of durable plastic and shaped to look like an igloo. It is an innovative and practical design that brings a lot of advantages in terms of the size and protection of the weather elements.
Dog House For Large Dogs
The size of a dog house for German Shepherd is like the size of this one. It is 51.5 inches long, 39.3 inches wide and 30 inches high. It can accommodate large dog breeds and it wouldn't be to tight for them. To make it even more comfortable, you can get the heating or cooling mat that is designed especially for this house.
Materials And Construction
This dog house is made of heavy-duty plastic but it features Microban Antimicrobial coat that keeps the construction protected from the stains,  mildew, mold and odor-causing bacteria. It comes in two pieces that you have to snap together and you are ready to introduce the house to your furry friend.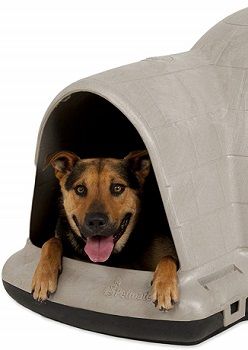 Weather Protection 
The house is made with the raised sides of the floor and side moats so that the liquid drains off the house easily. The offset doorway is a great thing because the dog has enough dry room inside and the doorway offers somewhat protection against the wind and rain. There is also a ventilation built-in on the roof for regular fresh airflow, especially in the summer.
Characteristics:
Antimicrobial protection
Offset doorway
Simple design
No tools needed to assembly
Best Winter Dog House For German Shephard
ASL Solutions Dog Palace Large Dog House
Dimensions Of The House
This house is a great option for large dogs that live in colder climate areas. It is 38.5 inches high, 31.5 inches wide and 47.5 inches long. There is enough room inside to fit a full-grown German Shepherd which is enough space for your dog to move around comfortably and be protected from every side.
Build Materials
This German Shepherd dog house is made of heavy-duty molded plastic and it is really easy to assemble. You can take out the parts of it and leave it open until your dog gets used to it. It is a fully closed house with the self-closing door and it takes some time for some dogs to get used to space and the low light inside.
Insulation Of The House
This ASL Solutions dog house is completely insulated dog house for German Shepherd. There is thick insulation in all the wall panels and the roof. The insulation is from 2 inches to 4 inches thick and it is made of EPS foam which is commonly used in building real houses.
Ventilation System
Because this is such a closed and well-insulated house, there needs to be some openings to let the fresh air inside. There is a small window on the back of the house which can be removed in the summer and closed in the winter. Another window is located at the door. The bottom half of the door also can be removed for the initial training process and visibility.
Additional Features
This is not an elevated house but it has a raised floor with the drain to keep the inside dry. There is also an opening in the back of the house for the cable if you decide to put the heater inside. You can also easily attach a ventilator in the back window and there is a solar panel that powers these appliances that can be mounted on the roof.
Characteristics:
4 inches thick insulation
Adjustable window panels
Lightweight and portable
Features a raised floor
Conclusion: Which German Shepherd Dog House Will You Choose?
German Shepherds are great dogs and they are one of the most beloved dogs. They deserve the best dog house and that is why you should give them Precision Pet Weather-Resistant Log Cabin Dog House because of the size and off-center door. Or you can go with ASL Solutions Dog Palace Large Dog House which is more insulated and suitable for all-weather protection.
If you want to learn more about different styles of dog houses, take a look at the reviews of the coolest dog houses. You can also read my post about the best dog house with deck or take a look at my article about a small plastic dog house.