Are you looking for a new dog house crate?
Why having a dog house cage is a good idea and what kinds of crates you can find on the market, are the subjects that you can read about in this article. Also, find the reviews of the best dog apartments and in the end, you can choose the best one for your dog.
Key Features About House Dog Cage
Type Of The Dog House Crate
There are several different types of crates you can find on the market. The most common ones are made of wire, plastic or fabric. Fabric ones are great for transportation and small dogs but they are not that safe. The best option for the house would be a plastic or wire version because they are sturdy and durable. If your dog likes the privacy and solid walls go with the plastic one but you can also cover the wire one with the blanket or even buy the crate that looks like a piece of furniture.
Size Of The Crate
Once you decide on the type, you need to choose the size of the dog house cage. Most people will go with the large size so that their dog has a lot of room. That might not be the right thing to do. If you take a too big crate your dog might use the part of it as a toilet. That is not a bad thing if you have a puppy, but it is not what the crate is for. You can always use the divider to make a space smaller and expend it as your dog grows.
Location For Dog House Cage
You want to place your crate where you and your dog can easily access it. Make sure that it is not in the way but somewhere safely placed. It is a good idea to place one crate in the bedroom to teach your dog to sleep in it and one in the living room so your dog can be with you at all times but still be able to have a private corner.
Make The Crate A Positive Place
People have the perception of the cage to be the worst possible thing for a dog. That can be true if you are not using it properly and you overuse it. The most important thing is to keep the idea of the crate as a positive thing. You have to introduce the crate to a dog gradually. It is a good idea to put a mat inside and toss it treats during the training process. After that, you can take the mat with you and your dog will feel comfortable laying on it no matter where you are.
Top 5 Dog House Cages & Crates For Apartments
Best Puppy Apartment Crate For Sale
Petmate Puppy 2-Door Training Retreat Kennel
House Training Crate
If you are looking for a perfect crate so you can train your puppy, the Petmate Training Retreat is the right solution. It is a perfect tool and for new puppies. it is 24 inches long, 18 inches wide and 19 inches high. It comes in two different colors. You can choose from a blue and pink color combination.
Lock System
To make sure that your puppy is safe during the night hours and the time you are not at home, this dog house cage is equipped with a door lock system. It eliminates any gaps in the top, sides, and middle of the door. With that, the strength and safety of the overall door system are increased.
No Tools Required
To make this crate work no tool is needed to assembly. It features an easy mechanism so you can fold it and store it easily. It also has a handle on the top so you can take it with you even when it is assembled. Because it is a small crate for the puppies it can also be a great traveling house.
Rust-resistant And Durable
This dog house crate is made of wire which is strong and durable. To make it even better it is finished with a powder coat which increases the life of the crate. Other things that make it a long-lasting is the divider that comes with it and a durable and removable polypropylene pan for easy cleaning.
Characteristics:
Available in two colors
Door lock system
No assembly required
Rust-resistant
Best Indoor Dog House Crate
Internet's Best Decorative Dog Kennel
Multi-Functional Dog Crate
This is a piece of decorative furniture that adds a warm and handsome design to any room and space in the house. The bottom space is a beautiful dog apartment crate whit all the comfort, while you can use the whole unit as a table or even a large nightstand.
Included Pet Bed
This dog house cage is made from solid wood which provides durability and it is built to last a long time. It is made solid and sturdy constructed but it is not chew-proof and you should keep that in mind. This dog house is also equipped with a removable dog bed. It is 2.75 inches thick and padded so your dog will have all the comfort it needs.
Elegant Design
This wooden dog crate is crafted elegantly and it is stained with dark brown espresso color. It brings the luxury touch to any room you put it in. You can see the classy details in the brass security lock which also provides the security for your pet while inside. It is a practical and elegant indoor dog house crate.
Wide Top Table
This is a large dog crate and it is 24.9 inches wide, 35.5 inches deep and 28 inches high. The dog bed fills all the space in the bottom and you can easily remove it and wash it. The top of the crate is solid and you can use it as a side table to store your magazines, potted plants, lamps or a minibar station.
Characteristics:
Multi-purpose design
Includes dog bed
Elegant indoor design
Best Dog House With Cage Door
Unipaws Dog Crate End Table
Medium Dog Crate
This dog apartment crate is designed to comfortably fit all small to medium size dogs. It is 23 inches wide, 36.2 inches deep and 25.6 inches high. It is made of solid wood but it features metal enclosure bars that are chew-proof. It is spacious to walk around and comfortably stretch.
Dual-Purpose Cage
This is a beautifully designed piece of furniture that serves as a dog crate. It can be used as an elegant side table or nightstand. It offers a great chance to show your creativity and decorative side. You can use it for more than one purpose and you can decorate it as you like.
Large Top Surface
The top surface is 23 inches wide and 36.2 inches deep. It offers great space that can support up to 125 pounds of weight. You can use it as a book stand, to display potted plants, pictures, or as a lampstand. it offers great options and possibilities. It is a durable crate that can even hold be used as a TV stand.
Double Door Design
Because of the double door design, you can place this crate wherever you want. Your dog will have easy access to it. It also ensures easy cleaning. To make sure that your dog is safe you can lock both doors. Additionally, there is a cushion included in this package that you also can remove and wash separately.
Ventilation System
One of the most important things is that your dog shouldn't feel like it is trapped in a box. With this dog house cage, your dog gets a full view around the house and you can keep an eye on it. It also ensures that there is constant airflow through the crate so it can relax and take a nap.
Characteristics:
Designed form small and medium dogs
Elegant gray color
Wide top surface area
Double door
Best Potty Training Cage For Dogs
Richell Pet Training Kennel
Two Sizes Available
This is a great puppy potty training cage that comes in two different sizes. You can choose from small and medium options where medium one is 32.5 inches wide, 21.7 inches deep and 24.6 inches high. It is perfect for larger puppies and small dogs because it can hold dogs from 18 to 44 pounds.
Materials And Design
This dog house crate is made of plastic so it is not too intimidating to the new puppies. It features two door openings. One in the front and one on the top. There are two top trays you can use to store treats, lashes or toys. It comes in a nice beige and brown color that can fit in any home decor.
Easy Cleaning
It is easy to clean this puppy potty crate just by opening the double door. But to make it even easier you can completely detach the base and clean it. It is a perfect option for potty training and afterward, it can be used as an indoor dog house. The base is designed with the slots that can hold the training pads for your convenience.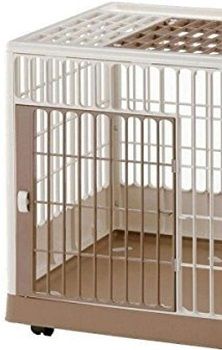 Mobility And Locking System
This is one of the rare crates that has installed casters at the bottom. That makes it even easier to move around and place it where you want. The casters are lockable, but you can also lock doors, top, and the base. You can combine and decide which combination works best for you.
Characteristics:
Lockable crate
Easy to clean
Installed slots for training pads
Storage trays on the top
Easy to assemble
Best Portable Dog Crate
AmazonBasics Portable Soft Dog Travel Crate
Soft Dog Crate
This is a crate that provides comfort for your dog and convenience for you. This AmazonBasics Portable Soft Dog Travel Crate pops-up in seconds and quickly becomes a large home for your dog no matter where you are. You can zip close it for safety and it can work well for crate training. It is 30.1 inches long, 21.3 inches wide and 21.3 inches high. It can accommodate dogs up to 42 pounds.
Durable Design
This dog crate is made of a strong but lightweight PVC frame that keeps the shape of the crate consistent. It comes in a beige color where materials are made of heavy-duty polyester. That means that your dog can curl up to the soft fabric at any time and for extra comfort, it is recommended to put a bed cushion on the bottom to avoid lying on a cold floor.
Window Ventilation
Not all the crate is solidly closed. On three sides of this soft house dog cage, there are black mesh fabric windows. Those windows allow proper ventilation and thy give the pet a view outside and you can take a look at what is going on inside without opening the door.
Portable Convenience
This is more practical than any wire or plastic crate. It is lightweight and you can quickly set it up no matter where you are. You can take it anywhere with you because it doesn't take up much space. It can be used at home as a dog house or you can fold it and store it for the next time you need to go out with your dog.
Characteristics:
Foldable and easy to store
Durable and comfortable design
Includes top and front doors with additional insulation
Conclusion: Which Dog House Crate Is Your Favorite?
You have to choose carefully the perfect dog house cage in which your dog will feel comfortable and it will be practical. The best one from these reviews has to be Unipaws Dog Crate End Table because it is a multi-purpose piece of furniture. The next one is AmazonBasics Portable Soft Dog Travel Crate because you can easily take it with you no matter where you go.
To learn more about dog houses and crates take a look at the article about amazing dog houses. There is also a post about the best Xlarge dog house and you can take a look at the reviews of best dog houses for cold weather.