Are you looking for a new inside dog house?
Getting an indoor dog house can be the next level of comfort for your dog. Why buy an indoor dog house and what are the benefits of having one are the questions for which you can find answers in the article below.
Benefits Of Having An Inside Dog House
Multiple Size Choices
When it comes to choosing the right size of the dog house you have to keep in mind that it needs to be at least 25% larger than your dog. With that being said, finding an indoor dog house is much easier than finding an outdoor dog house. There are a lot more options and manufacturers can use all kinds of material. There is always an option to put the outdoor house inside, but you can't do it another way around.
Durable Materials
When buying an indoor house you should look for strong and durable materials. Most of the houses made for indoor are from wood, plastic or soft materials. They are made to last a long time and some of them even have anti-chew features. Make sure it is comfortable and your dog will love it.
Easy To Maintain
The inside dog houses are easy to maintain because of most of the soft ones you can machine wash and air dry. Even if they are not whole washable, the Houchins and the panels can be detached and then you can clean them. The wooden and the plastic ones are light and you can clean them with the wet cloth.
Great For Any Breed
These dog houses are something that every dog adores. They mean that your dog can be with you at all times and you can create a really special bond. The indoor dog house is a sign that your dog is special to you and you want it to have a place of its own to relax.
Price Range For Inside Dog House
When it comes to the price range, the inside dog houses tend to be less expensive than the ones for the outdoors. The main reason for that is that indoor houses are not made out of expensive waterproof materials and insulation. They are soft and comfortable and don't require a large investment to make them quality and durable.
Top 5 Indoor Dog Houses
Top Fancy Indoor Dog House
Tristar Products-us Craft Wood Dog House
Design Features
This dog house is very simply and elegantly designed. This inside dog house comes in two color options. You can choose from pink and blue depending on what you prefer more. It has two windows on the sides and a door that can be locked. It is a small and practical dog house that will fit into any home decor.
Build Materials
Just because it is pretty, doesn't mean that this dog house is not quality build. It is constructed with the natural hardwood panels. The color that is painted with is water-based and it is not harmful to the pets. Your dog will be safe and protected in this cute indoor dog house.
Easy Cleaning
The Tristar Products-us Craft Wood Dog House is fairly easy to clean. All you have to do is get a wet towel and go over the house. If you are getting a dog for your kids then you should also get this house because it is a perfect practical house that your kids and your dog will enjoy. 
Size And Dimensions
This house is made for small dogs and puppies. It is 19 inches high, 18 inches long and 15 inches wide. It is not suitable for large dog breeds like Great Dane. This house is also not suited for outdoor use. It is quite durable but it can't protect your dog from rain and other weather elements.
Characteristics:
Durable and simple design
Comes with the door
Suitable for small dogs
Top Inside Dog House For Small Dogs
Furhaven Pet House Private Hideout
Multipurpose Dog House
This indoor dog house for small dogs is more than just a house. It will look great in your living room in front of the couch. You can rest your legs on it after a long day at work, your kids can sit on it and it is a great hideout for your dog.
Cozy Sleep Surface
This small indoor dog house is comfortable with the fleece covers and the removable interior base. It is gentle on paws and noses and it offers optimum comfort. This is a collapsible dog house that you can take anywhere with you. Even the top panel is padded to create an additional place for your pet to rest.
Easy Assembly
The Furhaven Pet House Private Hideout you can pop-up in just a few seconds. All you have to do is simply unfold the walls and insert the base at the bottom. You can add the top or even leave it open for some time. The base is washable and it should be air dry.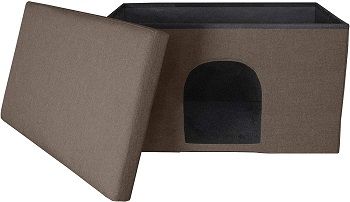 Product Details
This dog house comes in two sizes of which one is large with 25.5 inches long, 15 inches wide and 15 inches high. It comes in various colors, color combinations, and designs. They all can nicely fit into any home decor and it will be a great addition for you and your dog.
Easy To Clean
You can clean this indoor dog house furniture with a wet cloth and air dry. It is easy to maintain even if you have a dog with long hair. Although it is easy to maintain, it is not suitable for the dogs who like to chew. It is made of softer materials and any excessive chewing will damage the house.
Characteristics:
Multipurpose small inside dog house
Comfortable sleeping surface
Pup-up assembly
Available in multiple-choice designs
Top Indoor Lockable Dog House
LINLUX Indoor Wooden Dog House
Unique Design
This is a beautifully designed dog house that comes in natural wood color so you can paint it as you like. You can use indoor and outdoor and it can be used as a side table because of the flat roof. The roof can be opened and it features the wire door. The house is elevated and the legs are protected with plastic.
Durable Construction
This large inside dog house is made of solid and high-quality fir wood. It is strong and sturdy, made for long-lasting protection of your pet. The wood and the coating are environmentally friendly and non-toxic for your dogs. This house will keep your dog safe and comfortable in this shelter.
Easy To Assemble And Clean
To make this house complete and ready to use you need to follow four simple steps. Unlike other wooden houses, this one is completely foldable so you can carry it with you no matter where you go. When the time for cleaning comes, you can open the roof and get it done quickly.
Adjustable Legs
The great thing about this house is the adjustable legs. No matter where you want to place it you can level the legs on any uneven surface. The elevated floor also adds to the better air circulation inside the house and it keeps the floor warm in the winter and cool in the summer.
Security Lock
This indoor lockable dog house features a wire door. When you go out of the house and you don't want your dog to run around, it is easy to lock the door and keep it safe inside. It is a great option for shorts trips to a shop or quick errands.
Characteristics:
Practical design
Durable wood construction
Portable and easy to clean
Adjustable legs
Lockable door
Top Inside Dog House Bed
PETITE MAISON Pet House For Dog
Natural Dog Bed
This inside dog house bed is made of 100% organic cotton. It is of great quality, beauty, and innovation. It is a premium shelter for your dog where it will feel comfortable and protected. It will be a great addition to your bedroom for your dog to have a nice place to sleep.
Additional Padding
To make this house even more comfortable it comes with the high-quality micro-fiber cotton cushion. It offers a supreme softness that provides outstanding comfort to your dog. It is machine washable but you have to use a gentle cycle and air dry it. It is a perfect cushion for every pet to snuggle in.
Lightweight Pet House
The construction of this inside dog house bed is made of aluminum so that it provides stability but also lightweight so you can easily carry it around even if you go on a picnic. It offers a shade because of the roof, private space, and good airflow inside the house.
Easy To Instal
It is easy to make this house whole and ready to use. It comes with the house cotton cover, aluminum frames, elbow joints, and the cushion. It will only take you a few minutes to put it all together and your dog can start to enjoy it. It is a practical, portable, and comfortable dog house for any occasion.
Design And Size
This house comes in a pink and white color combination or you can go with a black and white combination. It is suitable for small dog breeds and the size of the house is 24 inches wide, 16 inches long and 25 inches tall. It has two door openings so your dog can easily go in and out.
Characteristics:
Aluminum frame
Cotton covers
Microfiber cushion
Lightweight and durable
Top Soft Indoor Dog House
Best Pet Supplies Portable Indoor Pet House
Portable Soft Dog House
This is a small indoor dog house that is 16 inches wide, 16 inches long and 14 inches high. It can accommodate small dogs and cats. You can easily put it together with just one zipper. It is a quick and efficient assemble for this comfortable pet house that your dog will love.
Design Of The House
Best Pet Supplies comes in three different colors. You can choose from light brown, silver and brown and white stripes combinations. It has the shape of a classic dog house with the sign above the entrance. It will nicely blend into any home decor no matter what color combination you choose.
Cozy Home
This house is soft and comfortable in any way. For even more comfort, this soft indoor dog house comes with the cushion that you can remove and wash it as needed. It is a perfect option for any pet to hide and take a nap in the comfort of its home.
Washable House
Because of the soft materials, you can machine wash the entire house. You have to open the roof with the zipper and remove the cushion from the inside. Keep in mind that you have to use a gentle cycle and air dry it afterward to make sure that it lasts you a long time.
Designed To Last
The entire house is made of high-quality materials. The hairs of your pets are easily removed and it is made to maximize the durability and stability. It is not chew-proof so keep in mind that feature when you deciding on the house for your furry friend.
Characteristics:
Easy to assemble
Portable dog house
Soft and machine washable
Conclusion: Which Inside Dog House Will Fit Your Decor?
Your dog deserves a cozy place in the house where it can relax. There are a few features that the indoor house needs to have and if you want the best you should go with Furhaven Pet House Private Hideout because it will blend in any room you choose to put it. Another great option is LINLUX Indoor Wooden Dog House because you can also use it as a table and it has a lockable door.
To learn more about important features that are related to the dog houses read the article about the best amazing dog houses. There is also a post on the subject of the best dog house for 2 large dogs or you can take a look at the review of the best small wooden dog house.