Are you looking to give more comfort to your pet?
The dog igloo bed might be just right up your alley. If your dog likes to cuddle up then it will love the igloo bed. In this post, I bring you the best dog igloo beds and a quick buying guide.
How To Chose The Best Igloo Bed?
Types Of Dog Beds
Dog beds can come in many different sizes and shapes. Each dog will have their preferences but it is always good to give them a couple of options to choose from. The igloo beds are one of the favorite types of dog beds and it is especially interesting because they offer more protection. They are closed and they can come in all kinds of shapes and sizes.
Size Of The Igloo Bed
Make sure that your pet has enough space inside the igloo bed. Some of them are made so that your dog can only curl up inside and in some, it can stretch, like igloo type dog beds. Take measurements a couple of times and keep in mind that the exterior measurements of the igloo bed are not the same as the interior. This is important because the thickness of the soft materials can take up space inside.
Materials
Any good igloo bed will provide your dog with a soft place to rest after a long day of running and playing. As your dog grows older this becomes more important. The cushioning also keeps your dog warm during the winter opposite to the cold floor they usually lie on. Another important feature is that your dog igloo bed needs to be washable so you can keep it clean for your pet.
Where To Put Your Igloo Bed?
Place your igloo bed where is warm and draught-free. That is the most important factor. But it is a good idea that you place multiple beds in different parts of the house. You can put them somewhere quiet where your dog can rest without disturbance, and put it in a family room when he wants to hang out. Give them a few options, they deserve it. You can find the igloo beds at a low price so it doesn't have to be a big investment.
Best 5 Dog Igloo Beds
Best Deluxe Dog Igloo Bed
The Refined Canine Igloo Deluxe Pet Bed
Deluxe Design
This is an igloo house for princes and princesses. It is a round end table that comes in espresso and smoke color. It offers a perfect place for you to put down the flowers, phone, book or coffee and your furry friend will be comfortable inside it. It fits great in any house design, and at first glance, you wouldn't say it is a dog's bed.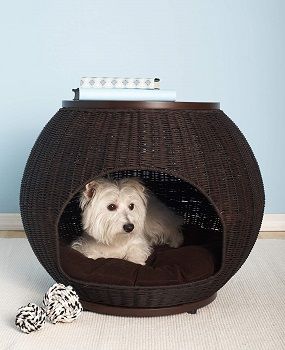 Build Materials
This dog igloo bed is made of faux rattan. It is hand-woven and it gives a nice and sturdy base for your dog inside. The top is a slim wood plate for your things and inside you can find the soft cushion that is machine washable. It has small plastic legs so it doesn't sit on the floor. The rattan is water resistible but it is not recommended to be used outside.
Size And Dimensions 
This small igloo bed is suitable for small dogs and cats. It is 25 inches in diameter and 20 inches high. It weighs 19 pounds so it is easy to move it around and place it where you want it. It is a great side table so you can have multiple options for your dog to lie down and relax. This is one of the best igloo dog beds for small dogs.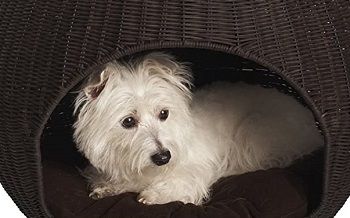 Made To Last A Long Time
Because of the materials used in manufacturing this igloo house, this is a piece of furniture that can last you a long time. No matter the pets you have. The cushion inside you can change and replace as you wish and it is a great storage room for any household or closed porch.
Characteristics:
Modern design
Multiple purposes
Easy to clean
Soft washable cushion
Best Cheap Dog Igloo Bed
Nmch Dog Shark Bed
Size Options
This whippet igloo bed comes in two different sizes. You can choose from the small size which is 14 inches by 15 inches, and a medium size that is 16 inches by 17 inches. It is highly recommended for puppies, small dogs, and cats. It will stand out in your house but it won't take up much space.
Cozy Materials
This unique igloo house is made of the fiber cloth, oxford cloth, and PP cotton filler. It is comfortable and cozy and it keeps your dog warm in the winter. The shark mouth is fixed open and your pets can easily go in and out. The bottom of the igloo bed is not-slippery.
Convenient House
This soft bed is portable and lightweight. The kids can easily move it around the house. If you are traveling you won't have the problem of carrying it around and in the car, it will give your dog great comfort. The idea is that your pets can feel comfortable like at home no matter where you go with them and it is one of the great-looking whippet igloo beds.
Design
This is an igloo dog bed made to look like a shark. It has the anti-slippery bottom and it comes in multiple colors. You can choose from pink, grey or blue. It will nicely fit in your home decor but it will also spice the things up for your pet and your kids.
Characteristics:
Unique shark design
Soft materials
Self-warming natural circulation
Non-slippery bottom
Portable igloo dog bed
Best Igloo Dog Bed For Small Dogs
YML Pineapple Yellow Pet Bed
Unique Design
This is a great option for your unique furry family members. There are a lot of unique looking igloo beds out here but the pineapple is a winner for sure. It comes in bright yellow and green color and it offers great comfort. It is lightweight and portable so you can take it with you and place it where ever you like.
Soft Dog Igloo
This pineapple dog bed is made of the soft fiber cloth that offers great comfort for your pet. The cushion inside is removable and you can wash it in the machine. The whole igloo house is machine washable but you have to use the gentle cycle and air dry. It is a comfortable and practical dog bed that your pets will love.
Dimensions
This is a dog igloo house that is made for small breed dogs and cats. It has enough space for them to stretch and sleep comfortably. It measures 16 inches long, 16 inches wide and 20 inches high. The interior is a few inches smaller so keep that in mind when choosing the size.
Indoor Use Only
Because of the soft materials, this pineapple dog bed is not suitable for outdoor use. It is not waterproof and it doesn't offer any bottom support. You can use it on the porch or deck but it is recommended to leave it indoor or use it in the car for transportation.
Characteristics:
Fun pineapple design
Quality materials to last a long time
Soft and comfortable
Machine washable
Best Outdoor Igloo Dog Bed
Petmate Dogloo with Microban
Igloo Dog House
This is one of the best heavy-duty igloo dog beds for large dogs. It provides strong insulation for cold and warm weather. It has an offset doorway so that your dog is protected from the rain. There is ventilation on the roof for enough fresh air flow inside. It is suitable for outdoor and indoor use.
Size And Materials
This Petmate's Indigo igloo house features Microban antimicrobial protection. It makes cleaning easy and it prevents the growth of stains and odor-causing bacterias. It is 47 inches long, 39 inches wide and 29.8 inches high. It has raised floors and side moats so you can easily remove the roof if you need to.
Spacious Shelter For Every Season
This is an igloo house that you can customize to your pet's needs. You can easily fit inside the soft cushion or separate heater pad. It also supports the Petmete door that you can attach. With these accessories, your dog will be secure and protected during any weather elements. This is the best option of all igloo dog beds for medium dogs.
No Tools Needed
The great thing about this igloo house is that you can take it with you no matter where you go. You just have to snap two pieces together and you have the house and the bed ready. It is great if you go camping or going on a picnic. It provides great shelter and your dog will always feel like at home.
Characteristics:
Roof ventilation
Heavy-duty construction
Microban Antibacterial Protection
Extended doorway
Suitable for indoor and outdoor use
Best Indoor Igloo Dog House
SENYEPETS Soft Indoor Dog House
Cozy Soft House
This is the most comfortable house and bed you can get for your dog. It is shaped like a real house but the only difference is that all of the sides are soft. It provides great comfort and a sense of security for your dog. A great addition to your room is this cute igloo style dog bed.
Easy To Maintain
The house is made of sponge and the roof and the walls are reinforced with magic tape to give the bed more sturdiness. Because of the sponge, it is not recommended to machine wash it but you can hand wash it and air dry. It comes in dark brown and gree color so you can choose the one you prefer.
Design And Comfort
This is a classic dog house made of soft materials. It even has a chimney. The enclosed design gives the pet some privacy and it is perfect for pets who like to cuddle up. This is a time-less design that can fit any home decor. This bed is made to last a long time in your household.
Easy To Assemble
This is a practical and portable igloo house that you can easily assemble with just a few zippers. You can store it and take it with you where ever you go. You can keep your pet's home consistent anywhere. It is a great option to keep in the car so that your pet will be calm while driving.
Characteristics:
Soft igloo house
Double color mat
Easy to assemble
Spacious bed
Conclusion: Which Dog Igloo Bed Will You Choose?
Your dog deserves the best and the most comfortable bed you can buy. The igloo style bed is one of the best options. The best one you can get is The Refined Canine Igloo Deluxe Pet Bed because of its versatile purpose. You can also choose the SENYEPETS Soft Indoor Dog House that can offer you the softest and coziest bed of all.
If you are interested in learning more about types of dog houses and beds you can read my article about best dog houses. You can also take a look at the review of the dog house with covered porch and a post about the best dog houses for cold weather.