Do you like to take your dog no matter where you go?
Then you need a portable dog house. Sometimes your dog is tired and it just wants the comfort of its home. If you have its home with you problem is solved. This is a great and practical item you should always have with you, especially if you are traveling.
How To Choose The Best Dog Portable House?
Intention Of Usage
Make sure that you get the house for your individual purpose. There is a big difference between outdoor and indoor houses regarding weather resistance. There are different types of dog houses and you can choose the specific one for camping, hiking, backyard, car or office.
Size And Dimensions
When you are buying something that your pet will spend a lot of time in, you have to make sure that it is comfortable. Make sure that you have the right measurements of your dog and check twice for the measurements of the dog house. You don't want a house that can't fit.
Comfort
The dog portable houses can be strip down to the basics so you only get a structure with no comfort inside. With those, you need to have extra padding. But there are some dog houses that are already soft and cozy and all you have to do is pop it open.
Airflow And Ventilation
Make sure that your dog house has a proper ventilation system or enough natural airflow. Sometimes the portable dog houses are made of plastic and when it is hot outside the airflow is the only thing that keeps your dog cool and rested. There are also some houses with insulation and for those, this is a minor issue.
Easy To Assemble
The point of portable dog houses is that you can easily assemble and disassemble them. There is a great choice of pop up dog houses that don't need assembly at all. For more structure, you can choose the ones that are folding or need just a screwdriver to install them.
Top 5 Portable Dog Houses
Top Portable Dog House For Large Breeds
Suncast Outdoor Dog House
House For The Large Dogs
This is a portable outdoor dog house made for pets up to 70 pounds. It will fit perfectly on your back yard, patio, and deck. Most of the houses for large dog breeds are fixed and you can't carry them around, but this is an exception. It is practical, stylish and comfortable for any occasion.
Durable Materials
This dog portable house is made from durable and heavy-duty resin. It has a crowned floor to keep your pet safe from weather elements. It comes in white color with a blue roof. The door is big enough for the privacy inside but also for the breeze from the outside.
Door Included
This is one of the rare houses that come with the included door. The door is made of vinyl with measurements of 11.75 x 20.5 inches. They are seethrough so your pet will still have enough light inside. They provide extra security and insulation. You can easily install them on or keep them off the house.
Dimensions And Assembly
This portable large dog house measures 35 x 27 x 29.5 inches. It can easily fit large dog breeds or a few smaller ones. It takes a few minutes and a screwdriver to assemble this house but it can be done easily. When disassembled it is just square pieces that don't take much space and it is easily transported.
Characteristics:
Removable roof for easy cleaning
Durable resin construction
Snap-together assembly
Top Indoor Portable Dog House
Petsfit Portable Pop Up Pet Cage
Highly Portable
This is a reliable dog house. It is pop up portable due to the collapsible nature. It can easily be assembled and no tools are required. When it is folded it is flat and it doesn't take up much room. No matter where you are your dog can have a comfortable home.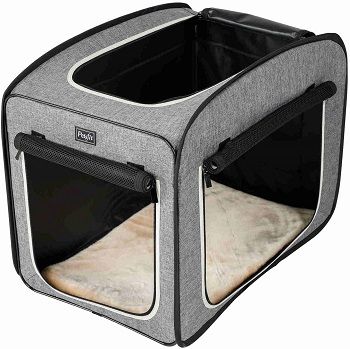 Durability
This portable dog house is soft yet strong. There is strong metal construction that can endure the weight and light weather elements. The material is tough and durable and it doesn't fade easily so you can have this crate for a long time. The velcro on the top and zippers on the side make sure that you have easy access inside.
Divider Panel
Another great thing about this portable house is that you can adjust it to the size of your dog. It comes with the divider panel so you can have two small dogs inside so that each has their own space. When the dog grows you just remove the panel and you have a big house. No need for additional expenses. Additionally, it has pockets on the sides for necessities.
Ventilation
With this portable house, you won't have a problem with ventilation. There is an opening on the top and two on the sides. You can keep all of them open or none of them. The mesh installed in the door make sure that there is enough airflow inside.
Easy To Maintain
You can remove the bottom of the house to clean it. The soft bottom can be cleaned in the washing machine. because of the metal structure, you cannot wash the rest of it in the machine but it is easy to do it by hand. It is practical and you should definitely consider getting one.
Characteristics:
Budget-friendly dog house
Three entry points
Comfortable and practical
Includes divider panel and soft bottom
Metal construction
Top Outdoor Portable Dog House
Heininger 3096 PortablePET House and Shelter
Quality Materials
This portable dog house and shelter is made of high-quality materials. The fabric is water-resistant and breathable. It keeps your pets cool in the summer and warm in the winter. The construction is made of stainless steel and it is coated with powder and it features nylon tube clamps for rust resistance.
Size And Dimensions
This portable house comes in four different sizes. The small, medium, large and x-large so you can buy one that is good for your dog. The biggest one is 40 inches long, 33 inches wide and 36.5 inches high. It is comfortable because it also has padding on the elevated bottom for better relaxation.
Keep Your Paws Of The Ground
The great thing about this portable dog house is that the floor is levitated from the ground. It is about 3 inches from the ground so your dog doesn't have to feel uncomfortable wood ground or rocks when you are outside. With the comfortable mat inside it will feel like on clouds.
Assembly
This portable dog house comes in one piece. All you have to do is attach loose legs to the supported loops for a sturdy base and add the rod for the roof support. It comes with a carrying bag so you can easily transport it around and make t work no matter where you are.
Characteristics:
Weather-resistant material
Easy to pack
Powder-coated frame
Elevated design
Top Soft Portable Dog House
Best Pet Supplies Portable Indoor Pet House
Easy To Assemble
This is a soft indoor house that can come together with one quick and easy zip. When unfolded it measures 16 inches long, 16 inches wide and 14 inches high. It is a perfect size for indoor placement for small dogs and cats. You can easily put it back together and store it or take it with you on a trip.
Great Design
This soft portable dog house comes in three different colors so you can fit it into your interior without a problem. You can choose from gray color, light brown color, and the design with brown stripes. They will all fit nicely in your house just make sure that you don't expose it to the outdoor elements.
Cozy Home
There is enough room inside for your furry friend to stretch and get enough sleep. It offers some privacy, security, and comfort. This is a soft house from every side and that is why the soft cushion is included in this product. It goes at the bottom and offers more comfort to your pet.
Machine Washable
This is the easiest house you will ever clean. All you have to do is throw in the washing machine on a gentle cycle then air dry. You can even vacuum the whole house if you need just a light cleaning. It is practical and easy to maintain.
Designed To Last
This portable indoor dog house is made of quality materials to last for a long time. The cushion is made of polyfoam that molds according to your pet's position. It offers comfort and a safe and strong home. The smooth fleece is strong, and soft denier nylon offers durability and it is water repellent.
Characteristics:
Doesn't collapse
Three color options
Machine washable
Top Camping Portable Dog House
Petego Umbra Portable Pet House
Compact Size
This is a great option for any dog breed. it comes in three different sizes including small, medium and large. Large is 35 3/8 x 35 3/8 x 35 3/8 inches. It is a practical portable dog house for camping, comfortable and comes in different sizes, it can fit different kinds of dog breeds.
Take It Everywhere
This is a pop-up tent that can be assembled and disassembled with a unique umbrella mechanism. It collapses into a bag so you can carry it to the park, beach, camping, and some people even take it to the office. It can also fit in the back of the bigger car so your pet can stay contained on trips.
Build Materials
This is an ultra-light shelter that has claw-proof mesh windows and a front porch. Your pet will feel at home no matter where you go together. It is made of high-quality plastic and steel for the construction and nylon for the canvas, so this tent can be with you for a long time. Additionally, it is water-resistant.
Design
This is a simply designed tent that can work on any occasion and most of the people will love the colors. It has three color combinations. The base of the Petego umbra tent is soft gray, the mech windows and corners are black, at the top raincoat comes in orange color. It is classic and simple, suitable for everyone.
Characteristics:
Available in three sizes
Folds down easily
Umbrella mechanism
Well-ventilated tent
Conclusion: Which Portable Dog House Will You Take On A Trip?
When choosing a portable dog house all you want is to be comfortable and practical. Two of the best ones on this list are Heininger 3096 Portable Pet House And Shelter because it can fit a large dog breed and it is elevated from the floor. The second one is the Petego Umbra Portable Pet House because of easy set-up and versatile use.
To learn more about dog houses you can read the article about the best dog house for sale. Additionally, you can read about a dog house for two dogs or find out what is the best wooden dog house for sale.