Are you looking for a great Dane dog house?
Finding the extra large dog house is not that big of a problem, but extra large dog houses for great Danes can be tricky to find. In this article, you can read about key features for large breed dog houses and find reviews of the best ones on the market.
Factors To Consider When Choosing The Grate Dane Dog House
Size And Space For The Dog
The size of this dog house is crucial. The Great Danes are very big and they need a lot of space to be comfortable. Some owners choose the houses that are made to accommodate two dogs so that their Dane has a lot of space. Another important thing, when it comes to size, is that you should have a dog house that has additional space for the dish of water and food. It is a big dog that eats and drinks a lot so you want to keep everything neat.
Build Materials And Insulation
Several different materials can be used to make a dog house. The traditional option is solid wood or plastic. Both of the materials are made to last a long time and to provide great protection. But what you have to keep in mind is the insulation. You can choose whichever material you want, just make sure that there is some kind of insulation provided. The Great Danes have short hair and sensitive skin so exposing them to extremely hot or cold weather is not recommended.
Weatherproof Features
Look for the dog houses that have extra protection. Some houses use plastic paneling or some other materials so that there are more layers for UV protection. This is a good choice if you live in warm and sunny climates and your dog house will be outside. Another great feature is the sloping roof. It will keep the snow and the rain on the roof. You would also like that your house has a slightly raised floor to keep the fresh air flow inside and to stop molding.
Great Dane House Rules
Great Dane is the dog like any other just a little bit bigger so the house rules are the same. Make sure that it has a lot of space and comfort inside the house and outside. Keep them well protected and keep the dishes filled with water near them at all times.
Best 5 Dog Houses For Great Danes
Best Plastic Great Dane Dog House
Suncast Outdoor Dog House
Outdoor Dog House
This is a great outdoor house that is suitable for large Danes. It can hold heavy dogs up to 100 pounds. It is water-resistant so it will protect your dog from different weather conditions. It comes in a white and blue color combination that can be easily blended. It will perfectly fit into your patio or back yard.
Durable Materials
The house is constructed from heavy-duty resin and plastic that can keep your dog protected and safe. It also features a crowned floor to keep the rain and mud out of the house. It is durable and made to last a long time so you can use it from the time you have a puppy Dane to the time when it grows big.
Convenient Design
This house comes disassembled and it easy to put it back together. All you have to do is connect the panels and secure them together. It also comes with the vinyl door that provides additional security. Everything you need comes in the package. Because of the plastic materials, it is easy to keep it clean at all times.
Product Dimensions
The dimensions of this house are 38.5 inches long, 33 inches wide and 32 inches high. It weighs 27 pounds. The entrance is 13.75 inches wide and 19.5 inches high. It should be comfortable for a dog to get inside and outside. A little bit of style is added through the faux windows and a plate for the name above the door.
Characteristics:
Removable roof
Durable raisin construction
Snap-together assembly
Budget-friendly dog house
Best Wooden Great Dane Dog House
Ware Manufacturing Premium Plus Dog House
Build Materials
If you are looking for the solid extra large dog houses for Great Danes then this might be the right choice for you. It is made of solid and durable fir wood. To make it even more protected it is sealed with water-based non-toxic stain. It gives it a nice natural look and ensures that the wood will last a long time.
The Peek Waterproof Roof
This is a traditional wooden house with an A-shaped roof. The roof is made of shingles and it is completely waterproof. It peaks a little bit in front so your Dane will have small protection even when it peeps outside. It is a good looking house that offers great protection.
Raised Floor
The additional feature that this house has is a raised floor. You don't have to worry about weight because this is a well-constructed house that can hold up large dog breeds. The raised floor provides less humidity and more airflow. It also features adjustable legs so you can level the house according to the ground.
Size Of The House
The Ware Manufacturing Premium Plus Dog House is 38 inches wide, 41 inches long and 44 inches high. It has a large entrance that is 15 inches wide and 21.5 inches high. That leaves the living space that measures 28 inches in width, 35.5 inches in length and 31 inches in height. It is big and comfortable even for older dogs. 
Characteristics:
Solid wood construction
Shingled roof
Adjustable feet
Best Duplex Great Dane House
Eshopzone Extra Large Solid Wood Dog House
Great Option For Large Dogs
This is a duplex that can fit inside two large dogs or one Xlarge dog. When you have a really large dog or a couple of dogs, getting the right house can be tricky. That is why this is a great option. It has two separate entrances so each of your dogs can have a private space, or if you have a Great Dane this house would be more than comfortable.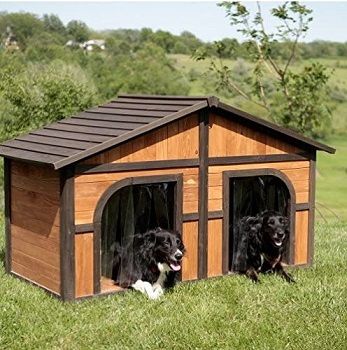 Overall Size Of The House
To get a clearer picture of how big this house is taking a look at the dimensions. It is 73 inches wide, 39 inches long and 42 inches high. It is indeed and extra large dog house suitable for Great Dane. The entrances are 18 inches wide and 24 inches high. They are plastic flops that can protect your dog to some extent.
Distinctive House Design
This house is the extended version of a traditional wooden dog house. It comes in natural wood color with a water-based paint protection coat. The dark brown trims around the entrances and sides of the house give it an interesting country style. It will fit nicely in any back yard.
Removable Parts
The Eshopzone Extra Large Solid Wood Dog House is designed with a little bit of raised floor. You can easily remove those floor panels for easy cleaning and the roof is also removable. What makes this unit suitable for multiple dogs is the panel that separates the room inside. You can easily remove it and put it in according to your needs.
Characteristics:
Can be used by two dogs
Includes two separate entrances
Removable floor and roof
Best Outdoor Great Dane House
Antique Large Dog House With Porch
Deluxe Outdoor Dog House
This is a good-looking piece of furniture for your dog. It is nicely designed, big enough to fit a Great Dane and it is suitable for outdoor use. It is everything you are looking for in the house and it comes at the fair price. Originally it is designed for two dogs but you can adjust it to your needs.
Original Construction
This Great Dane dog house is designed with the antique flair. It is different than the other dog houses because of that construction. It is made from solid wood in natural color with white trim. The awning and balcony in the front add to the timeless look. It will bring a little elegance to any back yard.
Dimensions Of The Antique Dog House
This is a beautifully designed dog house with the extended porch so your dog can enjoy the outside breeze in the shade of its own house. It is 51 inches wide, 43 inches long and 43 inches high. This house has even an asphalt waterproof roof and you get all of that for the great price.
Divider Wall
It features a divider so you can make this a house for two dogs or one large dog like Great Dane. It is removable and it is easy to put it back in. It is a great feature if you have a puppy and it will grow into the size of the house over time.
Characteristics:
Antique construction
Sheltered porch
Waterproof asphalt roof
Divider wall
Doesn't have a door flap
Best Indoor Great Dane Dog House
Hanshu Warm Indoor Soft Large Dog House
Cozy House
This soft house comes in four different sizes. The Xlarge house is 27.5 inches wide, 26 inches long and 26 inches high. It offers enough space for large dogs to get comfortable inside. The door is 14.5 inches high and 14 inches wide. The soft cushion inside makes your dog never want to leave this house.
Ergonomic Pet Bed
The whole house is made of high-quality poly fabric and soft poly foam. Inside the stuffing is also an ergonomic memory foam and gel foam that adapts to the position of your dog. That kind of a cushion can help reduce pain and help with relieving body aches, arthritis, and joint pain. It gives general therapeutic support.
Indoor Look
The soft house is designed with the brick print on it. It will nicely fit into any household and make it feel rustic. Other than great looks, each part of this dog house is made so that it can last a long time and endure large and heavy dogs without breaking down.
Easy To Maintain
The whole house is machine washable which means you can regularly clean it without worrying that it will stretch out of shape. The velcro makes it easy to collapse in seconds so you can take it with you no matter where you go. It portable and practical and in the car can even be used just like a cushion.
Characteristics:
Soft and cozy house
The unique design of the exterior
Great soft house for large dog breeds
Machine washable
Conclusion: Which House Will You Choose For Your Great Dane?
When you have a big dog like Great Dane, finding the right house can be tricky. I hope that this list helped you to find the right Great Dane dog house. To help you even more here is our top pick. The first one is Antique Large Dog House With Porch because of the size and the front porch. The runner up is Suncast Outdoor Dog House because it is practical and completely weatherproofed.
There are more options considering the large dog houses but first, take a look at the best dog house on the market. You can read the review of the best extra large dog house or the post about the best dog house for 2 large dogs.