Do you have a large dog that needs a house?
Finding dog houses for big dogs can be tricky. There are not many on the market and they tend to be expensive. In this article, you can read all about dog houses for large dogs and which are the best ones on the market.
Things To Know About Large Dog Houses
Materials Of The Dog Houses
Just like many other purchases the materials are an important feature to consider. There are several key materials used to make a dog house. The most common ones are wood and plastic. Wooden and plastic dog houses come in a variety of sizes and shapes so it is most likely that you will find the size that you are looking for.
Door Sizing
The doorway must be large enough for your dog to comfortably enter and leave the house. However, if the door is too big, all the warm air will leave the house quickly and make it uncomfortable to sleep. Your dog can easily duck when entering the house but make sure that the door is not too small either. A great option is to have a closable door or vinyl flap door that will protect your dog from weather elements and at the same time allow the door to be larger.
Roof Characteristics
If you are looking for a dog house that can be placed outdoors you have to consider the roof materials. The roof will protect your dog from all the weather elements and harsh sun. Wooden dog houses usually have pitched roof and some are made with the single panel roof. No matter the style, materials used to make the roof are asphalt shingles, wooden shingles, metal, tar paper or plastic.
Elevated Floor
The floor of your new dog house needs to be elevated a couple of inches from the ground. This feature will keep your dog and your house safe from the moisture and it protects from fleas or any other insects. It is also and insulation from the cold ground. This feature will keep the inside of the house warm in the winter and cool in the summer.
Best 5 Dog Houses For Big & Large Dogs
Best Large Dog Igloo House
Petmate INDIGO W/MICROBAN
Igloo Style Dog House
This heavy-duty dog house is designed to accommodate large dog breeds. Because of the unique design, it provides great insulation for the hot and cold weather. With an offset doorway and roof vent, this dog house is a perfect option for an outdoor house throughout the whole year and every season.
Large Dog House
This house comes in three different sizes. You can choose from medium, large and extra-large options. The largest dog house is 51.5 inches long, 39.3 inches wide and 30 inches high. It is suitable to accommodate dogs from 90 pounds to 125 pounds. The large one is for the dogs from 50 to 90 pounds and a small one for 25 to 50 pounds heavy dogs.
Offset Doorway
This igloo dog house is shaped like a real igloo. That means that it has an offset doorway. That kind of entrance protects your dog from the rain and the strong wind even if it doesn't feature a door. It also gives additional space for your dog to sleep and stretch.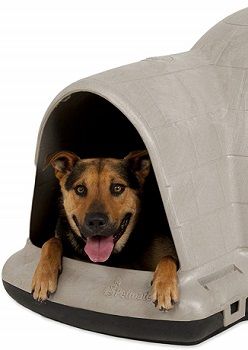 Roof Ventilation
Because this is a plastic dog house it needs to have proper ventilation. That is why this house has a vent opening on the top of the house. The opening is protected from the rain but it allows the fresh air to circulate through the house. The Microban antimicrobial protection also keeps the house protected from the elements and it prevents the growth of the odor-causing bacterias.
Quick Assembly
The Petmate Igloo House comes in only two separate pieces. The base is in black and it has raised sides. The top of the house is white and it snaps together with the base. You can easily disassemble it for cleaning. Because of the lightweight, it is also a great product to take with you wherever you go.
Characteristics:
Heavy-duty construction
Extended doorway
Roof ventilation
Microban protection
All-weather protection
Best Outdoor Dog House For Large Dogs
Suncast Outdoor Dog House
Outdoor Dog House
This attractive dog house is suitable for outdoor use because of the plastic material that it is made of. It will complement any back yard, garden or patio. It can accommodate very large dog breeds and it provides great protection from all the weather elements. It is a durable plastic dog house.
Durable Construction
This dog house is made of heavy-duty resin. It is a great material for the outdoor because it doesn't rot or rust. It features a crowned floor to keep your pet safe from the rain and the dirt from outside. It is made to endure all the weather elements. It is lightweight so it is recommended to hide the house from the strong wind.
Convenient Design
The Suncast Outdoor Dog House is easy to assemble. It comes in four different pieces. The base is crowned and it is white. To the base come walls panels that have window details on it. On the top is a real-looking blue roof. It all snaps together easily and it is practical to move around.
Included Door
This house comes with the included vinyl door. It is 11.75 inches wide and 20.5 inches high. The door provides additional security and insulation for your dog inside the house. It is a see-through door so your dog will still be able to look outside from the inside. It is great protection from the rain and the wind.
Dimensions And Size
This house is designed for large dogs. It comes in two sizes. You can choose from small and large and it comes in one color combination. The large house is 33 inches wide, 38 3/4 inches deep and 32 1/4 inches high. It has a spacious interior and your dog will enjoy it.
Characteristics:
Removable roof
Vents to improve air circulation
Durable resin construction
Snap-together assembly
Best Dog House For Extra Large Dogs
Precision Pet Extreme Outback Log Cabin
Weather-proof Construction
This wooden cabin style dog house is sealed with a protective coating. It also features a raised floor that keeps the moisture away from the house and it has slanted asphalt roof which is a great option for protection against the rain and the snow. It is an all-weather shelter for your dog.
Durable Materials
This house is made of solid fir wood which is strong and durable. It is tightened with the stainless steel hardware which makes it a stable and long-lasting dog house. This outdoor dog house is made to protect your dog from any weather elements and to last for many years to come.
Product Dimensions
This dog house comes in four different sizes. You can choose from small, medium, large, and extra-large dog house. The largest one is 44.7 inches wide, 32 inches deep and 32.5 inches high. The door opening is 25.3 inches high and 16.1 inches wide. It is a spacious dog house and it can accommodate most sizes of the dog breeds.
Adjustable Feet
The Precision Pet Extreme Dog House has an elevated floor. That design helps to protect the wood from the moisture and insects and it also protects your dog from the cold ground. To place it perfectly you can adjust the leveling legs. It can stand straight on uneven ground without any problem.
Exterior Design
This dog house comes in a beautiful and natural wood color. It has black trims and a black roof. With those natural colors, it will complement any back yard or garden. It also features an off-center door. That means that your dog will have a private corner and completely protected from the weather elements.
Characteristics:
Slanted and water-resistant roof
Solid wood structure
Adjustable feet
Best Insulated Dog House For Large Dogs
Pets Imperial Extra Large Insulated Dog House
Heavy-Duty Dog House
This Dog house is made especially for the large dog breeds. That is why it has two support rails that allow this dog house do take weight up to 154 pounds. The rest of the house is also solidly built and the house is a great shelter for any size dog you might have.
Dimensions Of The House
This dog house is constructed so it can accommodate large dog breeds. It is 44 inches wide, 29 inches long and 31 inches high. It features a large door opening and elevated floor. The door is included and it is made of vinyl. The door trim is made of aluminum because of the chew habits of some dogs.
Insulated Panels
This dog house has insulation in all the panels and the roof. It consists of timber which is tongue and groove and it is 0.47 inches thick. The next layer is 0.51 inches thick styrofoam and 0.08 inches thick plywood board. It is 150% thicker than other dog house insulations. It will keep your dog warm during winter and cool during summer.
Leveling Legs
The adjustable legs make this house fully customizable. You can even place it on an uneven surface and make it stand straight. To protect the wooden legs there are plastic caps on the bottom. That way the wood won't rot and it will last for a long time.
Easy To Clean
This house has a removable floor to make cleaning easy. It also features the roof with two locking arms that you can open. It can be cleaned with just water and then leave it to dry. Place it in the shade and the color will last for a longer time than other houses.
Characteristics:
Adjustable legs
Durable construction
Thick insulation of the panels
Easy to clean
Best Wood Dog Houses For Large Dogs
Boomer & George Wooden Barn Dog House
Build Materials
This house is built from solid fir wood. It has an asphalt roof to keep your dog protected from the rain and other weather elements. It also features a porch in front of the house that is covered with the asphalt roof. The porch has a fence and it is a perfect combination of the relaxing areas in the house and outside on the porch.
Raised Floor
The house is built with the raised floor. The house and the porch are elevated. With this kind of design, the bottom is protected from the moisture from the ground. It also adds to the insulation of the floor. If you add a dog bed inside the house your dog will have a warm and comfortable place to rest.
Ventilation Features
To keep the fresh air flow through the house there are two windows on the sides. They are see-through windows with bars that can be opened. That way your dog can see outside and not feel trapped and at the same time the air can flow constantly throughout the house.
Dimensions And The Size
This house is made for large dog breeds. It is 47 inches long, 39 inches wide and 35 inches high. It has a door opening which is 16 inches wide and 21 inches high. The porch in the front is 29 inches wide, 39 inches deep and 35 inches high. This house provides great space inside and outside the house.
Characteristics:
Solid build materials
Stained in natural wood color
See-through windows on the side
Removable roof and floor panels
Elevated floor design
Conclusion: Which Dog House Will Suit Your Large Dog?
You have to be careful in measuring the dog house for a large dog. When you did that right, the rest is easy. If you want the best house on the market you can go with the Petmate INDIGO W/MICROBAN because of the antimicrobial protection or you can get the Pets Imperial Extra Large Insulated Dog House because of the insulation features.
If you want to learn more about dog house features, take a look at the article about the best dog house on the market you can find. There is also a post about the best large dog house with a porch or you can read the review of the best dog house for 2 large dogs.