Do you want a cute and small dog house?
Look no more! In this article, you can find the best little dog houses on the market. Learn how to choose the quality materials and how to find the dog house that will suit your dog's needs and your home decor.
Buying Guide For Little Dog Houses
What Are Dog Houses Made Of?
Just like may other purchases, the quality materials are the key feature for the dog houses. The most common choices are wood, plastic, soft fabric, foam, and carton. Each one of them has certain advantages and disadvantages and it all depends on the type of dog that you have and the area you want to place it.
Size Of The Dog House
This is the article about small, little and mini dog houses but your dog still needs to fit inside the house. You have to make sure that your dog can fully stand up and turn around. It also needs to be able to lie down and stretch comfortably. The general rule is that the house needs to be about 25% larger than the dog.
Door Sizing
Another important size you have to take into consideration is the door. Your dog needs to comfortably be able to go inside and get out. If your dog house is placed outdoor, too big entrance will make warm and cold air go outside the house and it won't provide good shelter for your dog. You should also consider a dog house with the door if you want it protected from all the weather elements. If the dog house is placed inside, the door size can vary.
Raised Floor
If you are getting a wooden dog house, the raised floor should be a mandatory feature. It keeps the wood protected from the mold and humidity, and it keeps the floor away from the cold ground. The plastic houses are more forgiving, but additional insulation between the floor and the ground is a good feature. Soft dog houses are not usually elevated but that is because they are for indoor use and you can control the temperature inside.
Make Cleaning Easy
Small dog houses are easy to clean because they are small, but you should look for the roof that can be removed so that you need to spend just a few minutes to get the job done. If you are looking for a soft mini dog house make sure that it is machine washable and that the cushions are removable.
Best 5 Small, Little & Mini Dog Houses For Sale
Best Dog House For Medium Dogs
Petmate Small Igloo Dog House
Year-Round Protection
Petmate Indigo dog house is made of heavy-duty molded plastic that protects in hot weather in the summer and cold in the winter. It also features an offset doorway that helps shield pets from rain and snow going inside the house. It is also great protection from the wind.
Roof Ventilation
Because this Petmate igloo small doesn't have any windows but just the door to let the fresh air inside, it needs an additional vent system. This indigo small dog igloo dog house has a ventilation opening at the top of the house. It is designed to circulate the fresh air inside the house and it is placed so that rain can't get inside.
Spacious Dog House
This dog house is available in multiple sizes. It comes in medium, large and extra-large size. It is a great option for small dogs that need a little bit more room and it is perfect for small to medium-sized dogs. It provides security and comfort for all dogs and it is a great option for outdoor use.
Raised Floor
The house is made with the raised floor and the roof that snaps together in seconds. That is all the assembly that you need to do. The sloped roof ensures that all liquid goes off the house. It is protected with Microban antimicrobial coating that prevents the growth of stain and odor-causing bacteria.
Accessories Available
For added comfort, you can customize this dog house. There is a pad available that will fit in the shape of the house perfectly. You can also add the door if you want additional protection for your dog. It is all sold separately and it is all official from the Petmate company.
Characteristics:
Microban antibacterial protection
Raised floor
Roof ventilation
Easy to assemble
All-weather protection
Best Small Plastic Dog House
Suncast Outdoor Dog House
Dog House For Outdoor Use
This is an attractive small dog home that is made for outdoor use. You can place it anywhere in your backyard, patio or deck and it will nicely compliment the surroundings. It offers all-weather protection and you can be sure that your dog is safe and comfortable in this house.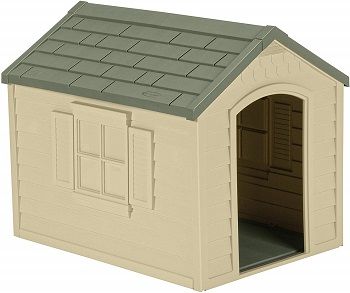 Durable Construction
This Suncast small dog house is constructed from heavy-duty resin. It features a crowned floor to keep your dog safe from any weather elements. It is made to last a long time and to ensure great protection for your dog. It is protected from the rot and it won't rust.
Hassle-free Assembly
There are no tools needed to assemble this house. It is practical and it snaps together in just a few seconds. It is ready to use the moment you buy it. There are pre-drilled holes to stake it to the ground if you want it to be fixed. The stakes are not included in the package.
Good-looking Dog House
This dog house for small dogs is molded with a lot of details. It looks like a real house with details on the windows, the roof, and walls. It comes in light brown color and the paint is made so that resists to fading. No matter the weather elements and cleaning this color will look new for many years.
Door Included
This small dog house is 35 inches long, 27 inches wide and 29.9 inches high. It has an entrance that is 11.75 inches wide and 20.5 inches high. In the package, you get also a vinyl door that you can attach to the house if you want additional protection, or you can leave it open.
Characteristics:
Low maintenance
All-weather construction
Easy snap-together assembly
Crowned floor
Best Small Wooden Dog House
Pet Squeak Arf Frame Dog House
Product Dimensions
This is a beautifully designed wooden dog house that is suitable for small dog breeds. It comes in three different sizes. You can choose from Xsmall, small, medium, and large dog houses. The small dog house is 27 1/4 inches wide, 15 1/2 inches deep and 29 inches high. The door opening is 8 1/4 inches wide and 13 inches high.
Build Materials
This small wooden house is made from Cunninghamia Lanceolata. It is commonly known as "white cedar" or "stained whitewood". It is a strong wood known for its durability, pest resistance, and beautiful appearance. It has a fresh aroma that shouldn't bother your dog but it will nicely blend with the natural environment.
Insulation And Ventilation
This dog house is made of solid wood and it doesn't offer any other form of insulation. It has solid sides that are good protection from the weather elements. There are no additional openings or windows beside the doorway. The floor is raised which offers some insulation from the ground to keep the floor dry and mold-free.
Assembly Instructions
The Pet Squeak Arf Frame Dog House does require assembly. It will take you about 30 minutes to put it all together. The panels come un-sanded so you can sand and decorate them as you like. Cedar is softwood so you should be careful when assembling the house. Tools are not provided in the package.
Characteristics:
Attractive design
Raised wooden floor
Mold resistant
Best Small Outdoor Dog House
Tangkula Pet Dog House
Good Activity Place For Your Dog
This little dog house is designed with all kinds of levels. it has a balcony on the top, side steps and a resting place in the form of the house. It is a perfect combination for your dog to sleep, play and relax in this house. It is practical and it can be used indoor and outdoor.
Easy To Maintain
The Tangkula Pet Dog House comes with the wire doors that can be removed. It has a large opening so that cleaning is easy. You can clean it with just water in just a few seconds. If your dog needs to stay inside you can lock the door and without worrying leave it inside.
Durable Structure
This mini dog house is made of solid fir wood. It is lightweight and easy to move around but it offers a sturdy and durable construction. It is environmentally friendly and it is painted with water-based, non-toxic paint. This house is made to last a long time.
Assembly In Minutes
This small dog home comes with pre-drilled holes and you will need about 30 minutes to assembly it. All the necessary hardware is included in the package. You will need a few basic tools to put it all together. It is a joyful project that you can share with your kids.
Dimensions Of The Product
This house comes in two sizes. The smaller dog house is 30 inches long, 20 inches wide and 26 inches high. It weighs only 16.4 pounds. It is suitable for small dog breeds and some medium-sized dogs can be happy with the larger option. The balcony is large as the house so your dog will have enough space to relax.
Characteristics:
Includes balcony and side steps
High-quality materials
Suitable for small dogs
Good for indoor and outdoor use
Best Small Cute Indoor Dog House
PLH Pet Dog House
Cozy Dog House
This is a great indoor little dog house that offers great comfort to your dog. It provides a secure place for it to rest and sleep. It is suitable for small dog breeds. It comes with the soft cushion for added coziness. It is light and practical so you can take it with you wherever you go.
Quick Setup
To make this house functional you need to take is panels and the roof and connect it with the velcro. It is quick and easy which makes it a perfect portable tiny dog house. It will take you just a few seconds and your dog house is ready to use.
Dimensions And Size
The Petty Love House pet dog house comes in one size only which is suitable for small dogs. It is collapsable and lightweight. It is 18 inches high, 15 inches wide and 16 inches deep. It has a large door opening in the front and no other openings and ventilation.
Soft Materials
This tiny house for dogs is made of soft foam walls and a soft roof that is attached with the velcro and it has a soft chimney attached to the roof. It also features soft detachable floor cushion that you can change, remove or add to it other cushions and blankets.
Easy Cleanup
To clean this house you can use a wet cloth. With a little bit of soap and water clean the whole house and let it air dry. The cushion inside can be machine washable. it is practical and easy to maintain this dog house clean at all times.
Characteristics:
Decorative design
Easy to maintain
Removable cushion
Soft and comfortable materials
Conclusion: Which Small Dog House Is The Right One For You?
The small dog breeds need more attention and care because of their sensitivity. That is why you need to get the most comfortable house in the market. The best option is to get the Pet Squeak Arf Frame Dog House because of the durable materials or you can go with the Tangkula Pet Dog House because of the additional space.
If you want to learn more take a look at the article about the best dog house for sale. You can also read my post about large dog houses for sale or read the reviews of the best dog houses for cold weather.