Are you interested in the Asl Solutions dog house?
You came to the right place. Choosing the right dog house can be tricky so I bring you the list of the best dog houses they have. But before it will be good to get to know a little bit more about the company.
Asl Solutions Company Informations
Company History
This company was founded in 2000. The founders searched for a long time to find the right dog house that is properly insulated with the unbreakable door. With years of experience in manufacturing, they decided to make their product. That is how the Asl dog house came together. It is a family and friends business that makes sure that you get the best house for your dog.
First Insulated Dog House
The Asl Solutions dog house is the first one on the market that is insulated with real foam (Styro/EPS). It offers great protection for your pet so you don't have to worry is it cold or hot. It is also a great option if you are traveling by plane because the reinforced door with insulation and self-closing feature makes your dog safe and comfortable.
Where To Buy Asl Solutions Products?
It is easy to get to Asl Products. On their official website, you can explore all of their products and accessories and order directly from there. They also work with big retail shops so that you can find their product in different pet shops. You can also find the product among different online shopping sites like Amazon where you also have the benefit of reading the costumers' reviews before buying.
Customer Care And Warranty
The Asl Solutions offer great customer care and it is easy to get in touch with them. You can contact them through their website, phone or even write to their address. They are friendly and want to make sure that you and your dog get the best possible product. Besides, they don't offer a 10-year warranty on their products for no reason.
Best 2 Asl Solutions Dog Houses
ASL Solutions DP Hunter Dog House With Floor Heater
Build Materials
The DP Hunter dog house is made of molded plastic. It the material that can be found in outdoor playground plastic. It is durable and it can survive any weather conditions. The insulation inside is recycled ESP foam which is also used in construction. This Asl dog house is made to last you a long time.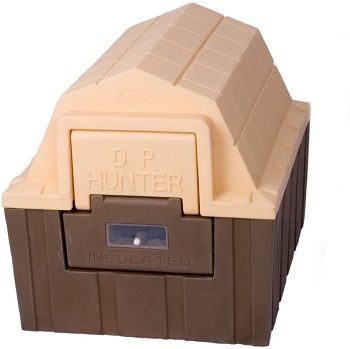 Dimensions And Design
This is a small dog or cat house. It is 23.5 inches high, 23 inches wide and 29 inches long. It weighs 25 pounds. It resembles the barn house. It comes in one color combination – brown bottom and cream top. It is meant to blend into the nature of your back yard.
Suitable For All Weather Conditions
The great thing about this Asl insulated dog house is that besides the insulation in all the walls it is waterproof. You can even install inside the heater portal for the winter. It is safe for the dog and it is made so that it cannot get in touch with the cords. For the hot summer days, there is a window panel in the door so you can let the fresh air inside.
Suitable For Rookies
This is a DP Hunter dog house with floor heater that you can easily remove if you have a new puppy. You can also remove the bottom half of the floor and bottom part of the door for initial training. Because of the sloped floor and a drain hole in it, it is a perfect house for easy cleaning.
Characteristics:
Suitable for small dogs and cats
Comes with the floor heater
Self-closing door
Insulated and raised floor
ASL Solutions Deluxe Insulated Dog Palace
Beautiful And Durable 
This is a deluxe dog house. It features up to 4 inches of real foam in the insulation of each panel. It offers great comfort and optimal temperature in any weather condition. It is convenient and cozy but it offers better warmth than any other dog house on the market.
Home Features
This Asl dog palace is made to feel like the coziest home for your dog. It is fully insulated, it has a pass-through door which is also great for the initial training process. The floor is raised and slopped for easier cleaning and to provide warmth and dry sleeping area. It also has a window in the door for ventilation purposes.
Dimensions And Design
This Asl insulated deluxe dog palace is made to fit medium and large dogs. The exterior measures 31.5 inches wide, 47.5 inches deep and 38.5 inches high. The finishing outside is made of durable plastic and it comes in two colors – brown with a cream top and gray. It is a simple and practical design.
Warranty
The Asl solutions offer a 10-year warranty for all their products and this dog palace large dog house is not an exception. They made a perfect product and they offer even a lifetime warranty on cracking and breaking. It is a great and secure option for the comfort of your dog.
Characteristics:
Fully insulated dog house
Suitable for medium and large dogs
10-year warranty included
ASL Solutions Grey Insulated Dog Palace Combo Versions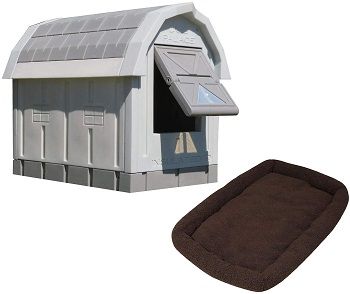 Soft Bed
This Asl dog house also comes in grey color and with some additional items. You can choose a package that has a combination with the soft dog bed inside. You can easily remove and wash it when needed. It is practical and comfortable for your dog.
Includes Heater and Fan
Another great option is to take a cream color of the Asl solutions deluxe insulated dog palace, in the package that already has a heater for the winter and a solar-powered fan. It is easy to install them and the cables won't get in the way for the dog inside.
Conclusion: Why You Should Buy Asl Solutions Dog House?
The Asl dog house is a perfect solution for your dog no matter the weather. Both ASL Solutions DP Hunter Dog House With Floor Heater and ASL Solutions Deluxe Insulated Dog Palace are fully insulated and you can choose do you want to install a heater and the fan. Choose the one for you according to the size of your dog.
If you are interested in researching the dog houses more here is an article that reviews the coolest dog houses. Additionally, you can take a look at my article about dog house for small dogs or you can learn what it takes for building a winter proof dog house.