Are you interested in buying a Precision Pet Dog House?
In this article, you will find all the information concerning the Precision Pet brand. Additionally, there will be a few reviews of their best products and all you need to know before purchasing them. Precision Dog House is wanted and you need to get to know them.
Precision Pet Product Information
Product Materials
The Precision Pet makes the dog houses, kennels and other habitant areas for the pets. They are made from natural materials like wood and sometimes reinforced with stainless steel. Their products are on a large scale. They are usually equipped with additional areas and yards that are encircled with wire.
Price Range Of Precision Pet Products
The price range of the Precision Dog Houses is wide. But keep in mind that they make big houses which means that the price is higher. The company guarantees durability and the products are more expensive than the others you can find on the market. Once you invest in one of their dog houses you will have it for a long time and in case you need to replace a part or two, you can easily get it.
Where To Buy Precision Pet Products?
Precision Pet is a manufacturer that doesn't have the official website. Instead, they work with other companies and sell their products through their channels. That is why you can get these products in almost any shop that sells pet-related products as well on the online webshops like Amazon.
Why Buy A Precision Pet Product?
This is one of the pet care brands that are on the market for a long time. It has a reputation for good quality and durable products. You should consider buying their products not just for the dog but also for the other pets you have. In their product range, they offer a product for domestic animals like chickens. Keeping all animals safe in any weather condition is their motto.
Best 3 Precision Pet Dog Houses
Precision Pet Outback Log Cabin Dog House
Stylish Dog House
This is a beautiful big outback log cabin dog house with the extra-wide entrance. It provides enough space and great shelter for your dog without blocking the wive from inside. It comes in natural wood or grey wood color so it can be a perfect match for your back yard. Even if the surface is uneven it is not a problem because it features leveling legs that you can easily adjust.
Build Materials
This is a durable and sturdy large log cabin dog house made completely of the natural wood and stainless steel hardware. The wood used to build this house is fir which is naturally weather resistant. It is stained in cedar color and it is mold and mildew resistant. The roof is reinforced with the asphalt shingles for protection. The cabin itself is not insulated but if you want to make it more comfortable you can get an insulation kit made just for this house.
Dimensions
This Precision dog house comes in four different sizes. They can accommodate most of the dog breeds and sizes. When choosing the right size for your dog it is better to take a larger option. You want the dog to be as much as comfortable as possible. The small house is 33.5 inches long, medium one is 45.5 inches long, the large one is also 45.5 inches long but the height and width are larger and the giant one is 45.5 inches long, 48.5 inches wide and 40.5 inches high.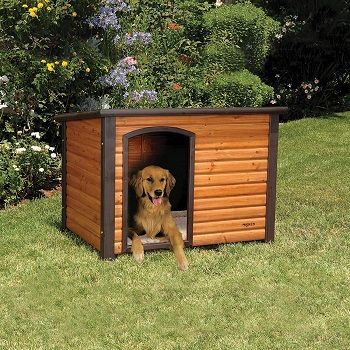 Ventilation
This dog house doesn't have any additional ventilation system. The extra-wide opening in the front provides enough fresh air inside so it doesn't get stuff inside. The advantage of not having insulation inside is so that it has a natural airflow throughout the cabinet while keeping the dog safe and dry. The adjustable legs also help to keep the unit dry and allow the airflow through the floor.
Assembly And Accessories
This is a fairly easy dog house to assembly. You just follow the three easy steps. First, you have to connect the sides and corners with stainless steel hardware. Then you put the floor inside which fits perfectly and the one-piece roof put on the top of the house. All you need to have is a screwdriver. If you want to add something you can get the Outback Dog House Door made of heavy plastic and an insulation kit for the inside of the house.
Characteristics:
Adjustable legs
Natural wood materials
Easy to clean
Precision Pet Country Lodge
Classic Design
When you think about the dog house the picture in your head is the classic A-shaped house with the centered door. Well, this is exactly like that. With the timeless design, this dog house is the addition that will make your back yard look like the one from the fairytale. It is natural, classic and it will fit any style of your home.
Waterproof Materials
It is an A-shaped classic dog house made of solid wood. It is a great house for any weather condition. The roof has a waterproof liner so that your pet stays dry and safe inside. Additionally, it has a raised floor so that the house doesn't get wet from the below and it has waterproof protectors for the adjustable feet.
Size And Dimensions
It comes in small, medium and large sizes. This Precision Pet dog house measures 30 inches long, 35 inches high and 30 inches wide and that is a medium-sized house that weighs about 28 pounds. The construction is easy to assemble and all you need is one screwdriver to do it.
Insulation And Ventilation
This is a dog house made of natural solid wood. Because of that, it doesn't have any additional insulation. But that is not a problem because you can easily fit inside your dog's bed and a few blankets. The ventilation system is natural and there are no extra fans in the house. It is a great outdoor dog house but it cannot endure extreme weather conditions.
Characteristics:
Classic A-shaped design
Comes in three different sizes
The waterproof liner on the roof
No additional insulation
Adjustable legs
Precision Pet Soft Side Play
Durable Materials
This is the soft house on this list. It is made of heavy-duty materials with reinforced corners and heavy-duty zippers. The steel wireframe is the thing that makes this house safe and protective for the pets. It comes in one universal size and it comes in deep blue color with a cream top.
Portable House
The great thing about this dog house is that you can fold it for easy transport. It can go with you anywhere you go. It doesn't take up much space and your dog will always have its home with it. It even has side pockets so you can put the things you need for your dog in them.
Indoor And Outdoor Use
When it comes to the placement of your dog house you have to decide in advance. With this one, it is easy because you can use it outside. You just have to secure it with the ground stakes for stability. When the time comes you can take it inside. It is a perfect choice for every dog owner.
Easy Access
You can easily remove the top and the bottom floor panes so you only have a soft fence for your pet. It is easy for you to access inside and for your dog to not feel trapped. All the parts are washable so it is easy to clean and maintain it. The material is waterproof do even when it is raining outside your dog is protected.
Extra Storage Pockets
This Precision Dog House includes a side hole and a pocket for dispensing water for easy access for pets. In additional pockets, you can store food, leashes, treats and all the other pet accessories you might neer. All the pockets are from the exterior side so you don't have to worry that your dog will take something that it shouldn't.
Characteristics:
Easy to transport
Strong and waterproof materials
Ideal for outdoor and indoor use
Extra side storage
Conclusion: What Precise Dog House Is Your Favorite?
When it comes to the pets you want them to have the best possible. That is why you should choose something from the Precise Pet product collection. That can be Precision Pet Outback Log Exterior Dog House because of the quality build and longlasting materials or maybe something more practical like Precision Pet Soft Side Play.
If you are hesitant about the right choice you can take a look at my article about the best dog house. There are also posts about the cheap DIY dog house that you might want to explore or something completely different like a deluxe dog house.