Do you need a dog house that is more than just a dog house?
Luckily, in today's market, you can find all kinds of stuff. The dog house furniture is one of those things. What kind of furniture can you get and how to choose the best one are the questions that have answers in the following article.
Things To Know About Furniture Dog Houses
What Is Dog House Furniture?
This might seem obvious to some people but you would be surprised how many people think that it is ok to put a cushion in under the sink cabinet and say that is a dog house. The indoor dog house furniture is a piece of furniture that you can use for storage of other things but it has a separate part designed for pets to live in.
How Big The Dog House Should Be?
Your dog will probably spend a lot of time inside this house so you want to get the size right. You should measure your dog and find the furniture that it can fit inside, sit, lie down, and turn all the way around. You don't want it to be too small, but also not too big because dogs tend to feel safer in smaller houses and big space might intimidate them.
How To Use An Indoor Dog House Furniture?
Once your dog is inside the house it will curl up on the couch. That might be cute but there is a reason why you got it a dog house. You have to be patient and learn your dog that the crate is a safe and comfortable place. It needs to spend as much time as possible inside to learn that the crate with the picture frames on the top is the new home.
Available Models Of Indoor Dog Houses?
If you are wondering about what kind of materials are these houses made, you don't have to worry. You can choose from wood that will fit into any decor of your home. Some of the houses come in natural wood color so you can paint them and decorate them as you like. Another option is resin wicker because that one has built-in feet and you can place it on a higher position if you like.
Best 5 Indoor Dog Houses Pieces Of Furniture
Best Dog House End Table
DenHaus TownHaus Indoor Dog House and End Table
Easy To Assemble
All you have to do to put this dog house table into the function is to snap the sides together. It will take you no more than 10 minutes and the best part is that it doesn't require any tools. Everything is ready for you to make it look like a side table and to introduce your dog to a new home.
Lockable Panel
The Townhouse Dog Crate by DenHaus is closed from three sides with just small side openings. The front panel, which is also the door, has a double panel with the wooden bars. If you want you can remove it and leave the open entrance to for the dog. You can lock the door with antique brass hardware.
Build Materials
This dog house end table is made of solid and sturdy wood. It is covered with multiple coats of finish and sealer protection for wood to last a long time. The finish is non-toxic and free of mercury, cadmium, lead, and chromium. It is safe for your dog to spend days and nights inside it.
Sizes And Dimensions
The great thing about this dog house side table is that it comes in various sizes. You can choose from small, medium, large, and Xlarge house depending on the size of your dog. The large version is 35.5 inches long, 25 inches wide and 31.5 inches high. The beautiful mahogany color will fit into any home decor.
Characteristics:
Quick and easy assembly
Removable front grid
Lockable door
Multiple-size choices
Made in the USA
Best Dog House Coffee Table
Elegant Home Fashions St. Augustine Crate
Overall Design
This crate is made of solid wood with great details and a mahogany finish. It will keep your pet safe and it will bring elegance and luxury into your living room. It is square so it won't stick out to any side. With the beautiful solid top, it is a perfect option for a centerpiece like a coffee table.
Ventilation System
The most important thing in choosing the dog house that is also a piece of furniture is that has enough airflow inside. This one has. It has slate windows on both sides of the house and also on the door. That feature provides proper ventilation and visibility for your dog inside and for you from the outside.
Included Dog Bed
This luxurious dog house coffee table comes with a cotton pad. It is machine washable and you can easily remove it from the house. It features a non-slip bottom to prevent slipping and it is tufted so that it doesn't move and shift from side to side. It is comfortable and you can personalize the cover over time.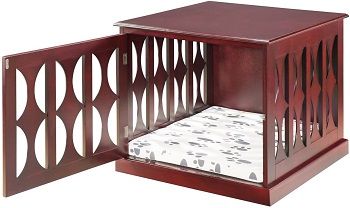 Dimensions And Size
This dog house furniture comes suitable for small and medium dogs. It is 27.5 inches long, 30 inches wide and 24 inches high. It weighs 54 pounds. It will nicely fit in any living room or even a closed patio area. Your dog will enjoy this comfortable house for many years to come.
Characteristics:
Solid wood construction
Suitable for small and medium dog breeds
Lockable door
Mahogany color
Best Dog House Side Table
Wooden Mobile Dog Pet Cage
Build Materials
This dog crate is made of solid hardwood. It consists of MDF with solid wood veneer and powder-coated steel. The solid wood construction is the frame and the tabletop of the cage. There is a metal cage built into construction that you can fully remove. And there is a plastic tray underneath to protect the flooring.
360 Degree Rotation
What is interesting about this unit is that it features a pin hinge that allows both side panels to rotate almost 360 degrees. That means that you can use this cage to close off the doorways or open spaces. Each panel you can remove separately, which also means that you can make it fit any space.
Dimensions And Design 
This dog house side table is 30 inches long, 19 inches wide and 21 inches high. It weighs around 110 pounds and it doesn't require any tools to assemble it. It comes in the dark brown color with a black crate. Those color combinations will fit any home decor and your dog will love it.
Multiple Purpose Do House Furniture
Other than being a crate you can use this cage to close the doorway or separate the room. You can also use it as a travel crate because it is light and easily stored. The wooden table can stay at home and serve as a coffee table or side table. It is a practical piece of furniture that you and your dog will enjoy the most.
Characteristics:
Solid wood veneer cover
Convertible into a gate
MDF floor
Removable plastic tray
No tools required
Best Dog House Nightstand
Furhaven Pet Dog Bed Furniture
Stylish Design
It is time to bring at home beautifully designed dog house furniture. This dog house nightstand features an attractive transitional design that can fit into any home interior. The wood construction will not stand out and you can choose from espresso, silver, and white color combinations depending on your preferences.
Multipurpose Table
Unlike traditional and metal dog crates, this one is designed to be multi-functional. Because of the wood construction and flat and stabile top, you can use this crate as a side table, end table and nightstand in your bedroom. It provides a secure and comfortable place for your pet to rest and you get another piece of furniture for your picture display.
Security Of The Crate
If you want your pet to stay in the crate you can use the lockable door latch for enhanced security. But the door also has installed a magnetic catch which you can use in the training process or just to keep the door closed while your pet is not inside. It is a practical feature that can come handy when you are in an initial training process.
Product Details
This crate comes in two different sizes. You can choose from the small one which is 27.5 inches long, 20 inches wide and 24.5 inches high or you can go with the large option that is 36.5 inches long, 24 inches wide and 29.2 inches high. It doesn't come with a pet bed so it is recommended to get one for your dog to make it even more comfortable.
Characteristics:
Great airflow
Easy to clean
Stylish multi-color design
Secure with magnets and lock
Best Dog House Cabinet
Pinnacle Woodcraft Dog Crate Entertainment Center
Chew-proof Cabinet
This dog house cabinet is made out of two wood variations. You can choose from oak hardwood and maple hardwood. It also features steel wires that are resistant to chewing and scratching. It is more durable than some other wooden, plastic and aluminum crates you can find on the market.
Spacious Dog House
This is a great choice for medium to large dogs. They can comfortably fit inside. There is a gate window that provides enough light, ventilation, and visibility. It is 41 inches long, 26 inches wide and high. Inside is 36 inches long and 21 inches wide. The cabinet is perfect to use as an entertainment center or side table. It is a great option for your dog and offers multiple purposes for you.
A Perfect Match For Your Home
The great thing about wood is that you can stain it or get it in the natural condition and make it your own. There are six stain options you can choose from no matter oak or maple wood. There is a guarantee that one of them will match your furniture and you won't even know it is there. It offers a lot of space inside and outside so it is a perfect choice for your dog and you.
Optional Features
This piece of dog house furniture can be equipped with some additional features. There is an option to get this cabinet with the lift-up top that provides convenient storage where you can hold dog treats, leashes, and collars. You can also choose from the all-inclusive 3-piece option that includes a comfortable mattress bed and matching metal crate try.
Characteristics:
Multiple color design
Suitable for medium and large dogs
Optional additional features
Conclusion: Which Dog House Furniture Is Your Favorite?
Sometimes getting the multi-purpose unit is the best decision you ever made. To save you the trouble of getting there here are the best two options you can get. The Merry Pet Wooden Mobile Dog Pet Cage is a great option and with a removable metal cage, makes it the most practical one. The next best thing is Pinnacle Woodcraft Dog Crate Entertainment Center because it can accommodate large dogs and it is a perfect entertainment center.
If you want to learn more about the different types of dog houses take a look at the article about the best dog house for sale. There is also my post about the best large dog houses and you can learn how to choose the best igloo dog kennel.