Do you need a new indoor dog house?
Then the fabric dog house might be just the right choice. There are a lot of options to choose from and a person can get overwhelmed. That is why I bring you the guide on how to choose one and which are the best of the best dog houses on the market.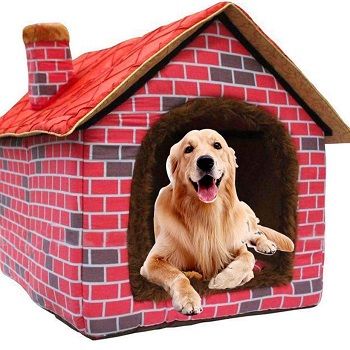 Key Features Of The Soft Dog Houses
Why Invest In The Indoor Dog Hosue?
The soft house that is inside your home is a great way to create a comfortable getaway. All dogs love some quiet and a place that can call their own. It is a good idea to put a few of these soft-sided dog houses around the house so that your dog will feel welcomed in any part of your home but still be able to find a safe and comfortable corner made for them.
Size Of The House Is Important
The same rule applies here as for the other kinds of dog houses. If you want it to be comfortable it is better to take a bigger house. It doesn't matter that this is a fabric dog house and it is more adjustable. You have to make sure that your dog can fit inside and it is recommended that you get the dog house in which one can stretch comfortably.
Materials Used For Soft Dog Houses
Most of the soft and indoor houses are made of some kind of fabric so that your dog lies on a soft and cozy surface. The plush dog house is the most common one. It is easy to maintain and it is soft. Other options are foam covered in soft fabric or even leather. Some houses are made to be portable and even used outside for some occasions so they are made from poly materials.
How To Maintain An Indoor Dog House?
Most of the houses made for indoor are stuffed with some kind of foam or filling. Some of those materials are machine washable which makes life easier. Most of the time you can take it an put it in the machine without worrying that it will stretch. With some fabrics, you have to be more careful and they can be only hand washed. Read the specifications carefully and follow the instructions to maintain a long life for the house.
Best 5 Soft Indoor Dog Houses
Best Soft Indoor Dog House For Large Dogs
Hanshu Warm Indoor Soft Large Dog House
Comfortable Home
This is a large fabric dog house that measures 27.5 inches length, 26 inches width, and 26 inches height. It has a door big enough to fit the large breed dogs. It is 14.5 inches high and 14 inches wide. It offers great comfort and coziness for your dog. It is soft and you can easily take it with you wherever you go.
Fabric Materials
This is a soft dog house designed to offer great support for your pet. It is made of high-quality poly fabric and soft poly-foam lining. The great feature of this house is that it has an ergonomic memory foam and gel that has more to offer than being just a comfortable mat. It helps your dog with joint pain, arthritis, relieving body aches and it has general therapeutic support.
Brick Design
This fabric dog house comes with a timeless design print. It looks like it is made of brick with a bright red roof. It also features a fabric chimney. It can seamlessly blend into any decor and it will look good in any room. It offers maximum durability of the mattresses. It is lightweight so you can place it where you want.
Machine Washable House
This soft-sided dog house is machine washable and It won't stretch out of shape. You can take it with you traveling and it will keep your dog comfortable even while in the car. It can be easily assembled and disassembled for machine wash. It is connected with velcro so you can collapse it in just a few seconds.
Characteristics:
Unique design
Completely machine washable
Features therapeutic mattress
Best Soft Indoor Dog House For Small Dogs
SENYEPETS Soft Indoor Dog House
Cozy Pet Home
This cozy plush dog house is a perfect shelter for your small pets. This house offers a small touch of privacy while your dog is with you in the room. This fabric dog house is 19.6 inches wide and 21.6 inches long. The door opening is 7 inches wide and 11 inches high. It is a great option for a small dog or a cat.
Easy To Maintain
The roof of this house can be easily detached with a zipper. The whole house is made of sponge. The roof and the walls of this dog house use magic tape to make it more sturdy and stable. The soft cushion inside is removable and you can wash everything in the machine using the gentle cycle and air drying.
Color Design
This soft dog house is made to look like a real house. You can choose from the dark brown color that can fit into any decor, or you can go with lime green to give your room a touch of color. It comes with a dual-color mat that goes inside. It is a perfect choice for pets that like to burrow.
How to Assemble The House?
This is a soft dog house made of sponge and all you have to do is attach the walls and the roof one to another. Sometimes when you order this house it comes in a vacuum state so you have to give it up to 3 days to be able to stand alone and do the job. Other than that, it is a pretty flawless soft house.
Characteristics:
Double color mat
Easy to assemble
Spacious soft house for small dogs
Comes in two colors
Best Portable Soft Dog House
EliteField 3-Door Folding Soft Dog House
Dimensions And Size
This is a collapsible dog house that comes in 5 different sizes. The biggest house is 42 inches long, 28 inches wide and 32 inches high. It comes together in only a few seconds and it offers enough room for your dog to be comfortable. It is spacious even for a medium and large dog breeds.
Construction Fabric
The entire house is made of high quality and durable 600D fabric and hex mesh fabric. The hex mesh fabric provides good ventilation inside the house and it makes it more lightweight and stylish. To keep it stable the construction is made of strong steel tubes. They are positioned to make the house stand but they are not in the way when you want to disassemble it.
Ventilation System
Although the soft dog house should be breathable, this one is made of the material that is much stronger and more durable. That is why the more breathable material needed to be installed. There are three mesh doors – on the top, side, and front. It is not just a matter of ventilation but also sunlight and breathability.
Portable Dog House
You can take this dog house with you no matter where you go. It is light, practical and equipped with all the necessary travel features. It has a handle and hand carrying strap for mobility. There are two accessory pockets and removable and washable cover and bed. When folded it is only 3 inches high for easy storage.
Characteristics:
Multiple sizes options
Foldable and portable
Various colors to choose from
Easy to carry
Best Soft Luxury Dog House
ZPPMC Luxury Double Roof Dog House
Size Of The House
This is a small luxury fabric dog house. It is 21.6 inches wide, 15.7 inches long and 16.5 inches high. It is suitable for small dogs and cats. It offers a big corner of total privacy inside so your pet can curl up if it doesn't want to be disturbed.
Materials Used To Make The House
This ZZPPMC Double Roof Dog House is made of waterproof oxford cloth which makes it also suitable for outdoor use. The filling is made of high-density sponge and it is soft and comfortable. You can easily fold it and move it outside or inside depending on your needs. It also has a soft cushion inside.
Exterior Design
This soft dog house comes with a double roof. The door is on one side so your dog has a small private space in one corner. It comes in 4 different designs. You can choose from beige, blue, brown and gray color combination. Every house has an attached a small window filled with contrasting colored fabric.
Suitable For Small Dogs
This house may look big but it is suitable for small dogs or even cats. The size is perfect for the dogs under 11 pounds. You can even leave your dog in it and take it all where you need it. it will offer great comfort if you are traveling in your car. It doesn't take up much space and your dog will always have its house.
Characteristics:
Made of waterproof materials
Filled with rubber foam
Suitable for outdoor use
Works great with small dogs
Best Soft Indoor Dog House For Winter
Hollypet Crystal Velvet Self-Warming Dog House
Overall Dimensions
This Hollypet Chrystal dog house is 16 inches long, 13 inches wide and 12 inches high. It is suitable for pets up to 20 pounds like cats, puppies, and small dogs. The entrance is 7 inches wide and 8 inches high. It is a warm and comfortable choice for your pet.
Self-warming Fabric
This is a perfect choice for cold winter nights. It is made of suede and PP cotton with high elastic foam. It is very soft and warm. The cushion inside is made of fabric that warms up to a couple of degrees higher than the body of your pet. Even when it is not in use it keeps the temperature inside a degree warmer than the temperature of the surrounding.
2 In 1 House And Sofa
The great thing about this house is that you can use it as a house cave. It is a great hideaway for your pets. You can also remove the cushion and fold the house so it becomes a lovely pet sofa. You can add the inner mat for maximum comfort.
Great Option For Travel 
Other than being able to fold it, it also features the bottom surface which is designed to keep from sliding. It is anti-slippery on any surface. it also has a carrying handle on the top for easy transportation even when your pet is inside. You can take this house with you no matter where you go.
Easy Care
The house itself is surface washable and you cannot put it in the machine. The removable cushion mat is machine washable but you have to use a gentle cycle and it is recommended to air dry. It is strongly advised to clean it properly every two weeks.
Characteristics:
Suitable for pets up to 20 pounds
It is a house and sofa in one
Features self-warming fabric
Conclusion: Which Fabric Dog House Will You Get?
To make the most comfortable surface to relax for your dog it is necessary to have a soft dog house. There are a few options on the market but the best one is Hanshu Warm Indoor Soft Large Dog House because it is suitable for large dog breeds. The next best thing is Hollypet Crystal Velvet Self-Warming Dog House because it features self-warming fabric and it is travel-friendly.
To learn more about the subject of dog houses, read the article about the best dog house for sale. There is also a post about the best igloo dog houses for sale or take a look at the reviews of a contemporary dog house.