Are you living in a hot climate area?
Then you need the best dog house for the hot weather.  Just like humans, too much heat can harm the dog. That is why you need a dog house that is suitable for the hot weather and in which your dog will feel comfortable.
How To Choose The Dog House For Hot Weather?
Ventilation And Elevation
The ventilation in the dog house is vital, especially in the hot summer days. The dogs' sweat glands are located around their footpads and that makes it difficult for them to cool down. The feature that can additionally help in this situation is the elevated dog house. It will prevent rain and dirt to get inside and it will also enhance the airflow. The air between the house and the ground is additional insulation and it prevents the floor from rotting.
Insulation Of The House
The first association when insulation is mentioned is winter. But the insulation is equally, if not more, important in the summer. It prevents the heat from going inside the house. If the house that you want doesn't come with built-in insulation you can always add it yourself. The plywood, foam or even leather is a good choice. Just make sure that you leave the ventilation holes open.
Materials Used To Build The House
The most commonly used materials are wood and plastic. It is recommended to avoid plastic dog houses in the summer because they get really hot and it there in tot much you can do about it. The best choice is to go with wood. The wood offers better insulation in the summer and the winter. But, no matter the material you choose make sure that it is adequately ventilated.
Easy To Maintain
What you have to look for in the dog house for hot weather is that is easy to clean. Make sure that it has a removable floor or that the top can be opened. The cleaning process will be much easier. Also, remember to look for durable materials. Some last longer, some not, but if you take good care of them and keep them in a safe place you can have one house for many years.
Best 5 Dog Houses For Hot Weather & Climates
Best Insulated Dog House For Hot Weather
Climate Master Plus Insulated Dog House
Extra Large Dog House
This is an extra-large insulated dog house that is designed to hold dogs up to 220 pounds. It is 44 3/4 inches wide, 47 inches deep and 49 1/4 inches high. The door is 16 inches wide and 23 3/4 inches high. It weighs 160 pounds. It is a big yet comfortable dog house that can make any dog happy.
Improved Dog House
This insulated dog house for hot weather is made of modern and durable materials. With the classic design with the advanced technology features, this sog house can provide warmth during the wintertime and cooling during the summer. It is more resistant to moisture and insects and it is easy to assemble and maintain it. It is certainly the best dog house for hot weather.
Build Materials
What makes the Climate Master dog house different from the others on the market is the patent-pending PanelAbode Laminated Engineered Panel System that features simulated rough-sawn cedar finish. With this technology, the houses are more durable and stable than traditional dog houses. It is also really easy to assemble it and you will only need 10 minutes of your time.
All-Weather Dog House
This dog house has the industry's most advanced door. They are made of a heavy-duty color-matched powder-coated aluminum frame. It is weather-sealed and shatter-resistant. The door is 2 panels of clear acrylic and it features a security lock. Like any good quality house on the market, even this one has raised floor and vented ridge cap. You can also remove the roof for easy cleaning.
Insulation Of The House
What makes this insulated dog house the best one on the market is the insulation. It features 1.5 inches of standard residential white styrofoam insulation. The insulation is in the base, all walls, and the roof panels. It has a superior draft-proof door but it is a good idea to put the cooling mat inside for added comfort.
Characteristics:
Designed for large dogs
Insulation in all panels
Advanced build technology
Durable and resistant
Best Dog House For Cold And Hot Weather
Petsfit Dog House
Sizes And Dimensions
This wooden dog house comes in three sizes which makes it suitable for most dog breeds. According to the manufacturer, this house is the best for the golden retrievers and dogs smaller than that. The largest size of the house is 45.6 inches wide, 30.9 inches long and 32.1 inches high. The door is 15 inches wide and 2.7 inches high.
Build Materials
It is made of natural cedar which is water-based and it is safe for your dog. It also features a water-proof roof made of asphalt. It offers great protection during the harsh weather. You can also add the vinyl door for additional protection from the wind and dirt. This house has a raised floor for better airflow and insulation.
Dog House Design
This house comes in two different colors and two different styles. You can choose from grey and dark red color with white trims. As for the style, the house for smaller dog breeds has an entrance and a small balcony in front of it. The house for the larger breeds is all covered with the off-center door that offers more private space and protection inside.
Easy To Assemble
For this house, it is safe to say that is the best dog house for hot and cold weather. You can use it in any weather conditions and it is easy to maintain. The assembling of the house doesn't take more than 30 minutes and it comes with the pre-drilled holes so your job is only top put it together like a puzzle.
Characteristics:
Quality build materials
Easy to assemble
Features plastic feet protectors
It can hold up to 90 pounds dog
Easy to clean
Best Outdoor Dog House For Hot Weather
Tangkula Pet Dog House
Simple Design
This Tangkula Dog House Is a classicly designed with the A-shape roof. It comes in reddish-brown color which will nicely fit into any house and garden design. Your dog will love this house and it will feel comfortable and safe and the house will be a unique decoration in your back yard.
A Perfect Pet Furniture
This is the best outdoor dog house for hot weather that you can find on the market. It is suitable for small and medium dogs. The asphalt roof comes in red and brown color and it covers the sides of the house. In combination with a raised floor, it prevents the snow, rain, and dirt to get into the house.
Durable And Safe Construction
This dog house is made of high-quality fir wood. It can be a home for your dog for a long time. It is a durable wood but it is also brushed with the water-based paint that is safe and harmless top pets and it is also environmentally friendly. Everything about this house is made so that your dog is safe and protected.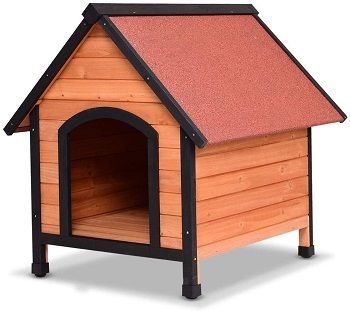 Easy To Assemble
Everything you need to get this dog house standing is included in the package. According to the manual, you can quickly assemble it in just a few minutes. It also features leveling legs so you can adjust the house to stand straight on the uneven ground. It is a great house for all seasons but especially for the summer.
Multiple Sizes Of The House
This house comes in three different sizes. You can choose from small, medium and large sizes. The smallest one is 28.5 inches long, 30 inches wide and 31 inches high. The largest one is 33 inches long, 40 inches wide and 34.5 inches high. The entrance is 12.5 inches long and 15.5 inches wide.
Characteristics:
Ideal for a hot environment
Adjustable feet
Made from fir wood and asphalt roof
Best Dog House For Hot Weather With Porch
PawHut Wooden Large Dog House
Cabin Dog House
This is a rustic and fun dog house that will be a great addition to any back yard. It has two separate living rooms and a large porch in front. It is a perfect house for most small and medium-sized dogs. The inside two living rooms can be made into one if you have a larger dog that needs more space.
Durable And Stable Construction
This PawHut dog house is made from solid fir wood. It is eco-friendly and all the paint is non-toxic and water-based so that your dog is safe to spend the days and nights inside it. It offers great protection and it is also easy to keep it clean because of the bottom try that you can easily slide out and clean it.
Spacious Porch
Why this house is the best dog house for hot weather, it's because of the large porch in front. Your dog can enjoy relaxation outside on the clean surface. You can even put the waterproof cushion outside for your dog to have a great time. It is a great option for dogs who like to spend the day outside.
All-weather Construction
The house is made from durable wood which is coated with water-resistant paint. The roof is hinged but covered with asphalt to protect your pet from most of the weather conditions like rain, snow, sun and many more. The porch is completely open and it great feature in the summer.
Raised Design
The whole house with porch included has elevated floors. It keeps the dogs away from the cold ground, it provides additional insulation and the wood is protected from moisture and insects. To make the inside more protected, the vinyl doors are installed to eliminate drafts, but there is a side window to help with the fresh airflow.
Characteristics:
Asphalt shingle roof
Spacious front porch
Raised floor
Doors include vinyl curtains
Easily assembled
Best Plastic Dog House For Hot Weather
SENYEPETS Plastic Dog House
Size And Dimensions
This Senyepets Plastic Dog House comes in one size only. It is 35 inches long, 28 inches wide and 29.7 inches high. The entrance door is 12 inches wide and 18 inches high. It is suitable for small dogs and some of the medium-sized dogs. It is a great addition if you want something simple that will do the job excellently.
Easy To Assemble
To make this house wor all you have to do is put the pieces together. It is easy to connect all of it and place it where you need it to be. You can take it with you no matter where you go because it doesn't take too much space when disassembled. It is practical and it will offer great protection in any condition.
Overall Design
This dog house is made of heavy-duty plastic so that it can last you a long time. It comes in white color with a blue roof. It is elevated from the floor which helps with the rain, dirt, and airflow. Although the plastic dog house is not the first choice for some people this one offers great ventilation with the openings on the sides and the roof.
Suitable For Any Area
Because of the plastic features and great ventilation you can place this house wherever you want. It will be a great addition to the balcony, bedroom or back yard. You can also customize the interior with the cooling mat, heating pad, cotton cushion or any other accessories that will make this house even more comfortable for your pet.
Characteristics:
Comes in one size only
Easy to assembly
Lightweight and modern design
Suitable for all seasons
Conclusion: Have You Decided On Which Will You Buy?
Hot weather can be exhausting for the dogs. That is why you need to make sure that your pet has the best dog house for hot weather you can buy. If this list helped you, here are the two top picks. The first one is Climate Master Plus Insulated Dog House because of the insulation and the second one is PawHut Wooden Large Dog House because it is spacious and suitable for more than one dog.
If you want to learn more about this subject, take a look at the article about awesome dog houses. You can also read the post about the dog house for 2 dogs and how to choose one or take a look at the reviews about multiple dog houses.