Are you looking for a dog house with additional space?
The dog house with a porch is a perfect option. That house has a covered shelter and a place to relax in the sun. If you want to learn how to choose the best dog house with a deck, keep reading this article.
Buying Guide For Dog Houses
Size Of The House
The first thing you have to determine the size of the dog house you want to get. The dog house shouldn't be too large or too small. The way you determine the right size is to measure your dog and add a couple of inches to the length, width, and height. This measurement will also give you the size of the porch or deck that your dog will be comfortable in.
Dog House Materials
The most commonly used materials to build a dog house are plastic or wood. Each material has advantages and disadvantages and you have to choose which material works best for you. But keep in mind that there are more options to get a dog house with the porch made out of the wood. It is easier to make than the one from the plastic or some other materials.
Ventilation System
If you are looking for the best dog house, you have to pay attention to the ventilation. The dog house can have a special ventilation opening or cap, or it can be separate windows and natural airflow throughout the house. It is an important feature that helps your dog to keep the temperature that is needed depending on the season of the year.
Covered Area
Having an additional space for your dog in front of its house is a bonus. There are different kinds of porches and canopies, but one key feature sticks out. Your house would be even greater if your porch is covered. This covered are will give your dog a little extra shade in the summer and protection from the rain if it likes to be outside.
Easy Cleaning
Cleaning a dog house alone can take you a lot of time. But cleaning a dog house with additional space can last even longer. That is why is important to look for easy cleaning features, like removable floor panels or the roof that can be opened for easy access.
Best 5 Dog Houses With Porch
Best Dog House With Deck On Top
Boomer & George Beacon Dog House With Sunning Side Deck
Build Materials
This dog house is made of solid fir wood. It is solid and durable. All hardware is made of rust-free steel. It is coated with water-resistant paint that is non-toxic for your pet. The roof is made of asphalt panels to protect the house and your dog from the weather elements.
Size Of The House
This  B&G Beacon Dog House is constructed to accommodate medium and large dogs. Medium size house can hold from 26 pounds to 50 pounds. The large dog house can hold 76 pounds to 100 pounds and it is52 inches long, 30 inches wide and 38 inches high. It weighs 35 pounds in total.
Ventilation Features
There are several openings on this house that help the fresh airflow throughout the house. There is a window on one side of the house that is made so that no rain can go inside. There are also holes on the panel on the house that is under the sunning deck and opening under the roof.
Overall Design
This Boomer & George Beacon Dog House comes in gray color with white trims. It is completely water-paint protected from the weather. The roof also comes in gray color and the stairs and the fence are white. It is complementary to any back yard or patio and with the off-center door, it will provide a nice shelter for your dog.
Sunning Deck
Because of the off-center door, this house has a private corner underneath the sunning deck. It is completely protected from the weather elements but it has holes for the air circulation. The sunning deck is not covered so it is perfect for relaxing in the sun. For additional comfort, you can add the cushion on the deck.
Characteristics:
Suitable for medium and large dogs
Asphalt roofing
Vented windows and air holes
Gray finish with white trims
Sunning deck on the side
Best Small Dog House With Porch
Pet Squeak Porch Pups Dog House
Three Sizes
This dog house comes in three different sizes. You can choose from small, medium and large options. The medium dog house is 31 3/4 inches long, 30 1/2 inches wide, and 26 inches high. It has a small door opening that is 12 3/4 inches high and 9 1/2 inches wide.
Type Of The Wood
This house is made of quality cedar wood that is commonly known as "white cedar" or "stained whitewood". It is a strong and durable wood that has a strong and fresh aroma. It is completely pet-resistance and it has a nice appearance. It will nicely fit into any back yard and your dog will love to spend time in it.
Easy Assembly
At first sight, this house looks complicated to put together. But that is not the case. It is quite easy to assemble and it comes with pre-drilled holes so you will need to spend no more than 30 minutes to put it all together. You have to attach the panels to the base and add the roof. Finally, you add the fence on the porch and the door.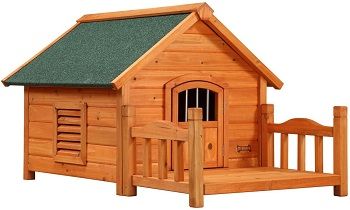 Raised Floor
The Pet Squeak Porch Pups Dog House comes standing on six legs. The house and the porch are elevated from the floor to keep the mold and mildew away from the wood. It also serves as an additional insulation layer from the ground to the floor of the house. The legs can't be adjusted.
Front Porch
This house has a small front porch with side railings. The wooden door is situated in the center of the house and the porch surrounds the entrance. This is a place where your dog can relax in the sun and easily hide from it when needed. It is not covered porch so it needs to be cleaned often.
Characteristics:
Easy assembly
Natural wood color
Lightweight and durable
Elevated floor
Best Dog House With Roof Deck
Giantex Pet Dog House
Sturdy Wood Construction
This dog house is made of fir wood that is treated with natural color stains. This house is durable and it provides long-lasting experience. It is weather-resistant and ideal for outdoor use but you can also use it indoors. It also features a raised floor for additional insulation and slightly warmer floor than the ground.
Enough Activity Space
This two-story wooden dog house offers enough different level places for your pet to relax, sleep and explore. There is a covered house are where it can hide from the rain and weather elements. When the weather is nice it can relax on the balcony on top of the house.
Designed For Small Pets
This dog house construction comes with the side steps, raised roof, and a balcony at the top of the house. It is 25.6 inches high with included balcony fence, 28.3 inches wide with included steps and it is 20 inches deep. A raised bottom will keep your pet dry from water and dirt.
Quick Assembly
The Giantex dog house is easy to assembly. All the required tools and accessories are included in the package. You can quickly assemble the entire house and place it where you want it to be. Make sure that it is not in the direct sun if you are placing it outdoors.
Appealing Style
This dog house is designed to complement any back yard, patio or deck. Even when you put it inside it will nicely fit into any home decor. With the sturdy side stairs and the luxury balcony bed, your pet will love this house and it will enjoy spending time in it.
Characteristics:
Strong wood construction
Multiple levels of relax area
Designed for small pets
Easy assembly
Best Double Dog House With Porch
PawHut Wooden Large Dog House
Cabin Style Dog House
This cabin style dog house with the rustic design will compliment any corner of your back yard. It is designed with the large porch in front of it and it has two separate spaces inside so this pet house can be home for one or two small to medium-sized dogs.
Durable And Stable Construction
This dog house is made of solid fir wood. It is highly-stable and it is coated with eco-friendly, water-based and non-toxic paint. It has an asphalt roof and it is perfect to be used as an outdoor shelter from the weather elements. It also features a built-in slide tray that makes cleaning easy.
Spacious Porch
Considering the size of the house, there needs to be a large and spacious porch in front of it. This porch is almost the same size as is the house. It is not covered but it offers a great space for your dog to relax and take a nap on a sunny day.
All-weather Construction 
The whole house is coated with the stain and paint that can withstand all kinds of weather. To protect your dog, the roof is made of water-proof asphalt. There are also two flap doors on each entrance to reduce the wind and the draft and to stop the rain from getting inside.
Raised Design
The elevated floor on this house keeps your pet dry and warm. The space between the floor and the ground is additional insulation for the inside and it also protects the wood from insects, moisture and mold. There are also two windows with bars on the side to help with the ventilation.
Characteristics:
Durable construction
Spacious porch
All-weather construction
Best Wooden Dog House With Porch
Trixie Premium Rustic Dog House
Assembly Required
This house comes in a few pieces and you need to put them all together. It is easy and you won't be needing more than 30 minutes for everything. All hardware and accessories are included in the package. It is an easy and quick project that you can do with your kids.
Weather-resistant Construction
The Trixie Premium Rustic dog house has durable composite roof shingles. They are water-resistant and offer great protection for your pet inside. The house and the porch are covered with the peaked roof. The roof also can be opened with two locking arms for easy cleaning and access to the inside of the house.
Removable Floor
Besides the roof that can we completely open, you can also remove the floor panels. The removable floor makes cleaning easy and you can easily paint it to preserve the wood. It also features a weatherproof sealer on both sides – inside and outside. This feature is what makes this house practical.
Elevated Floor
This dog house is made with a raised floor. It helps to protect the wood from insects, rot, mold, and mildew. It also makes sure that the cold ground is not in contact with the floor in the house. This house also has adjustable plastic caps so you can level the legs on uneven surfaces.
Size And Dimensions
This house is constructed to accommodate small and medium dogs. It is 35.2 inches high, 39.25 inches wide and 32.25 inches long. The measurements include the covered front porch and the house. The height is measured up to the roof peak. It is a great addition to your back yard and your dog will enjoy it.
Characteristics:
Durable shingle roof
Removable floor
Adjustable legs
Covered porch
Conclusion: Which Dog House With The Porch Is Ideal For You?
Having a dog house is a necessity if your dog is living outside. To get one with the porch is a bonus that your dog will greatly appreciate. For the best option, you can go with Boomer & George Beacon Dog House With Sunning Side Deck because of the large house and elevated deck. The second best option is the PawHut Wooden Large Dog House because it can comfortably accommodate two dogs.
For more information, check out the article about the best dog house for sale. You can also read the post about the best large dog houses for sale or you take a look at the review of the best dog house for 2 large dogs.