Are you looking for a new dog house?
Then you might consider getting the elevated dog house. It is a great option for the uneven surfaces and muddy back yard. If you want to learn why the raised dog house is a smart choice for any dog then keep on reading.
Things To Know About Elevated Dog Houses
Legs Can Be Adjustable
The raised dog houses most of the time come with the adjustable legs. That is a great feature especially for the back yards that are not completely straight. You can adjust each leg to the specific height so your dog won't end up with the crooked house. It offers more stability and it is practical to place it anywhere you want without worrying about leveling.
Better Ventilation
Another great feature of these houses is that it offers more airflow. Sometimes the elevated dog houses are made of breathable materials but when you put them on the ground they lose that feature. When those materials you put slightly off the ground the air can go through it so your pet has additional breeze on the hot summer day.
Weather Protection
The dog houses that are raised from the floor offer better weather protection. The mud from that is made because the rain won't get onto the house and it won't get in the house. Also, the air space between the ground and the house is a great layer of insulation. When you put an additional cushion inside, your dog will feel much warmer.
Why Invest In The Raised Dog House?
Which house to buy and why in the end is a personal choice. Elevated dog houses come in a wide price range and you can get the simple one that looks like a tent on the legs or you can choose the sophisticated wooden one with the front deck. If you have an even surface, this house is definitely for you and your dog. If you want better insulation this house is for you. If you want a little bit different look from the regular dog house you should go with a raised dog house.
Top 5 Elevated & Raised Dog Houses
Top Portable Raised Dog House
Petsfit Portable Wooden Dog House
Ready To Go
This is the most practical wooden dog house you can find on the market. It comes on one piece and no assemble is required. All you have to do is stretch the sides, pull down the floor and pull up the roof. It takes a small storage space and unlike the other portable houses, it is made of wood.
Easy To Clean
Because you can open this house like a box, it is easy to keep it clean. The top can be opened not only for cleaning but for accessing your pets. You can wash it, dry it, stain it. It is a great and practical house to have and your pets are going to enjoy it.
Solid And Durable 
This Petsfit Portable Dog House is entirely made of solid wood and it features stainless steel hardware. It is strong and sturdy enough to keep up to 30 pounds of heavy dog. The wood used to build this dog house is natural cedar. With the perfect structural design, your pet will be safe in the rain and the wind.
Paintless Design
With this dog house, you can get creative as you like. There are no pre-painted houses and limited color selections. This one comes in natural cedar wood color with an only water-based layer of protection paint. You can leave it like that or you can paint it as you like. Keep in mind that the paints you are using need to be pet safe.
Product Dimensions
This is a medium-sized dog house that is 41 inches wide, 30 inches long and 24 inches high. It weighs only about 4 pounds. It is also elevated from the floor about 2 inches to keep the moisture out. It is suitable for indoor and outdoor use and because of the flat and straight roof you can use it as a table.
Characteristics:
No assembly required
Made of solid cedar wood
Can be used indoor and outdoor
Top Elevated Dog House With Porch
PawHut Wooden Cabin Elevated Dog House With Porch
Log Cabin Style Dog House
This is a stylish dog house that has everything your dog might need – the roof over its head and porch to relax. It is a fun raised dog house with rustic elements. It will be a great addition to your backyard or patio and I am sure that your pet will love it.
Spacious Front Deck
The additional front deck on this house is spacious and comfortable. It has a small step to climb to get to it. You can easily attach or detach it as you like. It is a perfect place to take a nap and relax in the sun. For additional comfort, you can even add a mat to make it soft for your pet.
Solid Wood Construction
This is a durable wooden shelter made of solid fir wood and cedarwood. It is coated with protection but it is not toxic and you can be confident that your pets will be safe inside. The roof is covered with durable composite shingles so that your furry friend is protected from all kinds of weather.
Raised Platform
To keep out insects, other animals and to help avoid trapped moisture under the structure, the house and the porch are raised form the floor. The space under can be used as a shelter for smaller dogs or cats or even a storage area for toys and other things. The platform is 3.25 inches raised from the ground.
Dimensions And Size Of The House
This raised dog house is suitable for medium and large dogs. The house only is 33.75 inches long, 38.5 inches wide and 32.75 inches high. The porch is 32.25 inches long, 32.25 inches wide and 15.75 inches high because of the fence around it. It weighs around 60 pounds in total.
Characteristics:
Elegantly designed house and the porch
Water-resistant roof
Raised floor to prevent moisture
Solid wood construction
Top Wooden Raised Dog House
TRIXIE Pet Nantucket Dog House
Build Materials
The Trixie Pet Dog House is made of solid pine wood. It has a draught resistant tongue and waterproof roof. The whole house is more than suitable to be placed outside. It is a classical A-shaped designed house but with some groove colors to add a little bit of style.
Air Ventilation
The floor in this house can be removed for easy cleaning but more importantly for air circulation. There is no additional ventilation on the roof or the sides. Only the door is way to the fresh air to come in. It is recommended that now and then you remove the floor for cleaning and ventilate.
Adjustable Feet
For better adjustments to the surface, this dog house has leveling legs. They are supported by the plastic footing so you can level this shelter on the uneven ground. That is a great feature that not many dog houses have. With this construction, the house can hold up to 70 pounds.
Exterior Design
When you take a look at this dog house it looks like it is from the movies. It comes in one color combination. With the gray walls, white trim and almost red roof it sure is a decoration for any backyard or patio. This model comes without the door but if you want to add them, the manufacturer has the Trixie company has the one that fits this house.
Characteristics:
Waterproof solid pine
Removable raised floor
Adjustable feet
Suitable for large dogs
Top Cheap Elevated Dog House
AmazonBasics Elevated Portable Pet House
Cozy Shelter
This is a portable dog house that you can use outdoor and indoor. It provides a strong and cozy shelter for your dog in all weather conditions. If you are looking for something simple and don't want to spend a lot of money this is the right choice. It is practical and comfortable.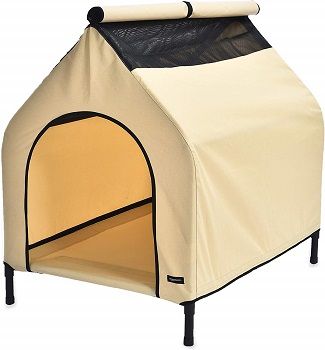 Product Materials
This is an A-shaped house where the roof is made of the canopy with a mesh panel along the top for better air circulation. The rest is made of oxford fabric and mech cloth. The metal and plastic components are the construction which is lightweight and durable. It is easy to clean because all you have to do is wipe the surface with the cloth.
Dimensions And Size
This is the raised house made for small dog breeds. It is 35.4 inches long, 32.3 inches wide and 25.6 inches high. It weighs no more than 10 pounds and it is comfortable for the small to medium dogs. If you want to make it more comfortable you can add the dog bed inside.
 Setting Up The House
For assembling this dog house you will need a few minutes. It is a simple process and all the tools you need are provided in the package. It comes with a carry on bag so you can have it with you no matter where you go. It is practical and functional and you won't have to break a bank to have it.
Characteristics:
Elevated design
Three color choices
Portable and practical dog house
Lightweight product
Suitable for small dog breeds
Top Raised Dog House With The Door
Pets Imperial Extra Large Wooden Dog House
Size Of The House
This is a beautiful outdoor dog house with 38 inches width, 44 inches depth and 41 inches high. It is spacious and comfortable for the dogs of the large breeds. It is a quality build and made to last a long time. It weighs only 2.2 pounds so it is easy to move it and adjust.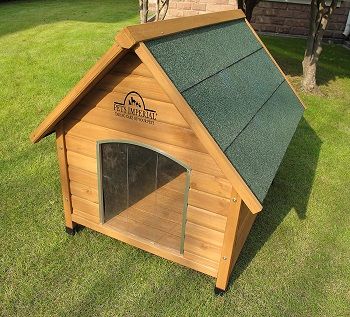 Easy To Maintain
To keep this dog house clean you can remove the floor. But one special thing that this house has is a roof that can open up. It has two locking arms so you can visit the house from above. It is a great feature in the summer and it makes cleaning easier.
Aluminum Trims
Most of the wooden houses on the market have wooden trims in different colors and some expensive ones have stainless steel. This one has anti-chew aluminum strips around the pop-hole. It also has a draught shield at the entrance to stop the high wind. The raised floor makes sure that the floor stays dry and comfortable.
Adjustable Legs
Because this dog house is made of wood, the legs are covered with a rot-free plastic cap. The height of the house can be adjusted with the leveling legs and each leg can be adjusted separately. That means that on uneven surfaces you can make it stand straight and leveled. The whole house is made of timber designed to last for years.
Characteristics:
It can accommodate large dog breeds
Removable floor and roof that can open
Leveling legs
Aluminum anti-chew trims
Conclusion: Which Elevated Dog House Will You Choose?
Raised floor dog houses have a lot of advantages compared to the ones that stay on the ground. That is why you should choose the best that you can get and that would be Petsfit Portable Wooden Dog House because of the simple design and multipurpose functions. Another great one from this list is PawHut Wooden Cabin Elevated Dog House With Porch because it offers more for than any other at a fair price.
To find more information about dog houses of any kind read this article about best dog houses. You can also take a look at the reviews of the best cheap dog houses or read my post about the best dog houses for cold weather.